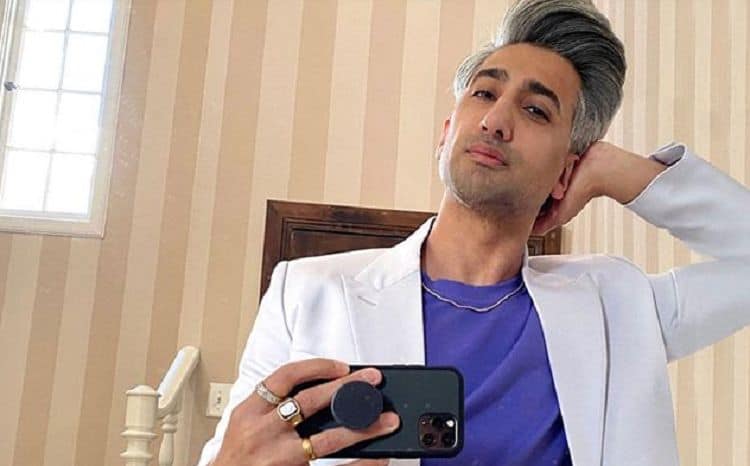 Since the reboot of Queer Eye hit the air in 2018, Tan France has become a fan favorite. His beautiful gray hair, impeccable fashion sense, and kind personality make him the perfect person to work with people on the show. As the show's style expert, he's responsible for helping people discover their sense of style. His ability to bring out the best in people is something that never goes unnoticed, and his segment is always handled with patience and care. But since Tan's role on the show is focused on helping others, viewers don't get to know as much about him as they would probably like. Keep reading for 10 things you didn't know about Tan France.
1. He Almost Quit Queer Eye
Queer Eye has been a huge opportunity for Tan, but he still almost decided to talk away from the show. He told Insider, "I was going to quit before I started shooting because I was too scared of the pressure. Then, episode three, I tried to quit again because I was too scared of the cameras and, again, the pressure of being part of this community so publicly and having to speak for a community."
2. He Was Bullied As A Child
Tan is Pakistani, but he grew up in England. His race and ethnicity often made him the target of bullying during his school years. Many people called him racial slurs and insinuated that he was a terrorist. He even went through a period of time where he bleached his skin because he wanted it to be lighter.
3. His Grandfather Owned A Clothing Factory
Tan developed his love for clothes and fashion at a very young age. His grandfather owned a denim factory that made Disney inspired clothing. Tan says, " I was able to experience Western clothing like most South Asian kids will never have the luxury of doing. I was able to see how a piece of fabric turns into a garment that you will actually wear, and so I was privy to the ins and outs of the process."
4. His Father Passed Away When Tan Was Young
Things haven't always been easy for Tan. When he was a teenager, he suffered one of the most tragic losses a person could ever imagine. His father passed away just before Tan turned 14. Tan wasn't out at the time, so his father never knew about his sexual orientation.
5. He's Happily Married
Tan is a private person. Despite being in the public eye, he doesn't often share much information abut his personal life. However, we do know that he is happily married. He has been married to Rob France since 2007 and the couple currently lives in Utah where Rob works as a pediatric nurse.
6. He's An Author
Since being on Queer Eye, Tan's resume has grown and he can now add being an author to his list of accomplishments. In 2019, he released a memoir titled Naturally Tan: A Memoir. In the book, Tan shared his story about growing up in a conservative immigrant family.
7. He Doesn't Spend A Lot Of Money On Clothes
Tan has an amazing sense of style. Not only does he always look great, but he's made everyone he's worked with on Queer Eye look great as well. Surprisingly though, Tan doesn't like to spend money on expensive clothes. He told Refinery 29, "I don't spend on fancy clothes. For events I've borrowed fancy clothes, which is a normal industry practice. But I don't feel the need to spend a fortune on clothes that I wear in my everyday life."
8. He Retired At 33
Even though being on Queer Eye has kept Tan busy for the last couple years, Tan is technically retired. After years of owning his own business, making good decisions, and being frugal, Tan put himself in a position where he was able to retire at just 33-years-old.
9. He Was Discovered For Queer Eye On Instagram
Whoever said social media was a waste of time clearly wasn't aware of all the possibilities it has to offer. Social media is actually what got Tan the opportunity to be on Queer Eye. Prior to the show, one of his business partners often featured him on her Instagram. The casting team from the show stumbled across Tan and his work and decided to reach out for a video chat.
10. He Likes To Cook
Cooking may not be his role on the show, but Tan still likes to do his thing in the kitchen. He said that he learned how to cook traditional Pakistani food when he was about 10-years-old. By the time he was 13, he was able to cook full meals for his family. He now likes to cook for his friends at least once a week.