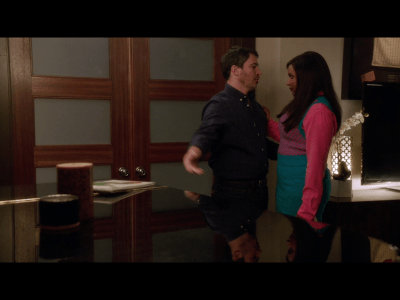 The Mindy Project returned with some shocking twists to kick off the second half of season 4 on Hulu. Mindy's voiceover caught us up to speed with the reasons why this has been the best and simultaneously worst year of her life, and the end result is a doozy.
Mindy and Danny are officially broken up. The episode title "Will They or Won't They" only teases us because we all know they did, and they're done. For now or for good, either way it's not pretty. Seeing Danny leave the practice and hearing Mindy's been crying simply walking by his empty office doesn't help matters. It's only when we actually see how they handle this breakup and co-parenting Leo that the reality of their new "normal" starts to sink in.
When dropping Leo off for a night with Danny, Mindy gets suckered in with the smell of his homemade lasagna and ends up staying the night, missing Hamilton which is arguably the worst possible offense anyone could do when offered a ticket from my understanding. Jeremy must've pulled some high strings to score those tickets for Mindy's Later Baby spring breakers visiting for the week. Real shame for Mindy to miss it on top of Tamra getting stuck with being the only chaperone for these girls.
Seth Meyers' cameo and the running gag of his lost Italian greyhound Frisbee was the funniest part of the episode by far. All the news outlets are reporting the story, even showing a clip from Late Night with Seth Meyers where the host asks viewers and fans to wear grey ribbons to support the cause. A newspaper headline of "Where Friss Be?" actually encourages Morgan to be the hero and find the missing dog, if only to make his coworkers and friends like him again. It may not have worked out the way Morgan hoped, but at least he did the honorable thing and reunited Seth with his dog. I'm sure the city of New York at large would recognize him as a hero before Mindy or anyone in the Shulman office batted an eye at his great rescue.
Going back to the college students in town to spend their spring break harvesting their eggs, Mindy finds herself as a role model for the most unlikely of participants. Chloe (which Mindy pronounced "Shlow") slept with Jody when he was recruiting patients for their Later Baby program and she can't understand why that might be construed as wrong. After Mindy found another woman's lipstick in Danny's medicine cabinet, she thought she could handle the truth that Danny was moving on already but it wasn't until she found herself giving Chloe advice that she realized what she needed to do for herself.
The key to starting a new chapter in your life is to make a clean break with the old. Mindy can't keep deluding herself into thinking things are like they used to be. Danny's response that "things aren't so bad, right?" elicited the most heartbreaking line from Mindy: "No they aren't. But they're not so good either." It's so tough to watch one of my all-time favorite sitcom couples come to this point in their relationship. There's no such thing as a "modern uncoupling like Coldplay and Goop" in reality because feelings are messy. At least Mindy recognizes she needs to protect herself and stop this casual thing with Danny again before she finds herself right back where she started. She's going to be okay, no doubt about that. As for Danny, he has a lot to make up for with Mindy and the viewers alike. His attitude about already sleeping with other women so soon after the breakup is even more of a reason to dislike him.
What did you think of "Will They or Won't They"?
Tell us what's wrong with this post? How could we improve it? :)
Let us improve this post!