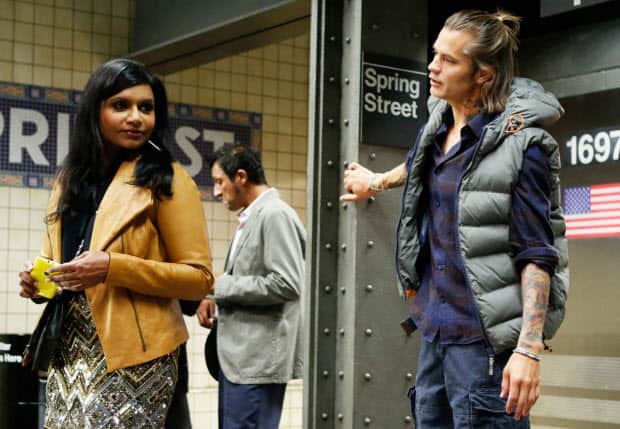 The World Series is finally over. Yes, I am upset the Tigers did not make it to the series too. The Red Sox winning the Championship means we can get back to our regularly scheduled programming on FOX and watch a new episode of the always hilarious The Mindy Project. The latest episode entitled, "Sk8er Man," finds Mindy (Mindy Kaling) dating outside of her comfort zone. This will most likely lead to a dating disaster for Mindy and lots of laughs for the audience.
The reason Mindy decides to broaden her dating scope is because Danny (Chris Messina) informs her that she is too picky and judgmental. This information should not be news to Mindy because it is something we already knew about her character. It is one of the reasons why this shows works. Irregardless, Mindy takes what Danny says to heart and sets out to find a new beau.
The lucky guy is a skateboarder by the name of Graham (an almost unrecognizable Timothy Olyphant). He knocks Mindy over while she is walking to work. She mistakes him for a teenager based on his appearance. Graham likes what he sees and asks Mindy out on a date. Of course, Mindy is disgusted and turns him down. After her conversation with Danny, she decides to go ahead with the idea. After all, his skateboard skills transfer to great in the bedroom skills.
SNL's Vanessa Bayer is the latest guest star to be added to The Mindy Project funniest celebs list. She is one of the guests at a dinner party where Mindy winds up at the "couples table." She meets a young girl named Clementine who lovingly asks, "Why are you alone?" and "Where is your baby?" Mindy finds out that the reason she is seated with the couples is because she nitpicks every person her friends try to set her up with and they no longer are interested in trying to help.
One of my favorite concepts was present in this episode. It is the text conversation screens that appear whenever Mindy is texting someone via cellphone. This was used quite frequently in season one, but has been lacking in season two. It is a great idea that no other show is currently using and gives The Mindy Project an edge. While Mindy is texting, Graham climbs through her window for their date and he starts showing of his body scars and tattoos. A great way to start a date.
It is no surprise the date is not going well, however it is a surprise when Mindy and Graham make out after he rescues her phone that had fell in the subway track. Mindy wants to act more like Graham and starts rollerblading at work because the only thing picky about her is her "scabs." Mindy invites Danny and Mary (Bayer) on a double date. Danny is as annoyed with Graham as Mindy was pre-cellphone save. Danny takes Mindy aside and tells her to break up with Graham. Before she can respond, Graham and Mary dine and dash from the restaurant. Mindy and Danny quickly follow. The relationship between Mindy and Graham ends after he jumps a fence and Mindy gets stuck in said fence.
Sadly, Jeremy (Ed Weeks) still has not lost the beer belly he inherited from the season premiere, but he was treated to a story line. This is something his character has yet to experience since the show began in 2012. Of all the characters, Jeremy would be the one everyone would least likely miss if he were to disappear like Judy from Family Matters or Chuck from Happy Days or even Gwen from this show. Jeremy's father (Alan Dale, who shows up everywhere) visit the practice and loves Peter (Adam Pally) more than his own son. This upsets Jeremy. In the end, Peter tells Jeremy not to care so much what his father thinks. Problem solved.

The one piece of vital information you should retain from this episode is that toilet water is much cleaner than water from the faucet. Just another great piece of advice from Morgan (Ike Barinholz) in another great episode of The Mindy Project.
[Image via Facebook]