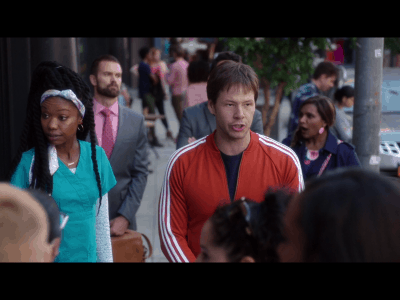 Who else was hoping Jody would just go away forever after how he reacted to Mindy last week? To balance out an annoying Jody, we were introduced to Ben, a nurse in Leo's pediatrician's office played by Bryan Greenberg. The track record of attractive male guest stars turning into love interests on The Mindy Project means there's a very high probability of Ben and Mindy getting together and it wouldn't be the worst thing in the world.
There is no redeeming Jody Kimball-Kinney in my eyes. I'm glad Mindy's on the same page as she's not taking any of his nonsense. He wants to sell the apartment he bought her because as he says, "no romance, no gesture?" First of all, gross. Fine by Mindy though because she finds a way to make it possible to buy it outright from him. I'm even happy with the way she could afford to do so, since this means more of the Deslauriers as she works with their midwifery practice.
Ben first meets Mindy when she has Leo in to see his pediatrician to the stars, played by Nasim Pedrad. He really wins over her attention and possibly her affection when he helps her cross the nurses' picket line outside the hospital and then later shows her the key to effectively giving a baby eardrops. The whole exchange about Leo's favorite show being Entourage was hilarious. Part of me wishes this show runs long enough to see Leo start talking like Vinnie and the gang.
The premise of the episode centers around the nurses striking which wasn't resolved by the end. When Morgan, Tamra, and Collette walk out of the office to join the hospital nurses, the doctors find themselves in a bind. Mindy especially has the hardest time finding a patient's veins which is a scary thought because you should trust a doctor would know better than to pierce an artery by accident!
Notable quotables:
-Mindy: "Could I put Advil in pancakes? They are sugarcoated."
-Morgan: "I miss the level of conversation I had with the doctors. Do you guys even read?"
Tamra: "Do you?"
Morgan: "Honestly no."
Tell us what's wrong with this post? How could we improve it? :)
Let us improve this post!