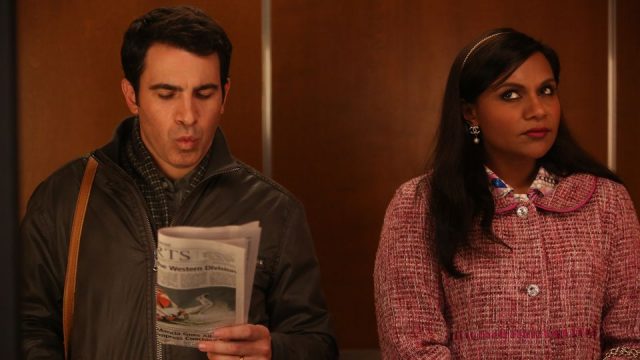 Farewells are about thinking back before moving ahead. It seems we'll be doing the same for Mindy Kaling's The Mindy Project's sixth and final season. Hulu released the official trailer recently and we just can't help but feel nostalgic about the last six years of Mindy's messed up love life. We saw a good handful of familiar faces including Rhea Perlman, Mark Duplass, Adam Pally, and Glen Howerton. Although Chris Messina was nowhere to be found on the trailer, it's already been confirmed that he'll be back to reprise his role as Danny on not one but multiple episodes. We'll take that any day.
This season will pick back up on Mindy's married life, as she faces some challenges with her husband Ben as played by Bryan Greenburg. Previous reports have stated that Mindy and Ben are contemplating and probably going for divorce this season. We see a glimpse of their son in the trailer and have to wonder what will be happening there. This might also be why we see some of Mindy's exes including Cliff and Brendan Deslaurier. While it may seem that Mindy's not getting her love life together even after six years and a husband, she might have gotten something else.
Mindy's learning (and so are we) that despite of everything that's messy, there are way more stuff that's put together. As she claims, she has a plethora of things to be thankful about including her son, a great job, and even the fact that Will & Grace is back on. Mindy's learned to be grateful and focus on things that are actually positive for her life. It's a good way to end a series that started on her non-existing love life. The focus is now on something bigger; Mindy learned to grow up a little bit, and maybe we did too. Although we would've loved for her to finally have the kind of love she's wanted all these years, we're just glad she's happy. And who knows? Maybe there's a reason Danny's coming back for a few episodes. If one of those ends up being the final episode, meaning if we see him take off with Mindy in some way, we'll just be ecstatic.
Whatever it is the creative team is planning for us this season is sure to be filled with more laughs and crying for even more laughter. We see a couple of other things that are interesting. Of course someone has to be hospitalized with what looks like a completely broken body. We also see a couple of potential hookups for Tamra and Morgan and Anna and Jeremy. Mindy also gets a new rival in Modern Family's Emmy Award-winning Julie Bowen. It'll be interesting to see how these two go at it in the final season. We're not sure how big of a role Julie will be playing, but we'd love for her to be around for the entire thing.
The final 10 episodes of The Mindy Project is set to return this fall on Tuesday, September 12.
Tell us what's wrong with this post? How could we improve it? :)
Let us improve this post!