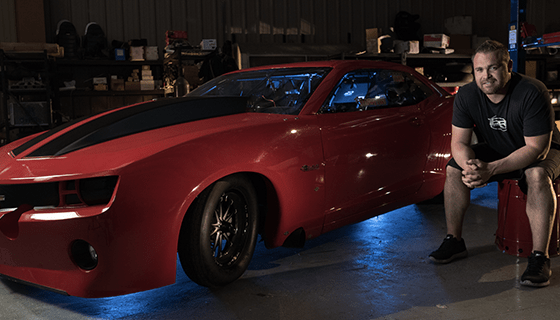 You may have seen the show Street Outlaws, or at least you have heard about it. It is a relatively new reality television show that started back in 2013. It is based on a unique concept that causes people in the millions to tune in on a weekly basis. Street racing is always something that has captivated the minds of people. The desire to go fast and without limits on city streets is something that dreams are made of. While many street racing competitions are illegal, the ones on the show are perfectly legal. That doesn't mean that the show is without controversy, however, as the cast of characters that are on there often leave viewers to wonder how the show has continued for so many years. In fact, it continues to grow in popularity, and it still has not been taken off the air. Continue reading to learn about some of those times when Street Outlaws should have been canceled.
Driver's Don't Always Hang On To Their License
If you are going to race on a show that makes its way to television, you would think that you would be able to hold onto your own driver's license. Street Outlaws has proven to us that this is not always the case. It seems that police are highlighted to the antics that the drivers are up to and they go after them when the cameras are off. Quite a few of them have actually lost their licenses over the years, and still, more have been threatened to have their's taken away if they appear on the show.
Illegal Races Still Happen
As we mentioned, everything that happens on the actual show itself is perfectly legal. For street racers, this actually takes a lot of the fun out of the equation. Many of the racers miss the no rules nature of street racing, and they will do whatever it takes to get back into it. That means that they routinely engage in illegal races away from the show itself. This has created quite a few underground races that take place, with many of them being perceived to be rather dangerous.
The Show Makes Street Racing Look Legitimate
Street racing might seem really cool and entertaining on the surface, but it is actually very dangerous. Many people rate it as one of the most dangerous extreme sports in the world, so that should give you an indication of what we are talking about. There are many injuries and deaths reported each and every year at the hands of street racing, and Street Outlaws is seen as glorifying such a dangerous activity. Many think the show should be canceled as a result, but yet it remains.
Jerry Bird Himself Is A Target of the Police
If you are a fan of the show, you know Jerry Bird. He is extremely popular amongst fans, and more and more are tuning into Street Outlaws just to see him. He has actually been racing for 30 years and is considered to be one the best street racers out there. All of this fame has not served him well in the eyes of the law enforcement community. He has quite often been stopped by the police for one reason or another. In fact, the police were right there waiting for him at the end of one race not too long ago.
Much of the Show Is Basically Fiction
The reason that most people tune into Street Outlaws is for the reality tv nature of the show. They want to see real street racing, as it is something that they would otherwise not likely be able to experience. That being said, it has since come out the most of the show is actually staged. Even the roads are scoped out beforehand to make sure that they are perfectly safe. The outcomes are arranged ahead of time as well. While his might bode well for safety, it actually goes against the nature of the show in the first place. Many people are not happy with this, but it still has not been enough to get the show canceled.
So, there you have it. These are a few of the many reasons why Street Outlaws should have been canceled long ago. Yet, it continues to be popular. How much longer will that go on? Time will only tell, so we will have to wait and see.