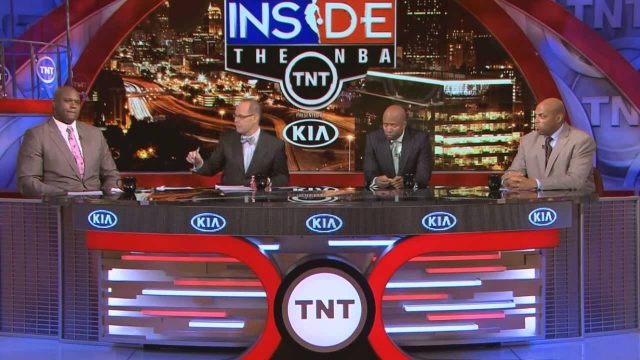 The NBA Playoffs are the most exciting time of the season for basketball fans. All of the best teams are battling in 7-game series to keep their season alive and as we get further into the playoffs it only gets more exciting. One of the best parts about the playoffs is how you can never predict the outcome of any series.
In the first round alone, there were plenty of surprises. Injuries to superstars like Steph Curry, Blake Griffin, and Chris Paul have changed the makeup of the Western Conference playoffs. The Spurs and Warriors are still favorites for the title, but the Cavaliers seem to be gaining some solid momentum as well.
During the NBA Playoffs many of the games are broadcast on TNT. They have one of the best in-game crews out there across the board and it's always fun to watch Kenny Smith, Shaq, Ernie Johnson, and Charles Barkley in the studio. Previously, it was either cable or bust if you wanted TNT. But that's no longer the case. Let's take a look at your TNT options.
Sling TV: In 2015, Dish Network launched Sling TV as a full-fledged cable alternative. The subscription streaming service lets you watch cable channels live without the need to pay for the expensive cable package.
Sling TV has over 20 cable channels available on the basic package and one of them is TNT. You can also watch TBS, ESPN, ESPN2, CNN, AMC, and A&E on Sling TV. ESPN and ESPN2 will also be broadcasting games, so you can watch a wide amount of the NBA Playoffs with Sling TV. You can even watch the games on ABC by logging into WatchESPN with your Sling TV login.
All of these channels are only $20 per month and no contract is required. You can watch TNT and the other channels live streaming on your computer, phone, tablet, and on your TV with devices like Roku or Chromecast. There is even a free trial for a week if you are interested in testing out the service and watching some of the playoffs for free.
PlayStation Vue: Sony launched a competing service later in 2015, PlayStation Vue. It was mostly only available in select markets, but it has recently been launched nationwide. The new package offered by PlayStation Vue has over 50 popular cable channels available for streaming including TNT. Other channels featured are ESPN, ESPN2, TBS, FS1, Comedy Central, CNBC, CNN, and many others.
The starting package, Access, costs $29.99 per month. There are also other plans that cost more and include more channels including premium content and even some regional network channels. All of PlayStation Vue's streams can be watched on iOS devices, PlayStation Consoles, or with Chromecast or Amazon Fire TV.
TNT Overtime: During the NBA Playoffs, TNT actually offers a free live streaming service. TNT Overtime live streams some of the TNT broadcasted games, but not all of them. At the moment, it looks like about half of the TNT games will be on TNT Overtime. It is a great way to catch a few games online without any cost.
The site offers 4 separate camera angles to choose from or you can elect to watch all the camera angles at once in a 4-way split screen. There are also options for fans to vote on which players to focus the camera on in the midst of the game. You can watch on your computer, or with the NBA Game Time app on your phone or tablet.
So if you thought you were out of luck in respect to TNT's NBA Playoff games, you're in luck! Use one of the above options and see all the action.
Tell us what's wrong with this post? How could we improve it? :)
Let us improve this post!