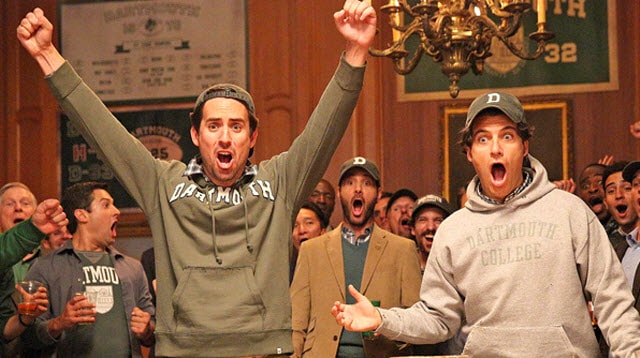 Shonda Rhimes played beer pong and Mindy Lahiri nearly broke up a lesbian marriage. Sounds about average for The Mindy Project following last week's racy topic.
The queen of ABC's Thursday night lineup guest starred as an exaggerated version of herself, a reigning champ of the Dartmouth alumni beer pong tournament. She says that "writing's how I pay the bills but beer pong is my passion." More importantly though she's an old friend of Peter's who knows about his history with women. His nickname isn't Lefty for straining his left hand as a freshman. It's much more embarrassing because his past relationships dating back to college always ended with the girl leaving him for one of his friends.
Ironically, Peter let Jeremy tag along to the pong tournament with him after he demonstrated his ridiculous skills from what sounds like a very interesting childhood. Jeremy's fratboy American accent was perfect by the way. The two guys finally bury the hatchet between them once Peter is honest about his unlucky romantic history. Jeremy even wins him the tournament and encourages everyone to let "Lefty" pick a new nickname. Peter was so caught off guard that he must've been experiencing diarrhea of the mouth. Why else would anyone want their nickname to literally be Diarrhea? Ew.
Anyway, Mindy got herself into a tricky situation with another guest star, Niecy Nash as Dr. Jean Fishman, the new boss at the hospital. Mindy made a terrible first impression at a staff meeting and only complicated matters when she led Jean on after a night out that made her question her own sexuality. Beverly delivered the funniest comeback to Mindy's worries that she's gay when she muttered, "of course he's gay. He's dating Dr. C." Great callback to last season when Tamra seriously thought Mindy was a little Indian boy selling candy.
Danny convinces Mindy to come clean with Jean, even if that means the Shulman Associate doctors get the worst schedules at the hospital again. They really do balance each other out perfectly as demonstrated by Danny's elaborate act to save Mindy from her own web of lies. I definitely cracked up when she pointed out that she's a very masculine woman and he's a very effeminate man because it's so true.
All ends well with the romantic and platonic relationships in tact. I'm going to miss the bickering between Peter and Jeremy, but hopefully now the writers find more awkward situations for Jeremy to pull out his American accent again.
What did you think of the episode?
[Photo via FOX]