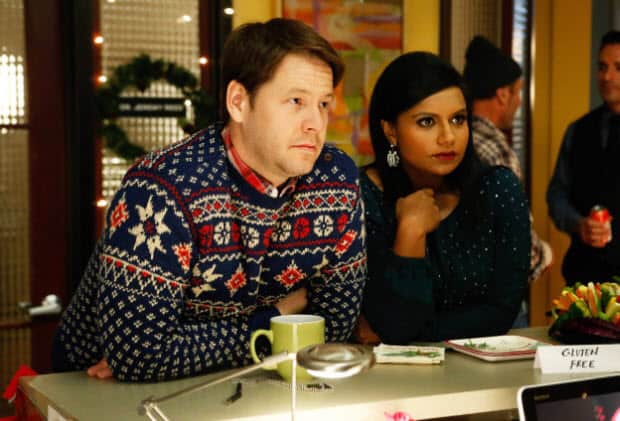 It is Christmas time on The Mindy Project, which means two things: there will not be any new episodes until 2014 and that holiday hilarity is about to ensue. The latest episode entitled, "Christmas Party Trap." finds Mindy (Mindy Kaling) throwing a Christmas party for all the businesses in the building she works. However, this is Mindy Lahiri we are talking about. If she is throwing a party, she probably has ulterior motives. She does! She thinks the holiday festivities will bring her closer to Cliff (Glenn Howerton).
The episode begins with Mindy wanting to purchase the biggest Christmas tree she can find, but after being told it would cost $250 she quickly decides to go with a Charlie Brown-esque tree. I mean $250 for a "dead tree" as Mindy points out is pretty ridiculous. Now our favorite doctor must find a way to get it back to the office. After hilariously trekking the tree through all of New York City, she finds the office already has a beautiful tree. Can she ever catch a break?!
On a subway ride, Mindy finds out that Cliff and Heather have broken up. I guess she can sometimes catch a break. This is how she got the idea to throw the party. The party will be free of gluten and alcohol due to Tamra's (Xosha Roquemore) allergy and Peter's (Adam Pally) tendency to hump Christmas trees. The guest star of the week is Maria Menounos. She is playing a version of herself and is dating Brendan (Mark Duplass). The two are invited to the holiday gathering.
After Danny (Chris Messina) finds out about Mindy's intentions, she informs him of her exact plan to win Cliff back. Step 1 is to throw the greatest party ever and ignore when Cliff he walks in. Step 2 is for Mindy to sing "Santa Baby." The brief snippit that shows Mindy singing the song was very good! Kaling should sing on the show more often. In step 3, Mindy must go get some air and lure Cliff out to the balcony with her. Step 4 finds the two alone and sharing a passionate kiss. The plan seems so easy, but I think something will interfere with it becoming a success.
Before she can perform her rendition of "Santa Baby," Cliff has to leave the party and meet up with Heather. What Mindy doesn't know is that Cliff bumped into Brendan, who told him that Mindy was dating another guy. So though Cliff was looking to start something with Mindy, he is now devastated and vacated the party. At least we were treated to Maria singing after Mindy backs out. If you enjoy Menounos on the show, you will be happy to know that she will be back in future episodes. Instead of dating Brendan, she has her sights set on Peter.
The best moment of the episode is when Danny unveils his Christmas gift to Mindy. He performs a choreographed dance to Aaliyah's "Try Again." It is very cool and I recommend you check it on on YouTube. The dance also cheers up Mindy. The two share a warm embrace and are about to kiss when Peter comes bursting through the door. In the end, Cliff returns and tells Mindy he dumped Heather and the two share a holiday smooch, while Danny watches from the window.
In other "exciting" news, Jeremy (Ed Weeks) isn't fat anymore. Unfortunately, his secret Santa is tempting him with his favorite candy. To stop himself from eating, he was given a breath spray that is intended to suppress hunger. He resorts to having Peter help him refrain from eating. In return, he must aid Peter in his quest to not drink. Sadly, Jeremy ends up eating Danny's gingerbread house and Peter tries to sip the wine out of Mindy's bra. It wouldn't be Christmas without good food and good alcohol!
[Photo via Jordin Althaus/FOX]