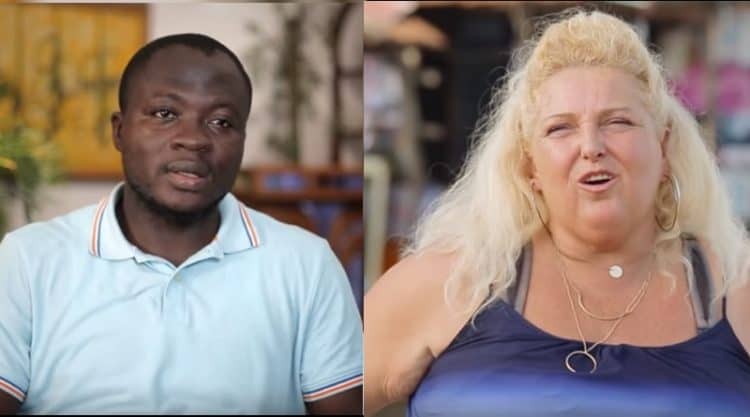 The world of reality television is a dark one at times, and the show "90 Day Fiance," is one that proves that. It's a show that follows couples who live in different countries from one another as they meet on vacation or online. They fall in love, they decide they want to be together, and one moves to the United States to be with the other. They then have 90 days to get married or end things before the foreigner in the relationship is sent back to his or her home country. Michael Ilesanmi is a man who hails from Nigeria, met a woman more than 20 years his senior, and wanted to come to America. Here is everything you need to know.
She was 52 and he was 30 at the time of their meeting. Her friends did not approve of her online relationship with a man so much younger than her and from across the world, but she dated him online for some time before traveling to Nigeria to be with him. Her friends told her regularly she was being scammed.
2. His Name is Not Michael
While he does go by the name Michael, it is not his given name at birth. His real name is Kehinde Ilesanmi. Everyone knows him by Michael thanks to his stint on reality television.
3. He Called his Fiance His Elder
There was a time in their early days together that Michael referred to Angela as his elder, and she was not a huge fan of the comment. As a couple, he should not refer to her as his elder but as his equal partner in life. That did not happen, however, and things just did not go well for them at the time.
4. He Was Accused of Stealing All Angela's Money
While some say it's not true, he was accused of stealing all of Angela's money by Angela herself. She accused him of wiping her out by cleaning out her bank account. She later said that he did not do so, but that she was the victim of an innocent ATM error. But, what woman accuses a man she trusts and love of wiping her out if she doesn't suspect he might be capable of it in the back of her mind?
5. He Married Angela
Despite the fact that their relationship is one that is filled with bickering, of accusations, of ugly words, and of so many other things a good relationship does not feature, this couple got married. They could not do so in the United States after his Visa was denied, so they did in his home country of Nigeria.
6. His Wife is A New Version of Herself
Angela recently went through a huge transformation in the physical sense. She lost a lot of weight, and she shared it with her fans by sharing a revealing photograph of herself online. She was in a low-cut top and some big earrings, and she was worried that her husband would disapprove of her new look. Again, we are just questioning the health of a relationship in which a wife is worried her husband will not approve of her in any capacity.
7. His Wife is a Grandmother
Now that these two are married, he is a step-grandfather. His wife has a couple of grown kids of her own, and they have little kids of their own. By all accounts, she's an active grandmother who is with her grandkids often enough that she was upset that her previous weight was making her too unhealthy to be active with her grandkids. We don't know if he's involved with her grandkids in any capacity.
8. They're Trying for a Baby
Despite the rather significant age difference and the fact that his wife is well into her 50s, Michael wants kids with his wife. She's a grandmother, which makes him a grandfather by marriage, but they are still trying to have a baby of their own to share together. It seems like…an idea.
9. Some Fans Believe He's in Danger
There are some fans who allegedly believe that he is in danger of his wife because they believe she is abusive and she is a white supremacist simply because she is a supporter of President Trump. He's apparently quite happy where he is in his marriage, so it seems the fans shouldn't worry about lives that aren't their own.
10. He's an Interesting Character
Michael is a man who has made his decisions based on whatever reasons he chose to make his decisions. For all intents and purposes, he and his wife seem like they are happy with their relationship, which means the rest of the world can speculate, but it's essentially no one else's business how he chooses to live his life and what makes his marriage his marriage.
Tell us what's wrong with this post? How could we improve it? :)
Let us improve this post!