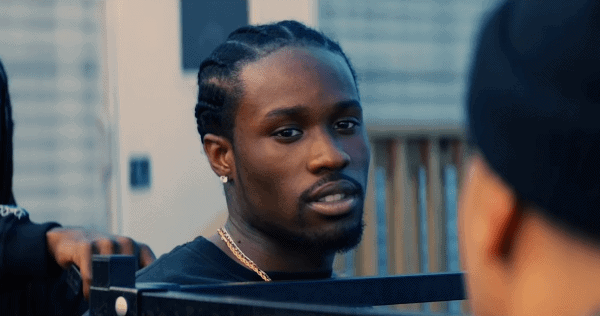 Shameik Moore got his first big break in 2015 when he was cast with a starring role in the movie Dope. The film earned him a nomination for Critics Choice Movie Award and he quickly became one of the most talked about up and coming stars. He kept the momentum going in 2016 when he was cast in the Netflix series, The Get Down. Sadly, the show was canceled after just two season but Shameik didn't let that stop him. In 2018, he became the voice of Spider-Man when he earned the role of Miles Morales in Spider-Man: Into the Spider-Verse. As Shameik continues to show the world how talented he is, it becomes more apparent that there's nothing he can't do. Keep reading for 10 things you didn't know about Shameik Moore.
1. He's From Atlanta
Atlanta has a long history of being home to some very talented entertainers, and Shemeik Moore is one of them. He was born and raised in the city and is very proud of his southern roots. Although he is from the United States, his family originally comes from Jamaica.
2. He's A Musician
Shameik's acting is what originally made him famous, but he is also a musician. He released his first alum, 30058, in 2015. Shameik has gone on to release several singles since then. He has also been lucky that he's had some acting roles that have also allowed him to incorporate his love for music.
3. He Made A Controversial Comment About Rosa Parks
In 2020, people all over the internet were calling for Shameik to be canceled after. he made some questionable comments about Rosa Parks, police brutality, and racism as a whole. In a series of tweets, he made comments suggesting that Rosa Parks should have just called a cab instead of wanting to sit in front of the bus. He also suggested that black people are responsible for how they are treated by racists. Although he attempted to clarify what he meant by his comments, lots of people simply weren't feeling it.
4. He Loves Fashion
When Shameik Moore steps out, you can bet that he's always going to look his best. As a creative person, Shameik is always looking for ways to express himself. He loves fashion and he has a great sense of style. He isn't afraid to experiment with clothing and accessories.
5. He Always Wanted To Play Miles Morales
We've all heard the phrase, 'ask and you shall receive' and that's literally what happened when it came to Shameik being cast as Miles Morales. During an interview with Hype Beast he said, "My friend Kiersey (Clemons), who was my co-star in Dope, gave me this journal and told me to start writing my thoughts. We were on this law of attraction wave, and in my journal I wrote 'I am Spider-Man, I am Miles Morales."
6. He Loves Hearing From His Fans
While talent and hard work are two key components for success in the music industry, having a good relationship with fans is another important element. This is something that Shameik takes very seriously and he enjoys engaging with his fans as much as he can. He loves when his fans reach out to him to show love for his work.
7. He's Careful About The Roles He Says Yes To
No matter how talented an actor is, nothing is ever guaranteed when it comes to being chosen for roles. For that reason, some actors say yes to every project that comes their way. Not Shameik, though. He is very mindful about the roles he decides to play which is allowing him to build the kind of legacy he wants.
8. He Felt Pressure About Playing Raekwon
Any major acting opportunity is going to come with some pressure, but there's even more pressure involved when you're playing a real person. When Shameik was cast in the role of Raekwon in the Hulu series Wu-Tang: An American Saga, he admits that he felt a lot of pressure to do a good job portraying the legendary rapper.
9. He's a Denzel Washington Fan
Every actor has at least one other actor whose work they've always admired. For Shameik Moore, that person is Denzel Washington. In addition to being a Denzel fan, Shameik also hopes to mold his career after the award-winning actor. He told Hypebeast that his ultimate goal "is to be Denzel and Michael Jackson in the same body".
10. He Has A YouTube Channel
Long before Shameik got his big break in the industry, he was sitting at home recording videos to post on YouTube. He made his channel in 2008 and began posting acting and music related content. Although he no longer posts consistently, his channel still has over 2 million total views.