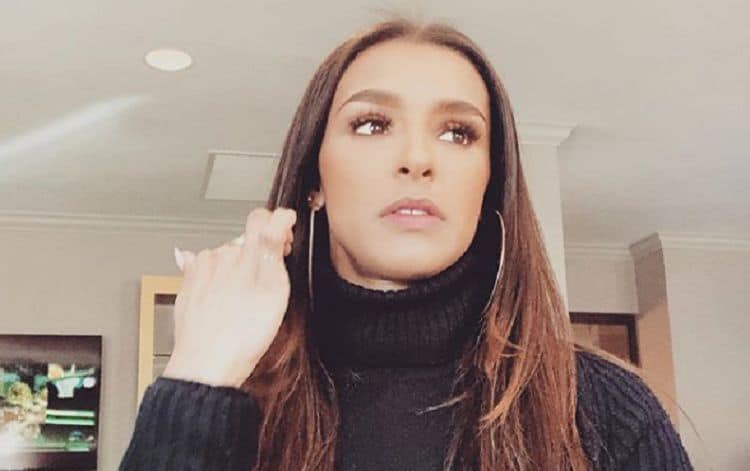 Melody Thornton is an American singer who is best known for her role as the lead in the musical group the Pussycat Dolls. She has recently been in the news as the group split, and some fans have wondered if she will ever reunite with the group. We were interested in finding out how she has been amid rumors of personal issues and the need for therapy after the breakup. We learned some interesting things during our investigation and here are 10 things about Melody Thornton that you might not know.
1. Her Birthday
Melody turned 35 years old on September 28, 2019. She was born in 1984 in Phoenix, Arizona, making her a native of the Southwest USA. She goes by her given name but is often called the nicknames "Baby Doll," and "Mel." She is a petite lady who is just 5 ft. 3 inches in height.
2. Melody is of mixed ancestry
We also learned that the beautiful Melody Thornton is of Mexican and African American heritage. Her father is African-American and her mom is Mexican. Her mom's name is Elia and her dad is Theolph. She also has an elder sister who is named Nichole. Thornton brought diversity to The Pussycat Dolls which helped to enhance their popularity with more people. She was the only girl of Latina and African American roots in the group which helped more people to be able to relate to the group. She was a valuable asset.
3. She started singing when she was still very young
When Melody was still in elementary school, she was already singing at a high level of proficiency. Her performance of "Without You" was a pivotal moment in her career as she was first discovered after the performance at a talent show at her elementary school. Later, she would leave her high school to audition for the band The Pussycat Dolls. She went to the audition and by December of 2003, she was brought on board as a member of the group.
4. Melody is also a professional actress
Being in The Pussycat Dolls opened a lot of doors for Melody Thornton. She appeared in several video short films with the group starting with "The Pussycat Dolls: Sway" in 2004. This was followed by 3 more videos in 2005, an additional 3 in 2006, followed by 3 more in 2008, and 2 in 2009. She also appeared in "Keri Hilson: Slow Dance"
5. Thornton was cast in a television series
Mel landed a recurring role in the television series "Bank of Hollywood" from 2009 through 2010. She went on to appear in the "Jason Derulo: Don't Wanna Go Home" video as a female dancer. She was cast as Doll V Diva in "Wine Time LIVE, AUS Version" series in 2016. Most recently she appeared on "The Podge and Rodge Show: in 2018. Each performance gave Mel more exposure to international audiences and added to her growing base of fans.
6. Melody lost herself for a while
Thornton disclosed that being with the group took a toll on her in her personal life. She shared that the music business is a tough industry and there is a great deal of stress and anxiety behind the scenes. These are things that the fans don't usually see and are not aware of. The pressures are immense and band members are forced to do things that are in the best interest of the group. It's easy to get lost and to lose a part of yourself in the process. She reported that after leaving the group, she had to seek therapy to work through some of the damage caused.
7. There are rumors of a reunion
The Pussycat Dolls disbanded in 2010 and they left thousands of fans wondering if there will ever be a reunion. There have been rumors that the group has been considering getting back together after a decade apart. When asked about the possibility of this, Melody didn't confirm or deny the rumors. She is being coy about the subject, so we'll just have to wait and see if it is actually going to happen.
8. Melody is still active in the music scene
Thornton has still been turning out hits and she is known for her soulful approach to the art. She blends elements of her African American and Mexican heritage with tribal woodwind sounds with the definite influence of Eartha Kitt and Nancy Sinatra. Her music deals with love and loss and her most recent hit is "Love Will Return." This reflects the effects of a more mature Melody Thornton and how her tastes in music have evolved.
9. Melody is deeply influenced by her own experiences
You can hear the influences of her past and her history in Mel's recent music. In addition to the infusion of her ancestral roots, she has also looked back on the time she spent growing up in Arizona. She shared that her mom and dad were both raised in small towns in the state with a wild west vibe and the region is loaded with a rich history and interesting stories. These are also influences on her creativity and they give her inferences to pull from.
10. You can follow her on social media
If you're a fan of Melody, or once were, you can find out more about what's going on in her musical career as well as her personal life by checking out her Instagram page. So far she has a little over 98,000 followers on the site with 82 posts. There are some great photos of Mel and her favorite things. It's obvious by the number of followers that she has that she is just as popular as she ever was. This is an excellent resource for fans who are interested in finding out more about the evolution of her music.
Tell us what's wrong with this post? How could we improve it? :)
Let us improve this post!