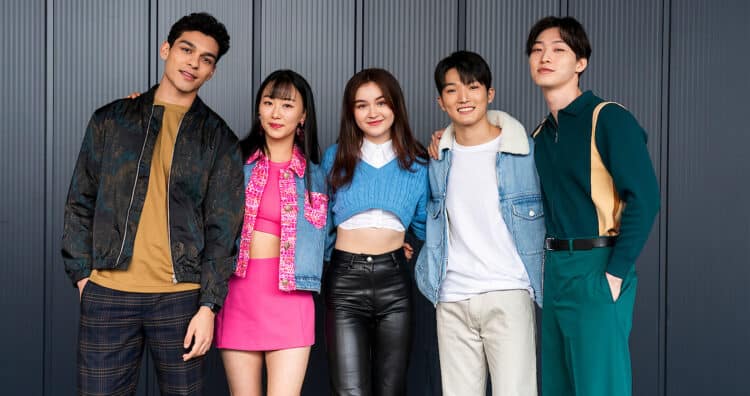 Teen-oriented and romantic movies and shows are some of the most popular productions on Netflix, with Sex Education, To All The Boys, and the more recently premiered Heartstopper snagging a fair share of eyeballs on the streaming platform. Recognizing the success of these types of shows, Netflix is set to drop another series titled XO, Kitty. The upcoming romantic dramedy streaming series is created by Jenny Han, who wrote the To All The Boys series, and serves as a spinoff of the franchise. Here's a description of the plot of XO, Kitty, according to What's On Netflix: "In XO, Kitty, teen matchmaker Kitty Song Covey thinks she knows everything there is to know about love. But when she moves halfway across the world to reunite with her long-distance boyfriend, she'll soon realize that relationships are a lot more complicated when it's your own heart on the line." The series will be executive produced by Han, alongside Sascha Rothchild and Matt Kaplan. If you want to learn more about the actors set to appear in this series, read ahead. Here are the cast members of the upcoming romantic dramedy Netflix streaming series XO, Kitty.
Anna Cathcart
Actress Anna Cathcart is set to star in the upcoming series XO, Kitty. She will be reprising her To All The Boys character Kitty Covey in the series, a role for which she garnered widespread acclaim. Cathcart's previous work includes Descendants 2, Descendants 3, and Spring Breakaway. In an interview with Glitter, Cathcart explained her acting journey, explaining how she came to work in the showbiz industry: "It had been a dream of mine since I was little, and watching Disney Channel everyday made me wish I could be there myself. But I never thought it could be a reality for me and that it could be something I could do for real. Sometimes I still can't believe that it is!" Cathcart also explained her feelings toward Kitty on To All The Boys I've Loved Before, describing what her sentiments are towards portraying the character. "It was amazing! Kitty was such a fun role to play – I'm so lucky and grateful to have had the opportunity to portray such a strong and smart and loveable character! I loved all her lines and scenes! And working with the cast and crew was awesome!" Given this, we should expect her to happily portray the character once more in this Netflix spinoff.
Choi Min-yeong
Choi Min-yeong will be starring as Dae in the upcoming Netflix series XO, Kitty. He was previously an actor in the kit Korean drama Twenty Five, Twenty One, which aired on the TV channel tvN. This is how OtakuKart broke the news of his latest role in XO, Kitty: "The nineteen-year-old Choi Min Young is going global with this new opportunity to star in a Netflix show that is promoted and revered by fans worldwide. Choi Min Young is going to play the role of Dae in XO, Kitty. Dae appeared in To All the Boys: Always and Forever (2021) as Kitty's love interest from Seoul, South Korea. In the movie, Dae was played by Jeon Ho Young." Some of Min-yeong's acting credits include W: Two Worlds Apart (2016), Strong Woman Do Bong-Soon (2017), Chicago Typewriter (2017), Mr. Sunshine (2018), Itaewon Class (2020), and You Are My Spring (2021), among others.
Anthony Keyvan
Anthony Keyvan will be playing the role of Q in the upcoming Netflix series XO, Kitty. Keyvan is of Filipino and Iranian descent and has appeared in shows like Schooled, NCIS, Bad Teacher, and Twisted. Here is his acting profile, according to IMDb: "Currently starring in Hulu's "Love, Victor" Anthony Keyvan is a veteran actor that has been portraying various roles in both film and television since a young age of 5 years old. In "Love, Victor", Anthony plays Rahim, an unrestrained and funny LGBTQ+ student, following the events of the successful hit movie 'Love, Simon' starring Nick Robinson. In the past, Anthony has held recurring roles on networks including HBO, ABC, Netflix, TNT, CBS, Nickelodeon, Hulu, and more and has brought characters to life in shows such as "Generation", "Alexa & Katie", "Fresh Off the Boat", "The Rookie", "Major Crimes", "Once Upon a Time in Wonderland." His profile also indicates that Keyvan is a vegan and likes to support mental health charities.
Gia Kim
Gia Kim will be starring in XO, Kitty as Yuri. It appears this upcoming Netflix series is Kim's debut TV project.
Sang-Heon Lee
Sang-Heon Lee will be playing Min Ho in XO, Kitty. He is best known for his work in Han Gong-ju, whose plot is as follows: "Han Gong-Ju transfers to a new school to escape her past. It takes a long time for her troubled past to catch up with her, but when it does the revelation is devastating."
Peter Thurnwald
Peter Thurnwald will be playing Alex in XO, Kitty. Thurnwald is an Australian actor, and his acting profile says he was adopted from South Korea and raised on the Gold Coast, Australia. "In 2020, his first year out of acting school, Peter was cast as the honorable and intelligent 'Lachie Koh' on the Stan Original series 'Bump' which became a critical success and gained a large following in Australia. Since then, he has been cast as the prolific world champion known as 'Foresite' in the CBS/Paramount+ League of Legends show, 'Players', and Netflix's 'To All The Boys I've Ever Loved' spin-off, 'XO Kitty' (TBA)." On Instagram, Thurnwald has around 1,500 followers as of writing, although this is expected to blow up when he starts appearing in the series.
Regan Aliyah
Regan Aliyah will be playing Juliana in XO, Kitty. Previously, she acted in projects such as BF For Hire and How To Catch A Ghost.
Recurring guest actors
Yunjin Kim is expected to appear as a recurring actress in the upcoming Netflix series XO, Kitty. On the show, she will be portraying the character of Jina. Actor Michael K. Lee will also be playing a recurring character in the series, portraying the character of Professor Lee. Lastly, actress Jocelyn Shelfo has been announced to portray Madison in XO, Kitty.
Tell us what's wrong with this post? How could we improve it? :)
Let us improve this post!