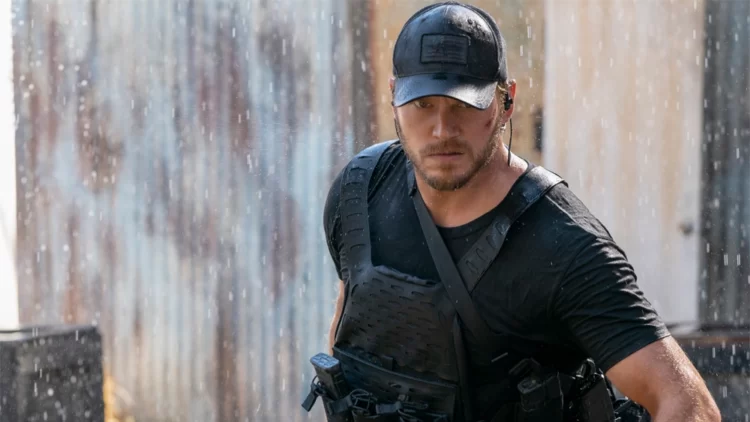 A major movie star is set to return to TV with Amazon Prime Video's upcoming action series The Terminal List. The show is based on the novel of the same name by Jack Carr, and it is set to be released on July 1, 2022. The series will be directed by two filmmaking powerhouses: Antoine Fuqua and Ellen Kuras. Fuqua is best known for his actions, crime, and thriller movies, including the Equalizer films, Brooklyn's Finest, Southpaw, The Magnificent Seven, Olympus Has Fallen, and the documentary What's My Name: Muhammad Ali. Kuras, on the other hand, has worked on projects like Catch-22, The Son, and The Umbrella Academy. Here's the plot of The Terminal List, according to Deadline: "The Terminal List follows James Reece after his entire platoon of Navy SEALs is ambushed during a high-stakes covert mission. He returns home to his family with conflicting memories of the event and questions about his culpability. But as new evidence comes to light, Reece discovers dark forces working against him, endangering not only his life, but the lives of those he loves." The show promises an impressive list of cast members, many of whom have successfully carved a career in Hollywood. If you want to learn more about the actors appearing in this series, read ahead. Here are the cast members of the upcoming Amazon Prime series The Terminal List.
Chris Pratt
Years after his major role as the lovable goof Andy Dwyer in the hit sitcom Parks and Recreation, Pratt is returning to yet another lead role, this time in an action series titled The Terminal List. The actor is portraying the character of Commander James Reece, the primary protagonist of the show. Pratt gained worldwide recognition for his starring role in Guardians of the Galaxy. He has since then appeared in other major blockbusters, costarring with A-listers in movies like the Jurassic World series, The Tomorrow War, and The Lego Movie. He also voiced the protagonist Dan Forester in the Pixar movie Onward. Pratt is a very busy man. He is set to appear in multiple upcoming film projects, including another Jurassic Park movie, two new MCU flicks, an untitled Mario movie, and an untitled Garfield movie.
Taylor Kitsch
Taylor Kitsch will be playing Ben Edwards in the upcoming Amazon Prime Video movie The Terminal List. Kitsch is best known for his role as Tim Riggins in the hit NBC television series Friday Night Lights. He's also worked on movies such as X-Men Origins: Wolverine, Battleship, John Carter, Savages, Lone Survivor, The Grand Seduction, American Assassin, Only The Brave, and 21 Bridges. On TV, he's worked on shows like The Normal Heart, True Detective, Waco, The Defeated, and Kyle XY. Aside from The Terminal List, Kitsch is also scheduled to appear in two other shows, an untitled HBO series where he is set to play a lead role and Painkiller.
Constance Wu
Constance Wu will be playing Katie Buranek in the upcoming series The Terminal List. Wu is perhaps best known for her starring role in the hit movie Crazy Rich Asians. She's also appeared on films like Hustlers, Wish Dragon, I Was a Simple Man, and Next Gen. He is set to appear in an upcoming movie titled Lyle, Lyle, Crocodile, directed by Will Speck and Josh Gordon. Her most prominent TV role is as Jessica Huang in the hit comedy Fresh Off the Boat. Since then, she's appeared in shows like Royal Pains, Dimension 404, and Solos.
Jeanne Tripplehorn
Jeanne Tripplehorn will be portraying Lorraine Hartley in the upcoming series The Terminal List. A veteran actress, she gained international fame for her role in Basic Instinct in 1992. She then appeared in other blockbuster hits like The Firm, Waterworld, and Sliding Doors. Tripplehorn also has an extensive TV resume, having appeared in shows like New Girl, Undone, and Mrs. America. She starred in Criminal Minds as Dr. Alex Blake, appearing in the show for 48 episodes.
Riley Keough
Riley Keough will be portraying Lauren Reece in The Terminal List. A granddaughter of Priscilla Presley and Elvis Presley, Keough has carved a career for herself independent of her famous relatives. She made her film debut in the movie The Runaways, where she portrayed famed scientist Marie Curie. Her more recent movie appearances include Hold the Dark, The Lodge, Earthquake Bird, Zola, The Devil All the Time, and The Guilty. She is set to appear in an upcoming movie titled War Pony, which she co-directed. On TV, she is best known for starring in The Girlfriend Experience. She's also guested on shows like Riverdale, Paterno, and Calls. Aside from The Terminal List, Keough is also starring in another upcoming series, also on Amazon Prime, titled Daisy Jones & The Six.
Patrick Schwarzenegger
Patrick Schwarzenegger stars in The Terminal List as Donny Mitchell. Like Keough, Patrick is also a descendant of Hollywood royalty, being the son of legendary bodybuilder Arnold Schwarzenegger and journalist Maria Shriver. Patrick has appeared in movies like Daniel Isn't Real, Echo Boomers, Moxie, and Warning. The actor doesn't have a lot of TV experience. He only has three TV credits to his name, Scream Queens, The Long Road Home, and HBO's latest hit, The Staircase.
Arlo Mertz
One actress who is relatively unknown compared to her movie star costars is Arlo Mertz, who will be playing Lucy Reece in The Terminal List. According to her IMDb profile, she has previously appeared in Wildling, Mank, and Lucy in the Sky. Given the high profile of this Amazon Prime project, Mertz would definitely emerge from this show as one of this year's rising stars.
Other cast members
Actors set to appear in a recurring capacity in The Terminal List include LaMonica Garrett as Commander Fox, Alexis Louder as Nicole Deptul, Tom Amandes as Vic, JD Pardo as Tony Liddel, Christina Vidal Mitchell as Mac Wilson, Jared Shaw as Ernest "Boozer" Vickers, Catherine Dyer as Rachel Campbell, Remi Adeleke as Terrell "Tee" Daniels, Jai Courtney as Steven Horn, Hiram A. Murray as Jackson, and Matthew Rauch as Captain Howard.
Tell us what's wrong with this post? How could we improve it? :)
Let us improve this post!