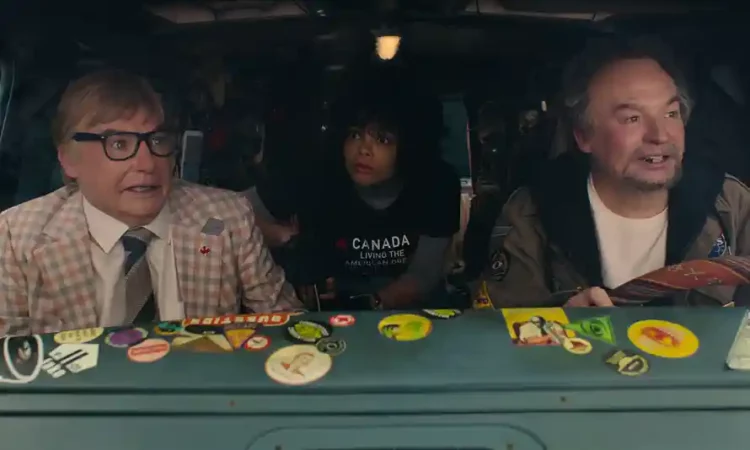 A star-studded cast is set to breathe life into the upcoming comedy limited series The Pentaverate. Created by SNL alum Mike Myers, who will also be starring in the show, The Pentaverate tells the story of a secret society that has been influencing world events for the greater good. The show is written by Myers, alongside Roger Drew and Ed Dyson. Drew is best known for his previous work on The Thick of It and Veep, for which he won an Emmy award. Ed Dyson previously worked on Deutschland and Urban Myth. The Pentaverate is a spinoff of So I Married an Axe Murderer, a 1993 film starring Mike Myers and Nancy Travis. If you're interested in learning about the A-list cast members of this series, read ahead. Here are the cast members of the upcoming Netflix comedy miniseries The Pentaverate.
Mike Myers
Mike Myers not only creates but also stars in the upcoming miniseries The Pentaverate. He will be taking on multiple roles in the show, including: Ken Scarborough, a Canadian journalist; Anthony Landsowne, a New England conspiracy theorist; Rex Smith, a far-right radio host and conspiracy theorist; Lord Lordington, a high-ranking member of The Pentaverate; Shanne Salanitry, a former media mogul; Mishu Ivanov, an ex-Russian oligarch; Shep Gordon, a former band manager; and Jason Eccleston, a tech genius. Mike Myers is one of the most prominent alumni of Saturday Night Live. After his work on SNL, he received critical acclaim for his hilarious portrayal of Austin Powers in the Austin Powers film franchise. He then found success in voice acting, lending his voice to Shrek in all of the Shrek movies. More recently, he appeared in movies like Terminal, Bohemian Rhapsody, and the upcoming period drama Amsterdam, which is currently in post-production. His post-Saturday Night Live work include The Gong Show, where he worked as an executive producer.
Ken Jeong
Ken Jeong portrays Skip Cho in the upcoming miniseries The Pentaverate. The actor rose to fame for his role as Leslie Chow in the hit film series The Hangover. Since then, he's appeared in Advantageous, Ride Along 2, Crazy Rich Asians, Saving Zoe, Elsewhere, My Spy, and Tom & Jerry. Jeong has two upcoming movies: All-Star Weekend and El Tonto. Jeong's most prominent TV role is as Spanish teacher Ben Chang in the hit NBC series Community, appearing in the series for 92 episodes. Since then, he's made appearances in Burning Love, Sullivan & Son, and Hot in Cleveland. In 2015, he created, starred, and executive-produced the ABC sitcom Dr. Ken, which is loosely inspired by his previous work as a physician. Currently, he hosts The Masked Singer alongside Robin Thicke and others. He also appeared as a guest star in the critically acclaimed Netflix series Murderville. In an interview with Mashed, Jeong talked about working with Mike Myers and being cast in the upcoming series The Pentaverate: "It was a career highlight for me because Mike Myers is not only a friend now, but he is really one of my comedy inspirations. One of the reasons why I do comedy at all is because of Mike, and a lot of comedic actors would say the same thing. Every day was pure joy working with one of my heroes and idols. It was really one hell of an impactive experience. I'm smiling if I think of it right now. Every day, you would go to work with a smile and you would leave with an even bigger smile. I remember me and Keegan, so many times we're pinching ourselves going, "I can't believe we're actually doing a Mike Myers project together." It's a lot of fun."
Keegan-Michael Key
Keegan-Michael Key will be playing Dr. Hobart Clark, a nuclear physicist recruited by the Pentaverate. Key is most popularly known for being Jordan Peele's partner in the Comedy Central sketch series Key & Peele, which ended in 2015. After the series, he began appearing the short-lived Netflix series Friends from College. He also made appearances in No Activity, Brain Games, and Game On! In 2021, he hosted Saturday Night Live and starred in Schmigadoon, a new Apple TV+ comedy-musical series. Aside from The Pentaverate, Key is set to appear in a Hulu comedy series titled Reboot. Key also hosts a podcast titled The History of Sketch Comedy, where he talks about the entertainment form's history. In an interview with New York Times, he was asked whether he's always been a student of sketch comedy history, to which he replied: "That's something that started in my 20s probably, when I was an undergrad fine arts and acting major [at the University of Detroit Mercy]. I never gave much thought to the history of comedy until I started studying commedia dell'arte. I was like, "Wait a second, you mean there are archetypes? Warner Brothers didn't just invent the phenomenon of Bugs Bunny? The primary characteristics [of Bugs] have existed for hundreds of years?" When my professor said that, my mind got peeled back. I wrote a paper [in graduate school, at Pennsylvania State University] making a comparison between vaudevillian poster advertisements from the late 19th century and the images that you would see on Greek and Roman friezes from the comedies of Plautus and Terence and Aristophanes, just because that kind of stuff fascinated me."
Debi Mazar
Debi Mazar will be playing Patty Davis in The Pentaverate. The actress is best known for projects like Lies & Alibis, A Beautiful Life, The Women, Lovelace, Return to Babylon, She's Funny That Way, Entourage, The Only Living Boy in New York, and Wonder Wheel. On TV, she worked on shows like Younger, where she was a series regular, Happy!, and Arde Madrid.
Jennifer Saunders
Actress Jennifer Saunders will be playing two characters in The Pentaverate: the Maester of Dubrovnik and the Saester of Dubrovnik. A multi-awarded actress, Saunders has appeared in Absolutely Fabulous, The Stranger, Josh, and Ghosts. She appeared in two episodes of Friends, playing Emily's mom. On the big screen, Saunders played roles in Absolutely Fabulous: The Movie, Patrick, Isn't It Romantic, and Death on the Nile. She is set to appear in the upcoming movie Allelujah, which is currently in post-production.
Lydia West
Lydia West will be playing Reilly Clayton in The Pentaverate. The actress is best known for her role in the BBC One series Years and Years and the Channel 4 show It's a Sin, a role that earned her a nomination at the BAFTA. She currently stars in the thriller series Suspicion, appearing in the show as Monique Thompson.
Other cast members
Rob Lowe and Maria Menounos are set to appear in The Pentaverate as fictionalized versions of themselves.