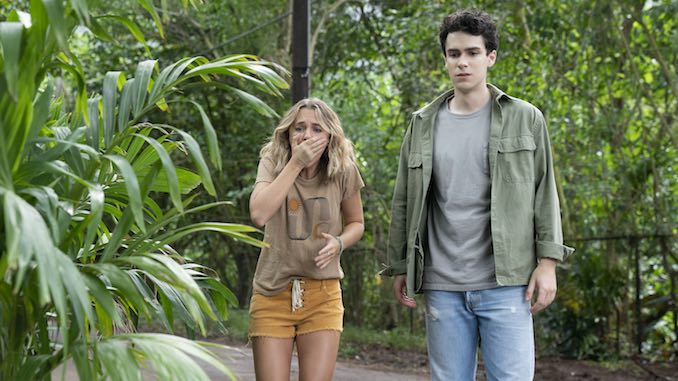 It's been 25 years since the movie I Know What You Did Last Summer was released and it has become an important part of horror movie history. In addition to spawning two film sequels, the I Know What You Did Last Summer franchise has recently launched a TV series on Amazon Prime. Although the series doesn't include any of the original characters, it follows the same premise as the movies. Even though many of the show's cast members are new to the industry, they have done a great job of stepping into their roles and they all appear to have bright futures in the entertainment industry. Keep reading to learn about the cast of I Know What You Did Last Summer the TV series.
Madison Iseman
Madison Iseman has been in the entertainment industry for nearly a decade, and during that time she has worked very hard to establish himself. She has appeared in a combination of movies and TV shows and some of her credits include Still the King and The Social Experiment. In addition to I Know What You Did Last Summer, Madison is also working on a movie called Saint Seiya: Knights of the Zodiac which is set to be released in 2023. In addition to acting, Madison's Instagram profile it's clear that she loves fashion and she also has an adventurous side.
Bill Heck
Bill Heck has almost 15 years of on-screen experience under his belt. Although many of his roles have been on the smaller side, he got a major opportunity in 2020 when he was cast in the Netflix series Locke & Key. Since then, he has kept the momentum going and I Know What You Did Last Summer is proving to be a great opportunity for him. He is also working on a series called The Old Man. He's pretty quiet when it comes to his personal life, but we do know that he is married to actress Maggie Lacey.
Brianne Tju
Since making her on-screen debut in 2004, Brianne Tju has been working her way up to bigger and better opportunities. As a result, she's gotten to be in some pretty successful projects. That said, I Know What You Did Last Summer has the potential to be her biggest role depending on how the show goes. Brianne's younger sister, Haley, is also an actress who has been in shows like Trinkets and Bella and the Bulldogs. Haley is also a very accomplished voice actress.
Ezekiel Goodman
Ezekiel Goodman only has a handful of acting credits, but you'd never be able to tell by watching him work. He carries himself with the confidence and poise of an industry veteran and that's exactly what he's going to be one day. On top of the work he's done as an actor, Ezekiel is also a writer, director, and producer.
Ashley Moore
Ashley Moore is best known for the work she's done as a model. She got a major break in 2013 when she appeared in the video for the Drake song "Hold on, We're Going Home". I Still Know What You Did Last Summer is her first time taking on a big acting role. Despite not having much experience, Ashley has been holding her own and it's clear that she could have a future in acting if that's what she decides to do.
Sebastian Amoruso
Sometimes it can take actors a long time to get a significant role, but Sebastian Amoruso has lucked up in that department. I Still Know What You Did Last Summer is his second on-screen credit. Since Sebastian is pretty new to the industry, there isn't a lot of information floating around about him. On top of that, he doesn't seem to be that interested in social media. Even though he has an Instagram profile, he only has one post.
Fiona Rene
Fiona Rene's name may not be widely known, but that doesn't mean that she hasn't had a consistent acting career. She has been in the industry for more than 15 years and she got her first big break in 2019 when she was cast in Stumptown. I Didn't Know What You Did Last Summer could be the perfect opportunity for her to continue to expand her career.
Cassie Beck
After several years of having small roles in various shows, I Know What You Did Last Summer is Cassie Beck's first major on-screen opportunity and she isn't letting it go to waste. Even though she doesn't have a lot of on-screen experience, Cassie has had a successful theater career which includes being in the Broadway production of The Constitution Means to Me.
Brooke Bloom
Brooke Bloom has worked hard to build a solid resume over the years, and she has made more than 60 on-screen appearances. No matter what kind of role she's playing, you can always count on Brooke to put on a memorable performance. Some of her best-known credits include The Sinner and CSI: Miami.
Tell us what's wrong with this post? How could we improve it? :)
Let us improve this post!