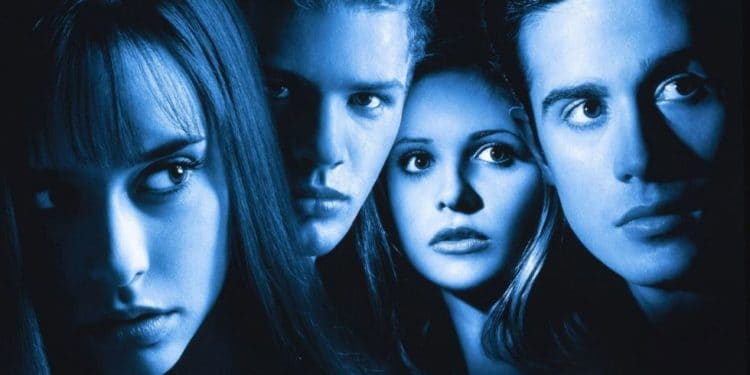 If there was one horror movie that deserved a Razzie it was I Know What You Did Last Summer. The movie as hyped up to sky-high levels but at the same time it kind of failed to deliver on the promise it made in its trailers. That's not to say that it didn't try it's best to freak people out, as a guy walking around using a hook for a weapon is terrifying enough. But the acting, the suspense, and the overall story just kind of fell flat despite the amount of terror it was supposed to drum up. It's not too hard to see why a parody or two was made including scenes from this movie in it, as aside from the overall suspense that was built up it kind of left audiences flat. But thankfully the cast didn't suffer for that, as they all went on to have great careers, if they didn't have them already.
Johnny Galecki – Max Neurick
This movie came out at the same time that Johnny was starring in Suicide Kings with another star-studded cast. To be quite honest Johnny already had a great career going before this movie and was more or less there to round out the cast and create a character that was used for other purposes than making him famous. After this he went on to do a lot more supporting roles and would eventually become part of The Big Bang Crew, which really elevated his status as most people should know.
Muse Watson – Ben Willis
Muse has had a career since the 90s and one of his most popular characters to date has to be Mike Franks from NCIS. Since he's one of the only guys that can one-up Gibbs he gets special treatment and for the most part is the mentor that you come to understand molded and created the legend that is Gibbs. In other roles Muse has been more of a supporting actor and even an extra, but there's no mistaking him for anyone else when you see him. The great thing is that he can be a really nice character or he can be one of the most vile characters you've ever seen.
Ryan Phillippe – Brian William Cox
Ryan has had a reputation of being the pretty, spoiled rich boy in a lot of productions and in this film it was no different. He was still a relative newcomer when this film came out, but his career only went up from here. For a while it kind of leveled out but then he made a comeback and has been doing great ever since. When he signed on to play the part of Bob Lee Swagger in the show Shooter he really got a chance to shine again.
Freddie Prinze Jr. – Ray Bronson
Another newcomer to the film industry when this film came out, Freddie was another young man that became known as a teen idol after his dominance in the industry was established. Young women went out of their minds when he stepped on screen, and for much of his career his looks were what he seemed to bank on as his act never seemed to change all that much. But as he's gotten older and matured he's managed to change his act up a bit and has really proven that his talents have withstood the test of time. Plus he's been engaged in other interests as well, so that helps.
Sarah Michelle Gellar – Helen Shivers
The same year this film came out was when Sarah landed the role of Buffy in Buffy the Vampire Slayer, the TV version, and that's where her career really took off. Becoming a slayer of monsters was the ticket for her to stick around and it made her even more famous than she'd already become. Like the others however her popularity did begin to wane as she got older, but she's managed to find more than one project to help her keep that level of fame that she earned all those years ago.
Jennifer Love Hewitt – Julie James
Her career did a pretty solid after this movie as well, but considering that she had a career to speak of before this the movie seemed like a minor bump that a lot of the actors needed to get over in an attempt to move on. Only her, Freddie, and Muse came back for the second movie, and only Muse came back for the third one. Thankfully they all got to move on from this movie with their careers intact, as Hewitt became more well-known as a TV star after a while.
You kind of have to wonder why someone thought that making three movies instead of just one was a good idea, but hey, that's Hollywood. If there's money to be made on taking chances this is the place to do it.
Tell us what's wrong with this post? How could we improve it? :)
Let us improve this post!