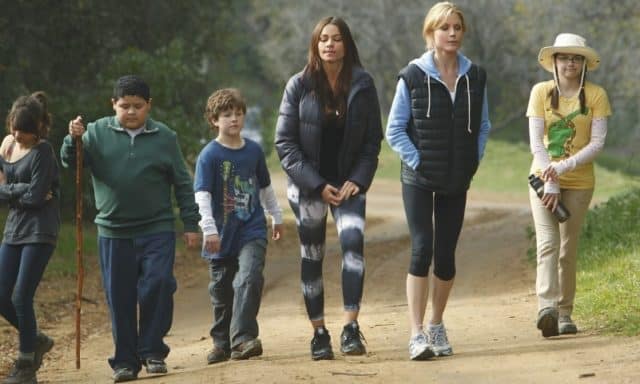 A mother is one of the most important people to her child, even when they have reached adulthood. In recognition of everything that mothers do, we celebrate Mother's Day once a year to show appreciation with gifts and letting them stay in bed with a cup of tea in the morning. It is an event that is also recognized by television series and some of the most memorable episodes have been aired on Mother's Day. Here are five of the most memorable Mother's Day episodes in television.
1. Modern Family- Mother's Day
In the Mother's Day episode of Modern Family, viewers see the ups and downs of family life. Gloria and Claire take their children on a hike while Jay and Phil cook dinner at home. Things don't go to plan as the men have an awkward moment together and the women end up falling out with the kids. By the end of the episode, everyone has made up and shared a family hug. One of the best moments in the episode is when Jay discovers a letter he wrote to his mother as a child.
2. Orange is the New Black- Mother's Day
There are several reasons why this is such a great Mother's Day episode. The first is Pennsatucky creating a mini graveyard for the babies she has had aborted and feeling sad that they didn't get the chance of life. The second is Pennsatucky recounting a tale about how her mother taught her how to falsely get a social security check.
3. The Goldbergs- Smothers Day
Beverley's oldest two sons have no interest in doing anything for her and Beverley is adamant that this will change on Mother's Day. After plenty of persuasions, they finally make her a dreadful breakfast. It is the sort of episode that will make you think of all the terrible things you did as a teen and how you made your own mom suffer.
4. 30 Rock- The Moms
Episode 20 of season 4 of 30 Rocks is hilarious as the staff of The Girlie Show with Tracy Jordan are bringing their moms on the show for a special celebration of Mother's Day. Of course, not all the staff get along with their moms and there are some who have forgotten it is Mother's Day. Despite the comical relationship problems, the episode ends with a good old singalong with the moms.
5. Futurama- Mother's Day
The main focus of this episode is Mom's Friendly Robot Company. The robots from the factory each give gifts and cards to Mom, the founder of the factory. However, Mom hates Mother's Day as it reminds her of her failed romance with Professor Farnsworth years earlier. It puts her in a bad mood and she decides to lead the robots in a rebellion against humanity.
Tell us what's wrong with this post? How could we improve it? :)
Let us improve this post!