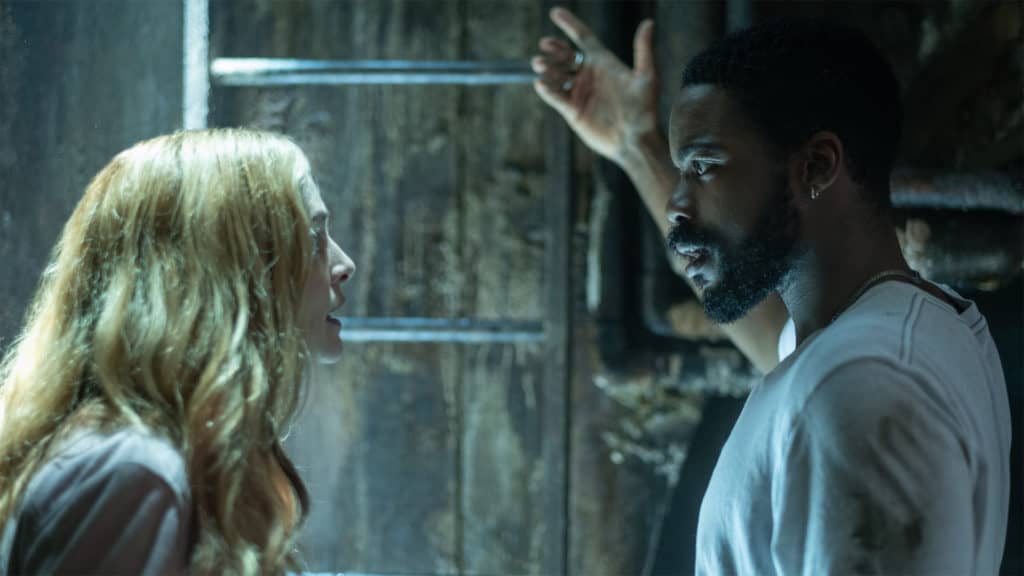 To say that The Stand has been universally loved on CBS All Access would be a false statement, to be honest, but one thing that fans should recognize is that this version is following the book a little closer than the original miniseries did back in 1994. Just to start with, Larry Underwood was kind of a miserable individual when Captain Trips hit in force and was a less than savory character. The idea that he was a plagiarist, possibly, was fun to see as well, and the nod to the original miniseries when his mother asked him to bring his father back from the bar was nice. But we also had the chance to meet Rita Blakemoor, who's played by Heather Graham, and Nadine Cross, who is being played by Amber Heard, to the chagrin of many irate fans that are wanting her to be blacklisted at this point. But more on that at another time. The story has been progressing, going back and forth, and there are a lot of tells that have come to the fore thus far since in the first episode we already learned that we were going to be going back and forth in time, at least until it's established how everyone came to be where they apparently belong. We've had the chance to meet Nick Andros, who feels a little more unsettled than Rob Lowe's version back in 94.
Readers of Stephen King's book will already know what happens to Rita, and how it continues to push Larry along his road towards redemption and eventually towards Boulder, Colorado. But we've also seen the beginning of Lloyd Henreid's journey to become Randall Flagg's right-hand man, as his uncertain prison sentence showed his grisly feast and even went for a further gross-out as a guard flung a handful of mucous in his direction. What's interesting about Lloyd this time is that he's being played as a supposed big shot that's really kind of a scared little mouse that acts tough, which feels right since the character in the book definitely felt tough when he had enough backing behind him but was still that scared little mouse when things went wrong. We still have yet to meet Tom Cullen and learn any more about Nick Andros, but there are other episodes coming after all, and the tragedy between Larry and Rita is yet to come as well. There's also the very real idea that Nadine is already feeling out of place since she knows that there's someone else that's putting a claim on her, and it's not Mother Abigail. Flagg trying to put the move on Larry is interesting considering that it makes sense, but the use of that rats feels as though it's heralding the arrival of the Rat Woman, the gender-swapped character that was dubbed the Rat Man in the original miniseries. Hey, if she can make it work, then let's see it since the Rat Man was kind of a bad joke in the first miniseries when he could have been a little better.
So far the miniseries feels as though it's being pushed forward at a kind of hurried pace since there's a lot of ground to cover, and there are bound to be a few things that aren't going to be discussed while other moments get a great deal of exposition. One interesting note is the kid Joe, who responds quite well to Larry in comparison to how he responds to Nadine. It's very possible that Joe is more sensitive to the world that surrounds him and others since his reaction to Harold when Larry took Joe with him to meet and say thank you to Harold for all the signs he left leading towards Boulder was definitely noticeable. Upon seeing Harold, Joe's eyes went wide with something that could have been called caution, alarm, or even fear, and he turned away, not bothering to look at Harold. It's been a little too obvious since the first episode that Harold is not a decent person, and by the end of the first episode, it was made clear that he was going to be a serious problem. But making it that blatant might have been a mistake since viewers are going to be on pins and needles until something finally happens, especially those that remember the first miniseries and have read the book. We know what's coming, right? Prolonging it in this manner is bound to give some people a bit of anxiety, while others might even wonder if watching is going to be worth it. At this point, we really need to see more of Nick and Tom, since their story is very pertinent to the overall narrative at this time. If the show really wants people to keep paying attention, it needs to focus and introduce the main characters a little quicker, and then push forward, since right now there are plenty of people that are sighing in exasperation. It's a great story, and this version has a lot of promise, but the manner in which the reveals have been given feels, incomplete somehow.