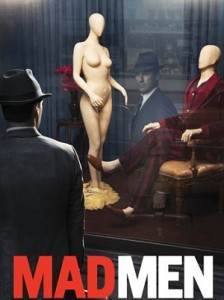 Yes, it's been a while since we've been privy of the dramas at Sterling Cooper Draper Pryce (Did Don Draper actually marry that French-Canadian girl Megan? What is the aftermath of Joan and Roger's post-robbery love child? What's life like after the loss of American Tobacco?), and those were almost overshadowed by the dramas that played out in the AMC offices (Will Matthew Weiner return as show-runner? How much money did he get to return? How many episodes will young Kiernan Shipka direct this season?). All of the fans sat down to see how Weiner and his team would emerge from the public manoeuvrings and the heavy zeitgeist-bearing load that has befallen the creator's passion project.
Was he successful? An emphatic, definitive…kinda.
Overall, the episode was wonky. Discordant and unsure, the first half-hour felt like a new show struggling to find its voice and rhythm, not the return of a steady hand. The slow re-introduction of characters, where they are and who they're with, played flat and stilted. Most disconcerting were the scenes with Joan Holloway at home with her new baby: the dialogue was stilted and the performances wooden.
As we slowly trudged through a cast roll call, we learned that outside of Pete Campbell having moved with his young family into what appears to be a replica of Don Draper's suburban cookie-cutter house, not that much had changed. To wit:
Joan had her baby
Don got married
Things at SCDP are steady but not flush
The 1960s were one tumultuous time
That's it. Which is fine–nobody said that life pivots on convenient plot points and act breaks–but why were we spending so much time getting reacquainted?
In truth, things didn't get interesting until Megan's surprise birthday party for Don's fortieth. As it has been written (by those smarter than me–or at least those willing to do the research for a satisfying footnote), putting the cast of characters together in one place is a fine dramatic trick–it allows for interesting dynamics to surface and play out.
So then–why didn't the whole episode simply start at the party? There was nothing we learned from the interminable opening half hour that we couldn't have gleaned from a cold open on the party sequence (in all its Laugh-In/Playboy After Dark glory).
It's easy to project, so here I go: it felt very much like Weiner buckled under the sense of audience expectation, as if writing the script were hampered by an on-going debate with a devil on his shoulder (in the form of a studio executive giving notes):
Weiner: I'd really just like to get into the middle of everything.
Devil Exec: People don't like unanswered questions.
Weiner: Are you kidding? I've built an entire show around that.
Devil Exec: Yeah, but more people are watching these days. You're a victim of your own success, baby!
Weiner: Well, I guess I could spend more time with everyone.
Devil Exec: That's it! A little gettin'-to-know-you time!
Weiner: OK…but I don't know how I feel about the sung-through musical episode idea.
Devil Exec: One bridge at a time, my man! How about that funny Eddie Griffin as an equal opportunity hire at SCDP? It'll be great cross-over!
To that end, we spent more time in this season opening movie knee-deep in soap opera machinations instead of quality time in the office. We get a taste of changing approaches in advertising with the failed Heinz pitch, which featured the '˜bean ballet'of microphotography that has become a staple of eroticizing products in TV ads, but otherwise we're far too involved in the sort of gossipy catch-up usually reserved for a backyard fence exchange between curler-and-bathrobe housewives in a dramatic reinvention of Andy Capp that I just thought up.
Part Two, however, was a happy tightening of the dramaturgical reins. From Roger Sterling making fun of Megan's go-go birthday song for Don's birthday ('I'm not making fun of your wife, I'm making fun of you.') to the power struggle between Pete and Roger for titular stewardship of SCDP's account departments and, more important, the best office (in which Roger suggests that Pete conduct his high-line business 'in the crapper for all I care'). In fact, the heartbeat of this episode was Slattery's Roger, a dramatic and comedic bulwark against the sudsy goings-on: whether pining the decline of his marriage (and his wife's apparent lack of affection) or commenting on the backfire of his idea for a printed jab at Y&R's recent civil rights gaffe ('Is it me, or is the lobby full of Negroes?'), Sterling provided the finest grist in the Mad Men mill.
In the end, this opener wasn't a disaster and certainly not a shark-jumping moment. But it showed that long gaps between seasons, while good for golf games and side-projects, is not the best recipe for a show that plays more like a literary endeavour than an episodic assembly-line schedule filler.
Interesting to note:
Megan knows about the Don/Dick dichotomy–how else would she know about him having two birthdays?
While this is projecting to a high degree, did Weiner realize the meme-ready material he delivered in the 'Zuby Zuby Zu'sequence?
When Pete makes a play for Roger's office, the elder statesman states his status as senior partner and offers the young whelp a soothing '˜Sorry, Charlie'in condolence. I wondered if this was anachronistic, but sensed better with Weiner at the helm. Charlie the Tuna, a hipster fish with hopes of being caught by StarKist Tuna because of his '˜good taste', was created by the Leo Burnett agency shortly after being hired in 1961.
For more Mad Men-related goodness, read my book Kings of Madison Avenue: The Unofficial Guide to Mad Men. For more about one of my favourite subjects–me–please visit: www.jessemclean.ca
Tell us what's wrong with this post? How could we improve it? :)
Let us improve this post!