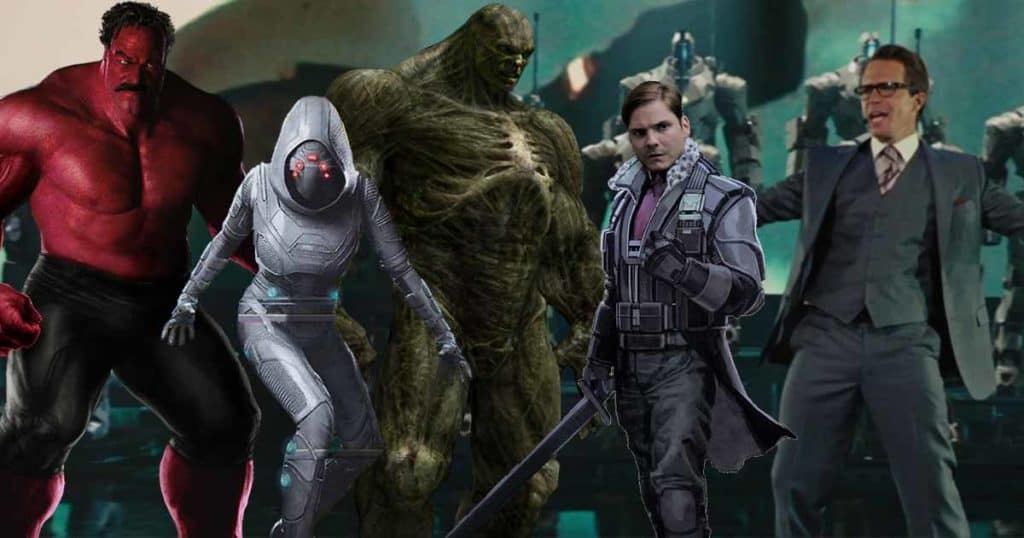 It almost sounds as though the Thunderbolts, a group that's changed several times over the course of their time in Marvel comics, has been an idea that's been kicked around a bit for the past couple of years, even if nothing has come of it. When one really looks at how many ideas Marvel has yet to bring to the MCU though, it's fair to assume that some ideas will be tossed about until the rough edges are polished and ready to go, while some ideas might not be feasible. Every fan and every person that has an idea pop into their head has an opinion on what should happen and what the MCU should take on next, myself included, but the reality is that those in charge have a lot of their plate already and have decisions to make that are based on a list of factors that need to be used in deciding which project comes next. The Thunderbolts would be an interesting team, but much like Guardians of the Galaxy they likely wouldn't be the original team that Baron Zemo brought together simply because few if any people outside of Marvel fans would know that much about the characters that Zemo would pull together. To be fair, a lot of people still don't know that much about Zemo since he's been introduced and then socked away not only in the Avengers and Captain America movies but in the more recent show The Falcon and The Winter Soldier on Disney+. It's true that he had more screen time on the show, but at the same time, he was still pushed to the side at some point to make way for Sam and Bucky's story so that things could be set up for the less than epic brow-beating of the US senators that Sam gave near the end of the first season. Zemo became kind of an afterthought at some point, but for those that were following his progress, it's easy to think that they might want to see what kind of team he could recruit.
If it's any of those that are pictured above it would interesting since the Red Hulk, who is also General Ross, the same guy that's been after the Hulk/Bruce Banner for a while, the Abomination, Ghost, the Vulture, and even Justin Hammer, would be great allies since they all bring something to the table. Hammer brings a fortune and is tech-savvy since he's not really a combatant, but more of a schemer that Zemo could use in some way. Ghost, when she's stabilized, and if she were to be convinced to break bad again, would be a great asset thanks to her phasing ability, if she could control it. The Abomination and Red Hulk would be obvious powerhouses, but it's kind of hard to say whether or not they'd be able to be controlled since both of them are strong-willed individuals that actually hate each other. If anyone remembers the movie in which Ross and the Abomination were working together, the Edward Norton-led Hulk movie, the two ended up being enemies after they'd been allies, and Ross had actually sided with the Hulk during the final fight. Trying to think of a way to get them to work together feels like it would be a little difficult, but if it could happen then the Thunderbolts would have a seriously tough team to beat when it came to overall strength, intelligence, and various other skills. But it would be a volatile team, of that there's no doubt. One can only imagine the chain of events that might need to happen to make this possible. But post-snap, or blip, or whatever, it feels as though a lot of things are now possible, and that much like the comics, things can be explained away in a manner that will make everyone happy, or at least content.
The Thunderbolts have been around for quite a while, but as I mentioned, they likely wouldn't be the same team that people might remember since in this day and age the MCU tends to use those characters that they see as marketable and who can gain and keep the attention of the fans. That's the bottom line really, since if the Thunderbolts don't appear to be a team that fans will enjoy then there's not much chance that the idea is going to see the light of day. It's sad to say, but there are ideas from the Marvel universe that will never come to fruition the way that many fans want them to since the people in charge are going to be looking at so many different ideas that tit's bound to happen that some will get ignored and possibly never even mentioned. Plus, the fact that Marvel continues to push forward means that the MCU has to keep up.