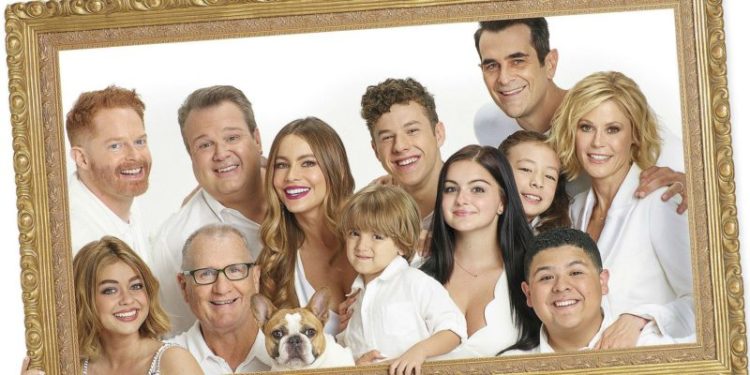 Pregnancy announcements on television shows come in all shapes and forms. Sometimes, it's a strong independent woman like Olivia Pope, who simply decides that she's not cut out for motherhood. Other times, it's Rachel Green, who keeps the identity of her baby's father hidden, until everyone finds out in their own unique way. Through some of America's greatest sitcoms, there have been a number of pregnancy announcements, some funnier than others. These are the very best of them:
10. Judith Harper ('Two And A Half Men')
Alan Harper (Jon Cryer) never really learned after getting burned. Judith ( Marin Hinkle) had proven time and again that she was a condescending woman who only looked out for herself, yet Alan decided to swoop in when she had problems with Herb (Ryan Stiles). The result was a pregnancy that Judith passed as Herb's and the announcement was made by Jake (Angus T. Jones), who didn't really care much. Alan was stunned, and for a minute or so, he was tongue-tied, doing math in his head.
9. Phoebe Buffay ('Friends')
After Monica (Courteney Cox) and Rachel had a 'stupid bet' that they lost to Joey ( Matt LeBlanc) and Chandler (Matthew Perry), they had to give up their apartment. On the day they were supposed to move, Rachel was livid. While they were overwhelmed with all the packing they had to do, Phoebe was having some problems of the own. Her pregnancy test wasn't cooperating, so she had to use gravity and singing to her advantage. Everyone was shouting at the top of their lungs when Phoebe ( Lisa Kudrow) walked out of the bathroom with a positive pregnancy kit. Her brother and his wife were going to have a baby after all.
8. Lily Aldrin ('How I Met Your Mother')
In "Challenge Accepted", Marshall ( Jason Segel) was not feeling too well, and Lily (Alyson Hannigan) decided to get him some soup. She ended up feeling sick after that and had mistaken it for food poisoning. She warned Marshall of the poisoning, prompting him to set a countdown for when his own sickness would come. Thanks to the anxiety, Marshall blew his chance at landing a dream job. In the morning, he woke up to the reality that no sickness was coming, and Lily was very much pregnant.
7. Hailey Dunphy ('Modern Family')
When Hailey Dunphy ( Sarah Hyland) found out she was pregnant, she told her siblings but hid it from her parents. Though Luke (Nolan Gould) and Alex (Ariel Winter) had a love-hate relationship with Hailey, they were incredibly supportive. Hailey finally mustered the courage to relay the news to the family, except there was a problem. Dylan (Reid Ewing), who was supposed to be with her, was stuck in the chimney. Hailey had to do it alone, holding the mantel as if it were him, all while his feet hung above the fireplace.
6. Aunt Viv ('The Fresh Prince Of Bel-Air')
When she learned she was pregnant, Aunt Viv ( Janet Hubert) was afraid to let Uncle Phil (James Avery) in the know. She finally found the perfect opportunity to slide that it. Aunt Viv and Uncle Phil were having a light-hearted chat, laughing away when she made the revelation." Phillip I was afraid to tell you because I didn't think you could take it. But now I know you can," she said. As soon as she told him she was pregnant, Uncle Phil lost consciousness.
5. Lois Wilkerson ('Malcolm In The Middle')
As an empty nester, Hal (Bryan Cranston) was happy that finally he and Lois (Jane Kaczmarek) were on their own. " This is so nice. Reese (Justin Berfied) is gone, Malcolm (Frankie Muniz) is off to Harvard. I don't know how you did it but everything worked out exactly as planned," A happy Hal told Lois, who was in the bathroom. Unfortunately for him, the joy was short-lived. A disheveled Lois made her way to the bedroom and held onto the door frame for dear life. She revealed a positive pregnancy test, implying that their sixth bun was in the oven.
4. Rachel Green ('Friends')
Rachel (Jennifer Anniston) always had a thing about stealing Monica's shine. Even at her wedding, Monica couldn't simply enjoy her moment. At first, she thought Phoebe was the pregnant one. Monica went on a rant, asking how dumb someone could be to get pregnant at that age. Rachel finally gave it away when she sipped on a glass of champagne and spit it. As a wedding gift to Monica, Rachel agreed to take a second pregnancy test. It turned out that she was in fact pregnant, and felt good about having a baby.
3. Penny Hofstadter ('The Big Bang Theory')
Penny (Kaley Cuoco) didn't want children. She often thought she wouldn't make a great mother. The series finale came with a shocking twist. On a flight, Sheldon (Jim Parsons) was first to notice that Penny had been to the bathroom four times in the past two hours. He thought she had an infection and would spread it to the rest of them. He consulted with Leonard (Johnny Galecki), who, together with Penny, revealed that she was pregnant.
2. Amy Santiago ('Brooklyn Nine-Nine')
Amy (Melissa Fumero) and Jake's (Andy Samberg) relationships began in the most fun way; two detectives each trying to outsmart the other. By the time we got to the third season, their relationship had taken a romantic turn. Eventually, Jake moved in and even proposed. Amy had been on hormonal treatments which Jake didn't notice changed how she behaved. A visit to the doctor had brought up a possible suggestion, which Amy eventually learned was right. They were having a baby. Jake couldn't have been happier.
1. Carla Espinosa ('Scrubs')
J.D (Zach Braff) had the difficult task of pretending that he did not know Carla was pregnant. Turk (Donald Faison) had already done some pretending of his own." Any second now Carla and Turk would come in and tell me they were pregnant. And Carla had to believe that I was truly surprised," J.D narrated. He almost had it together. First, he gave Carla a big hug and seemed happy as if he were receiving the news for the first time. He'd been practicing a ten-minute speech, whose delivery he spoilt within the first sentence. Only then did Carla learn that everybody else knew she was pregnant.
Tell us what's wrong with this post? How could we improve it? :)
Let us improve this post!