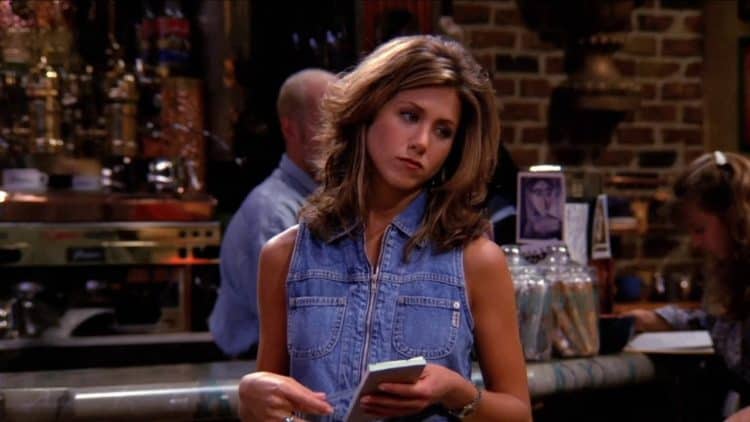 Rachel Green (Jennifer Aniston) had one of the most dramatic sitcom entries ever. She joined other cast members as a runaway bride and, alongside Ross, gave us one of the best love stories that's a fan favorite to date. Prior to finally getting together with the love of her life, Rachel had a number of romantic interests. Here's a complete timeline of her fascinating love life:
1. Rachel Left Barry At The Altar
When we first met Rachel, she was Barry's (Mitchell Whitfield) runaway bride. Rachel had decided that she wouldn't marry him after all. She'd gone from a life of being controlled by her parents right into that of being controlled by Barry, and she couldn't fathom it. The idea of a life with him sickened her, so she followed her heart. Barry wasn't the most honest person. He had it coming. When he was engaged to Rachel, he had an affair with Rachel's friend Mindy ( Jana Marie Hupp). His bride had barely vanished when he took Mindy to what would have been their honeymoon. Later, Rachel became the karma in Mindy's life when she got involved with Barry while he was engaged to Mindy. That was until both of them ganged up to break up with Barry. Mindy, as it turned out, was hellbent on becoming Mrs. Barry.
2. Paolo Made A Pass At Phoebe
Paolo (Cosimo Fusco) lived in the same building as Rachel, and when they started dating, Ross wasn't too pleased. He knew little of the English language and wowed Rachel with his accent. Paolo ruined his relationship with Rachel when he made a pass at Phoebe (Lisa Kudrow) during a massage session. Phoebe went ahead to reveal what happened to Rachel, but not before she gave her a taste of the best oatmeal raisin cookies in the world. Rachel was disappointed to learn that Paolo had made a pass at Phoebe. She threw his clothes off the balcony and sent him away with an empty suitcase. And when Rachel was alone, broken, and sad that her relationship had ended, Ross was there to give her comfort.
3. Ross Was Rachel's Lobster
For a while, Rachel and Ross (David Schwimmer) had wanted to be together, but other people seemed to get in the way. When Rachel was finally ready to date Ross, he was seeing Julie (Lauren Tom), and when he was a free bird, Rachel was with Paolo. The stars finally aligned when Rachel and the other friends were watching a video of prom night. Ross had offered to take Rachel to prom since her date hadn't shown up, and when he was left high and dry, the sad look on his face was enough for Rachel to finally give him a chance. The pair dated, and everything was going well until Rachel felt suffocated by the relationship. She was trying to prioritize her career and asked for a break, which led to one of the show's longest-running one-liners.
4. Russ Looked Everything Like Ross
Soon after her breakup with Ross, Rachel found someone else, except he was the spitting image of Ross. Russ (David Schwimmer), dressed like Ross, talked like Ross, walked like Ross, and the funny part was that Rachel was blind to it all. "Doesn't Russ just remind you of someone?" Phoebe asked, to which Rachel replied, " Bob Saget." Ross and Russ finally got to meet, and when they got talking, it was as if Ross was speaking into a mirror. Chandler thought it was fascinating. In the event that they ever lost Ross, at least they had a spare. In Monica's words, they were as different as night and 'later that night'. Russ thought Ross was jealous because he was a real doctor, while he made fun of him for being a doctor of gums.
5. Joshua Was Skeptical About Marriage
Rachel's boss moved her to the personal shopping department at Bloomingdales where she met Joshua ( Tate Donovan), a divorcee who needed a wardrobe change. She finally got the courage to ask him out, except she handed him tickets that he thought his nephew would love. With the help of Joey, Rachel learned that the next time she had tickets, she was supposed to insist on 'extra'. That way, she wouldn't get a date that she wasn't on. She and Joshua eventually dated, but when Rachel began talking about marriage, he got cold feet. Joshua had finally had it when he knocked on Rachel's apartment only for her to open the door while wearing a wedding dress.
6. Paul Preached Water And Drank Wine
Paul (Bruce Willis) was against his daughter's relationship with Ross because of the age difference. Surprisingly, the same rules did not apply when he dated Rachel, who he was very much older than. Ross finally had him right where he wanted him following a weekend at Elizabeth's (Alexandra Holden) grandmothers' cabin. Later in his relationship with Rachel, she was worried that Paul wasn't vulnerable. She tried to get him to open up, and when he finally did, he just couldn't stop. Rachel finally broke the relationship off.
7. Rachel Couldn't Keep Her Hands Off Her Assistant, Tag
When Rachel was looking for an assistant, she was torn between Hilda, who had such great qualifications and Tag (Eddie Cahil), who she loved. She had such a heavy crush on Tag, she couldn't control herself. She finally chose to hire Tag, and in her own words, that wasn't her smartest move. For a long time, Tag was just another crush, until they finally started dating. On Rachel's 30th birthday, she realized she couldn't be in a serious relationship with Tag.
8. Gavin And Rachel Started On A Sour Note
Rachel returned from a maternity break to find Gavin (Dermot Mulroney) occupying her seat. She almost punched him when he mistook her baby for a boy. Worried that Gavin would soon be a replacement, Rachel decided to get to work immediately. She realized she'd misjudged Gavin when he took care of the baby while she made a presentation he'd prepared. Later, it turned out that Gavin did like Rachel, but he was thrown off by the complicated dynamic of her relationship with Ross.
9. The One Where Ross Was 'The One'
In between a baby, other lovers, a break that Rachel insisted never happened, a lot of beautiful memories and some awfully bad ones, the Rachel-Ross love story ended just as everyone anticipated. Rachel was ready to start a new life in Paris before she made the realization that she was meant to be with Ross. She got off the plane, and made her way into Ross's living room, proving that he was the one all along.