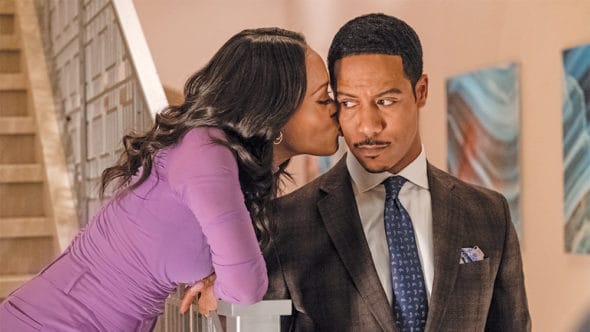 On June 18, 2019, the Oprah Winfrey Network premiered its new drama series, Ambitions, and already, the nation is hooked. The show, which is created by Jamey Giddens and Will Packer, revolves around the bitter rivalry between Stephanie Carlisle Lancaster (played by Robin Givens) and Amara Hughes (played by Essence Atkins), two former childhood friends turned legal eagles who find themselves at war in their race to the top. Along with Givens and Atkins, the series showcases the talents of an ensemble cast of regular and reoccurring players including Kendrick Cross, Erica Page, and Brian J White. To find out who's who, keep reading.
Robin Givens
Model and actress Robin Givens began her career in 1986 after landing the role of Darlene Merriman in the ABC sitcom Head of the Class. After the series ended in 1991, Givens starred in numerous TV shows and films, including the short-lived sitcom Sparks, comedy-drama The Game, sitcom Tyler Perry's House of Payne, and action comedy/ spy-drama Chuck. In addition to her TV and film credits, Givens has enjoyed a short-lived career as the host of the talk show Forgive or Forget, and an even shorter (although much more controversial) marriage to former boxer, Mike Tyson. Her second marriage to tennis instructor Svetozar Marinković proved just as brief, with the pair divorcing within just a year of their wedding. As of 2019, Givens has two children: one adopted son and a 2nd biological son with ex-boyfriend, the tennis player Murphy Jensen. Ambitions sees Givens take the lead role of Stephanie Carlisle Lancaster, an ambitious attorney who enjoys a powerful and glamorous life in Atlanta with her husband, Atlanta Mayor Evan Lancaster.
Essence Atkins
Taking the part of Amara Hughes (wife of Titus Hughes, Assistant United States Attorney, former friend turned bitter adversary of Stephanie Carlisle Lancaster and recent addition to the urban mecca of Atlanta) is Essence Atkins. 47-year-old Atkins began her career with appearances on TV sitcoms and soap operas, including The Cosby Show, Family Matters, Under One Room and the short-lived Fox teen drama, Malibu Shores. She also made a fleeting appearance in Saved by the Bell: The College Years but was written out of the series after original Saved by the Bell cast member, Tiffani-Amber Thiessen, decided to return to the show. She's since had supporting roles in How High (2001), Deliver Us from Eva (2003), and Dance Flick (2009). In 2016, she joined Marlon Wayans in his NBC sitcom, Marlon, after previously starring alongside him in The Haunted House (2013) and A Haunted House 2 (2014). Unfortunately, the series was canceled in 2018 after just 2 seasons… although on the bright side, it did free Atkins up to say "yes" to Ambitions.
Brian J White
Playing Evan Lancaster, Stephanie's husband and the ambitious mayor of Atlanta, is Brian J White. White was born in 1973 in Santo Domingo, Dominican Republic, as the eldest of 6 children to Estela Bowster, a financial advisor and Jo Jo White, the sports executive, restaurateur and legendary basketball player for the Boston Celtics. White began his acting career with roles in such TV series as Moesha, The Parkers, Spyder Games, Second Time Around, and The Shield. His move onto the big screen came with The Best Man in 1999. He's since appeared in over 30 films, including My Favorite Five in 2015, And Then There Was You in 2013, The Family Stone in 2005 and The Cabin in The Woods in 2012. In 2011, White took a step in a new direction with a co-hosting gig at the UNCF national Empower Me tour, and a starring role in the music video to R&B star Monica's track "Until It's Gone". On the home front, White shares a 5-year-old daughter, Layla Simone White, with his wife, Paula Da Silva.
Kendrick Cross
The role of Titus Hughes, Amara's husband, is taken by 48-year-old Kendrick Cross. Cross is a double threat, having built a successful career as both an actor and a producer. The talented performer is perhaps best known for Death Sentence (2007), a crime thriller starring John Goodman, Kevin Bacon and Kelly Preston that revolves around Nick Hume, an executive who's perfect life gets turned upside down after he witnesses a horrific incident; The 5th Wave (2016), an action drama starring Matthew Zuk, Chloe Grace Moretz and Gabriella Lopez that tells the story of Cassie, a teenager on the run from a wave of deadly alien attacks; and Iron Man 3 (2013), the third installment in the popular franchise that sees Robert Downey Jr.'s Tony Stark embark on a journey of vengeance against the terrorist, Mandarin.
Brely Evans
Brely Evans plays the part of Rondell Lancaster, Evan Lancaster's sister and the owner of Thelma's Place. Evans is best known for Sparkle (2012), For Love or Money (2014), Just Wright (2010) and Being Mary Jane (2013-). In 2016, she made headlines when she got married to her boyfriend Joe Eddings within just a week of the pair getting engaged. Evans took to Instagram to share her news with the message, "One week ago today….8+8=16…. August 8, 2016…. Our day of NEW BEGINNINGS STARTED. There are so many beautiful people that sacrificed, prayed, gave and made this day come alive: We Thank God for ordering our steps to each other. Our Parents for giving us life!"
Erica Page
Ambitions resident fashion designer, Bella Tru, is played by Erica Page, an actress you may already be familiar with through her performances on Sleepy Hollow, Saints and Sinners, Ozark, Dynasty, The Resident and Last Call. Page is the oldest of nine children and comes from Mexican/ American heritage. According to her IMDB profile, Page is a "born leader and known for perseverance and ambition in her career". Whether that's true or not, we can't say- what we can say with some confidence is that when Page isn't acting, she loves to cook, weight train, and relax with her favorite shows. She also loves entertaining her family and friends and is as widely regarded for her hosting talents as she is for her acting.Mike Tyson
Tell us what's wrong with this post? How could we improve it? :)
Let us improve this post!