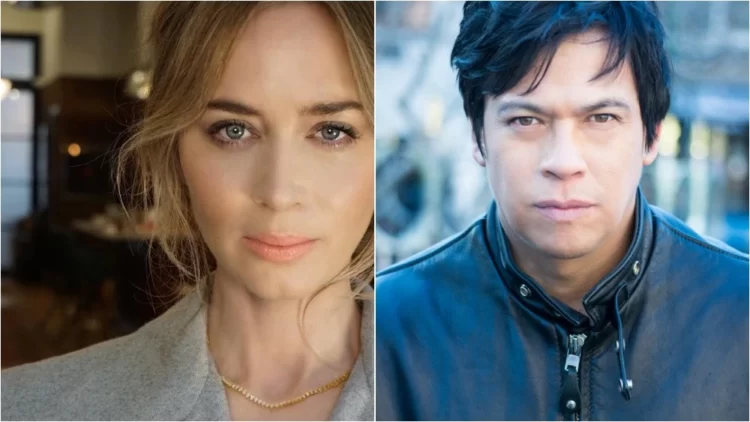 Western dramas are back, and BBC One and Amazon Prime Video are at the forefront of its renaissance. They recently announced that a new Western will be premiering on their platforms, with Hollywood A-listers set to star in the series. The English is an upcoming Western drama written and directed by Hugo Blick, who recently worked on Black Earth Rising and Sensitive Skin. Here is a description of the plot, according to Hollywood Reporter. "Set in the mythic mid-American landscape of 1890, The English — which has now started production in Spain — follows Cornelia Locke (Blunt), an Englishwoman who arrives into the West to wreak revenge on the man she sees as responsible for the death of her son. Upon meeting Eli Whipp (Chaske Spencer), an ex-cavalry scout and member of the Pawnee Nation by birth, they join forces and discover a shared history which must be defeated at all costs, if either of them are to survive." The show promises a cast of actors who will be breathing life into the show's compelling storyline. If you want to learn more about the actors appearing in this series, look no further. Here are the cast members of the upcoming TV series The English.
Emily Blunt
Actress Emily Blunt will be starring in The English as a character named Cornelia Locke. Blunt is a British actor who has appeared in a number of successful films. She made her breakthrough with the 2006 film The Devil Wears Prada, in which she played the acerbic assistant to Meryl Streep's character. She has since gone on to star in a number of other films, including Salmon Fishing in the Yemen, A Quiet Place and A Quiet Place Part II. She is married to actor John Krasinski, with whom she co-starred in A Quiet Place and A Quiet Place Part II. In 2020, she starred in the action-adventure film Jungle Cruise. Blunt is an acclaimed actor who has earned a number of awards.
Chaske Spencer
Chaske Spencer will be portraying Eli Whipp in the upcoming Western series The English. Spencer is an American actor and producer. He was born in Tahlequah, Oklahoma and is of Cherokee heritage. He started his acting career in the early 2000s with small roles in independent films. In 2008, he had a breakout role as Sam Uley in The Twilight Saga film series. His other notable roles include Deputy Bill Raven in Banshee and Teddo in Wild Indian. In addition to his work in film, Spencer has also appeared in several television shows, including Longmire. Spencer is a talented actor who has achieved success in both film and television. He is someone to watch out for in the years to come.
Rafe Spall
Actor Rafe Spall will be starring in The English portraying a yet-to-be-named character. Spall is a British actor who has appeared in numerous films and television series. He made his film debut in the 2001 film Beginner's Luck and has since gone on to appear in such films as Kidulthood, A Good Year, One Day, Anonymous, Prometheus, Life of Pi, The Big Short, The BFG, The Ritual, and Jurassic World: Fallen Kingdom. Spall has also appeared in the television series Roadies, The War of the Worlds, and Trying. Spall has also frequently appeared on stage, having performed in theater productions of To Kill a Mockingbird and Hedda Gabler.
Tom Hughes
Tom Hughes has also been announced to join the cast of The English. Hughes is a British actor who is best known for his roles as Prince Albert in the ITV drama Victoria and Nick Slade in the BBC series Silk. He has also appeared in the films Madame, Red Joan, and The Laureate. Hughes was born in Cheshire, England, and attended the Royal Academy of Dramatic Art, where he studied acting. He made his professional acting debut in 2009, appearing in an episode of the television series Casualty 1909. Since then, he has gone on to appear in numerous screen productions.
Stephen Rea
Veteran actor Stephen Rea has been tapped to join the cast of The English. Rea is an Irish actor who has appeared in films such as V for Vendetta, Michael Collins, Interview with the Vampire and Breakfast on Pluto. Rea was nominated for the Academy Award for Best Actor for Neil Jordan's thriller The Crying Game. Rea was born in Belfast, Northern Ireland, and educated at Queen's University Belfast and the Abbey Theatre School in Dublin. He began his career working in small theatre productions in Ireland before making his film debut in 1920. Since then, he has gone on to appear in dozens of films and television series.
Valerie Pachner
Valerie Pachner is set to star in BBC One's The English. Austrian actress Valerie Pachner is best known for her role as Wally Neuzil in Dieter Berner's Egon Schiele: Death and the Maiden. For her performance, she won the Austrian Film Award and the Romy Award for Best Actress. Pachner has also starred in several other films, including The King's Man and Fantastic Beasts: The Secrets of Dumbledore. In addition to her work in film, Pachner has also appeared on television and stage.
Toby Jones
Toby Jones will be appearing as a lead character in the upcoming series The English. Jones is an English actor who has appeared in numerous film and television productions. Jones made his film debut in the 1992 period drama Orlando, and he has since appeared in such films as The Hunger Games and Captain America: The First Avenger. On television, Jones has had roles in series such as Sherlock, Doctor Who, and Fringe. In recent years, Jones has become best known for his leading role as Truman Capote in the biopic Infamous. He has also gained prominence for his role as Dobby the house elf in the Harry Potter movies. Jones is a highly acclaimed actor who has won numerous awards, including a BAFTA Award and an Emmy Award.
Other cast members
Other actors expected to appear in The English include Ciaran Hinds, Malcolm Storry, Steve Wall, Nichola McAuliffe, Sule Rimi, Cristian Solimeno, Nakota Kennedy, and Miguel Alvarez as Timothy Flynn.