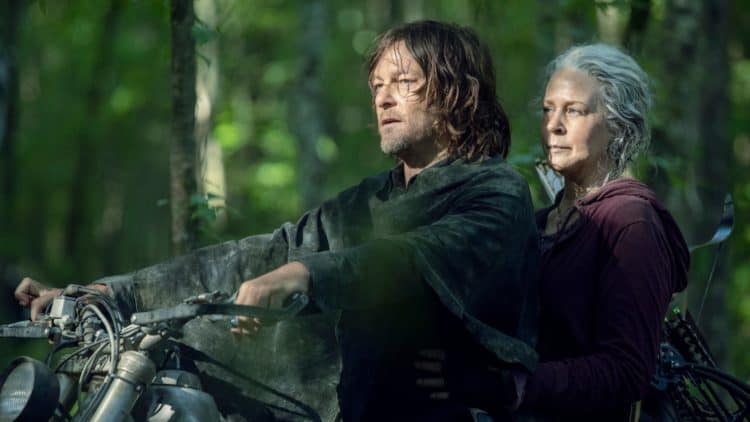 Do you think Norman Reedus is a little attached to his character in The Walking Dead? It's amusing really how Daryl Dixon wasn't even a part of the story initially but people took to him in such a big way that killing him off without hesitation, as the show has done with some characters, became less than appealing. Somehow Daryl managed to stand out as one of the best characters in the series early on, surpassing his brother Merle and several others that, in the comics, were seen to last much longer than those who didn't start dropping off until much later. Look at it this way, in the comics Rick Grimes is still around by the time the Whisperers start messing with the main group, while Daryl is still nowhere to be seen. In the show however he's been the lifesaver and in some cases the subtle cheat that the other characters have needed to survive. As things have heated up with the Whisperers however, and continued to deviate from the comics as expected, his role in the show hasn't changed but his number appears to be drawing closer as each new encounter has been taking a serious toll on him. Jeremy Dick of TVWeb has detailed just what Norman Reedus has said he'll do if his character is ever taken out in any way, as he wants to stick around until the show's final episode. But at this point anyone is fair game since there have been a few very close calls and a couple of moments when it's been made obvious that no one is safe.
If you haven't been keeping up on The Walking Dead then you might want to stop reading since there are a couple of spoilers ahead, but if you're right there with the rest of the fans then you'll know what I'm talking about. Since his inclusion into the show Reedus' character has been kind of a loner, an outlier that didn't really take to the group that easily and still has to go off on his own now and then just to get his head straight. As of now though Daryl has become a very important part of the overall group considering that he's had to take on the role of leadership after Rick, Maggie, and Michonne all had to go their separate ways as the actors went on to other projects. It's been said that Lauren Conrad, aka Maggie, will be coming back in season 11, but whether Daryl will be there or not is hard to say. At this point a lot of characters that should have died lasted longer than they did in the comics, while characters that were never in the comics have continued to stick around. In recent episodes it's been seen that the show is still pulling the 'are they or aren't they' act when it comes to killing off those that mean something to the viewers, and it almost looked as though Daryl could have met his end at the hands of Alpha and then a small group of walkers that Alpha had called down on him. Abigail Gillibrand of Metro has more to say on this matter.
It was amazing to see Daryl take on Beta when they locked up, but it wasn't too hard to think that the insane brute was able to put Daryl on his heels. Now that Alpha and Beta are attacking Hilltop, which many are already noting is different than the comics, it's easy to wonder if Daryl is about to be written out of the show as he could go out in a heroic act of sacrifice or by taking several of the Whisperers with him. The latest episode has shown us that the survivors are in dire straits once again as they're between a wall of walkers and a wall of fire, which leaves a person to think that there's about to be a deus ex machina moment since it's hard to believe that the show would end the lives of so many of its favorites all at once. As far as Daryl goes however he's been written into so many corners that at this point he's not unlike a cat that's expended nearly every life he has, meaning that his number could be up at any moment. With Norman's claim that he'll riot and start trouble if his character is written off however it might feel as though he's become a little too close to the character even if he's likely kidding about his reaction. The truth is that a lot of people would be greatly disappointed if Daryl was to be killed off since the show has already lost some key members such as Carl, Rick, and several others that fans didn't want to see gone.
But whatever happens is bound to happen regardless of what people want, Norman should know that by now, and if it does, then so be it. Daryl's had a good run, and hopefully it will continue. Rebecca Miller of the Express has more to say in her own opinion.