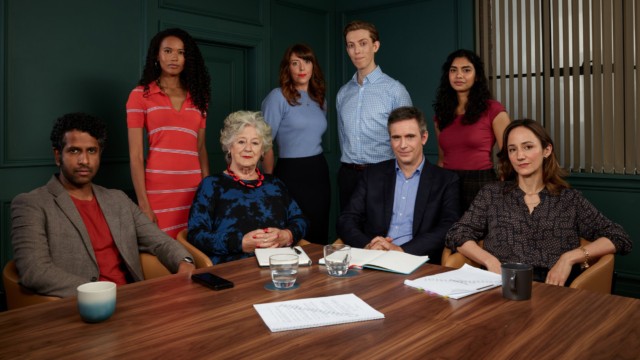 The British show Ten Percent, developed by John Morton, is Amazon Prime Video's latest comedy offering, dropping its first episodes in the last week of April. The show is a remake of a hit French comedy series titled Call My Agent!, which starred French performers Camille Cottin, Fanny Sidney, Liliane Rovere, and many others. The plot of the show, according to Deadline, is as follows: "Ten Percent follows the small London talent agency of Nightingale Hart as it struggles to adapt in an ever-changing industry. After tragedy strikes the company, the personal and professional lives of the agents and assistants are thrown into turmoil. But their celebrity clients are in constant need of help, with issues ranging from marital problems to over-commitment to lingering method acting to stage fright. As the agents deal with the incessant demands of their jobs, they'll also find themselves dealing with more off-screen drama than they ever expected." Ten Percent has so far attracted positive reviews from critics and regular audiences alike. If you are interested in learning about the cast members of the show, read ahead. Here are the actors performing in Amazon's latest comedy TV series Ten Percent.
Jack Davenport
Jack Davenport stars in Ten Percent as Jonathan Nightingale. The actor previously appeared in shows like This Life and Coupling. He also starred in the Pirates of the Caribbean series as James Norrington. More recently, Davenport worked on shows like White Famous, Why Women Kill, and The Morning Show. On the big screen, he recently performed in A United Kingdom, The Wilde Wedding, and The Stolen. In an interview with The List, Davenport talked about what drew him towards starring in Ten Percent, saying: "Yeah. Well, the answer's quite simple — it's John Morton. I've admired his work for a long time. When I got sent the script, I think maybe with the first two episodes … I've read a lot of scripts at this point in my life, and he's in a very, very thin band of screenwriters who's able to write dialogue that sounds entirely improvised, but which also has very precise comic beats to it. That's very difficult to do."
Lydia Leonard
Lydia Leonard portrays Rebecca Fox in the new Amazon TV comedy series Ten Percent. The actress is best known for her role as Beatrice Ogilvy in the international spy drama Red Election. She previously appeared in shows like Flesh and Blood, Gentleman Jack, Absentia, Quacks, and Apple Tree Yard. On the big screen, she worked on movies like True True Lie, Archipelago, and Last Christmas.
Maggie Steed
Veteran actress Maggie Steed plays Stella Hart in the series Ten Percent. The actress has appeared in movies like Florence Foster Jenkins, A Cure for Wellness, Paddington 2, and Fisherman's Friends. On TV, she played parts in Stella, Chewing Gum, EastEnders, Father Brown, and Elizabeth is Missing. In an interview with Express, Steed talked about what fans can expect from the Call My Agent! remake, candidly saying that the series begins in pretty much the same way as the show on which Ten Percent is based: "It begins with the introductions of the characters in a way that people who have seen the French series will, I think enjoy," she continued. Just because of our versions and just because of John's [Morton] writing as well." "It's so rooted in British comedy straight away," she added. "It's almost a bit like having those guys doing British stuff and then what happens is it kind of starts interweaves its way away from the French series and broadens it out. It then turns it into British theatre land which is an independent film and all the stuff that people who have seen the French series will enjoy, that it's just so rooted in this culture."
Prasanna Puwanarajah
Prasanna Puwanarajah stars in Ten Percent as Dan Bela. A former doctor, Puwanarajah tried out acting and appeared in his film debut in 2008's The Stoning of Soraya M. Since then he's appeared in movies like Diana, The Gunman, and The Baby Shower. On TV, he's performed on shows like Defending the Guilty, You, Me and the Apocalypse, Critical, and Three Families. Puwanarajah is set to appear in the upcoming season of The Crown, portraying the role of journalist Martin Bashir.
Hiftu Quasem
Actress Hiftu Quasem plays Misha Virani in Ten Percent. Quasem is best known for her roles in Killing Eve, The Nest, and Endeavour.
Fola Evans-Akingbola
Fola Evans-Akingbola portrays Zoe Spencer in Ten Percent. Evans-Akingbola is most prominently known for playing Maddie Bishop in the Freeform series Siren. She's worked on shows like Black Mirror, Game of Thrones, Death in Paradise, Holby City, and Youngers. She also has some experience working on video games, having provided voice work for the video game Assassin's Creed: Origins.
Harry Trevaldwyn
Harry Trevaldwyn plays Ollie Rogers in Ten Percent. Trevaldwyn's previous work includes The King and The Bubble.
Natasha Little
Natasha Little portrays Charlotte Nightingale in Ten Percent. She's worked on TV shows including The Night Manager, Black Mirror, Death in Paradise, Midsomer Murders, Silent Witness, Press, Absentia, War of the Worlds, and most recently, Dalgliesh. Little also frequently works on video games, lending her voice to games like the Dragon Age series, Star Wars series, Total War: Warhammer II, Vampyr, and Blood & Truth.
Rebecca Humphries
Rebecca Humphries portrays Julia Fincham in Ten Percent. Humphries is best known for her roles in The Crown and Trigonometry.
Tim McInnerny
Tim McInnerny plays Simon Gould in Ten Percent. The veteran actor has appeared in many roles on stage and television, most prominently of which is the British sitcom Blackadder. He's appeared on shows like National Treasure, In The Dark, Strike, Harlots, Game of Thrones, Gangs of London, and The Serpent.
Other cast members
Other actors playing roles in Ten Percent include Edward Bluemel, Eleonore Arnaud, Chelsey Crisp, Jack Holden, Demetri Goritsas, Emmet J. Scanlan, Lucy Aarden, Becky Brunning, and Jim Broadbent. There are also A-list actors playing themselves in the series. They include Helena Bonham Carter, Himesh Patel, Emma Corrin, and Lorraine Kelly.
Tell us what's wrong with this post? How could we improve it? :)
Let us improve this post!