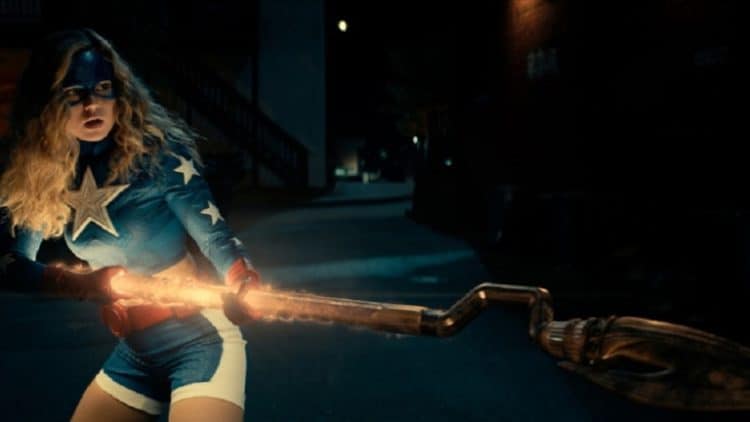 Since its debut in the fall of 2020, Stargirl has been a big hit for The CW. The superhero series centers around a high school student named Courtney Whitmore (Brec Bassinger) who becomes Stargirl and enlists the help of her friends to create a new Justice Society of America (JSA). Although the main characters in the show are teenagers, Stargirl appeals to viewers of all ages. The show is full of action and drama and it also isn't lacking in the special effects department. Now in its second season, Stargirl is still going strong and the show's talented cast is a big part of the reason. Even though many of the show's stars were relatively unknown before the series, they have shown exactly why they deserve to be in the spotlight. Keep reading to learn more about the cast of Stargirl season 2.
Brec Bassinger as Courtney/Stargirl
Even though Brec Bassinger is still in her 20s, she's already been in the entertainment industry for nearly a decade. Born and raised in Texas, Brec was heavily involved in sports before deciding that she wanted to focus on acting. From early in her career, she proved that she was capable of keeping up with the best of them. Prior to Stargirl, she was best known for being in shows like Bella and the Bulldogs and School of Rock. In addition to Stargirl, Brec also has a couple of other projects in the works that have the potential to take her to even higher heights. Outside of her work, Brec is a very strong supporter of diabetes awareness. She was diagnosed with type 1 diabetes when she was just 8 years old.
Yvette Monreal as Yolanda Montez / Wildcat II
Yvette Monreal is a talented actress who received formal training from the legendary Stella Adler Art of Acting Conservatory. Although she doesn't have the longest list of acting credits, she has made an impact on every project she's been a part of. Her natural ability to give memorable performances is something that has never gone unnoticed, and she has proven to be the perfect person to bring Yolanda/Wildcats II to life.
Anjelika Washington as Beth Chapel / Doctor Mid-Nite II
Anjelika made her first on-screen appearance in 2014. She appeared in a variety of minor roles before getting a major opportunity when she was cast in the Netflix movie Tall Girl in 2019. Since then, things have been going well for Anjelika, and being in Stargirl has given her a great platform to share her talent with a wide audience. Fans of her work will be excited to know that she will be reprising her role as Fareed in the upcoming sequel of Tall Girl which is set to be released in 2022. When Anjelika gets time away from work, she loves to spend it traveling and exploring.
Cameron Gellman as Rick Tyler / Hourman II
Cameron Gellman was born and raised in Missouri, but there isn't any information on his upbringing or what inspired him to get into acting. However, we do know that he made his first on-screen appearance in 2016. Within just a few years, Cameron has gone from landing minor guest roles to playing a major role in Stargirl. Like Brec, Cameron also has type 1 diabetes and he is a big advocate for raising awareness about the disease.
Trae Romano as Mike Dugan
Even though he doesn't have much on-screen experience, you'd never be able to guess from watching Trae Romano work. Stargirl is his biggest role to date, and he is certainly making the most of it. Since he is still relatively new to the entertainment industry, there isn't that much information out there on him. According to his bio on IMDB, "he enjoys playing guitar, skateboarding and playing video games with friends. He splits his time between Atlanta and Los Angeles."
Meg DeLacy as Henry King Jr.
With almost 10 years of professional acting experience under her belt, Meg DeLacy's face is one you may have seen before Stargirl. She has been in several other popular shows including Recovery Road and The Fosters. Throughout her career, Meg has shown that she is capable of playing a wide variety of characters. In addition to being a great actress, Meg is also a talented musician. She has a YouTube channel where she's posted her official music videos as well as videos of herself performing.
Ysa Penarejo as Jade
Ysa Penarejo is a newcomer to Stargirl for season two, and she's proven to be a welcome addition to the cast. She is incredibly talented and she's fun to watch whenever she gets in front of the camera. While acting is what she is best known for, many people may not realize that Ysa actually began her career as a dancer. She started dancing when she was about four years old and she hasn't looked back since. Dancing continues to play an important role in her life and she enjoys choreographing her own routines. Outside of performing, Ysa loves giving back to others and she is especially passionate about causes involving children's health.
Jonathan Cake as Shade
After starting his acting journey on stage, Jonathan transitioned into TV work in the early 1990s. He has been a consistent presence on screen ever since. Jonathan has appeared in a variety of shows including Grey's Anatomy, Empire, and Law & Order. His roles may not always be the biggest, but Jonathan makes the most out of every moment he gets to perform. Jonathan has spent the majority of his career in front of the camera, but he's recently decided that he wants to tell stories from the other side. In 2021, he wrote and directed a segment for a project called With/In: Volume 2.
Alkoya Brunson as Jakeem Thunder
Alkoya Brunson is a Florida native who made his first TV appearance in 2013. Since then, he has been working his way up to bigger and better opportunities. Since joining the cast of Stargirl for season two, Alkoya has seen his fan base and online following grow significantly. Being on the show has given him the chance to share his skills with a large audience, and there's no doubt that his hard work is going to pay off even more. On top of being an actor, Alkoya is a musician who sings, writes songs, and plays the guitar.
Amy Smart as Barbara Whitmore
Compared to many of the other cast members in Stargirl, Amy Smart is a seasoned vet. She has been acting professionally for more than 25 years, and she has gotten to work with some pretty big names during that time. She got her first major break in 1999 when she was cast as Jules Harbor in the movie Varsity Blues. Most of her career has been focused on live-action work, but Amy has also done some voice work. In addition to having a successful career, Amy is also a devoted wife and mother.
Luke Wilson as Pat Dugan / S.T.R.I.P.E.
Luke Wilson is easily the most well-known Stargirl cast member. He has been doing on-screen work for nearly 30 years and he has covered a lot of ground during that time. His resume now includes nearly 90 credits, and there's no doubt he'll reach the 100 mark within the next few years. Although many of his roles have been on the comedic side, Luke has shown that he's no one-trick-pony. He can act across multiple genres and he's a master when it comes to getting into character. Not only is he currently in Stargirl, but he has three other projects in the works that will be released in 2022.
Hunter Sansone as Cameron Mahkent
Hunter Sansone didn't always see himself becoming an actor, but that's exactly what happened. During an interview with Ladue News, Hunter said, "I grew up an outdoorsy athlete, but my mom – a professional singer – was always telling me, "You should look into acting; you would be a great actor." And "mom knows best," as the saying goes". He made his TV debut in 2014 and he's been moving forward ever since. Before Stargirl, he was most recognizable for his role in the Disney+ movie Safety.
Nick Tarabay as Eclipso
Born in Lebanon, Nick Tarabay didn't move to the United States until after high school. He underwent formal acting training in New York and Los Angeles and began his on-screen career in 2000 in an episode of Sex and The City. He has since built an impressive resume that includes voice work for video games including Anthem and Call of Duty: Modern Warfare.
Alex Collins as Charles McNider / Doctor Mid-Nite
The role of Charles McNider/Doctor Mid-Nite was originally played by Henry Thomas during season one, however, the baton was passed to Alex Collins for season two. Despite having been in the entertainment industry for nearly 20 years, many of Alex's roles have been on the smaller side. Hopefully, being in Stargirl will give him the chance to access bigger opportunities in the future.
Jim Gaffigan as Thunderbolt
Jim Gaffigan is best known for his work as a standup comedian, but he has also done some acting over the years. In season two of Stargirl, he has a minor role as the voice of Thunderbolt. While it doesn't appear that his role in the show will be increased, his fans will be excited to know that he is working on some other great projects so they can see (and hear) more of him.
Joel McHale as Sylvester Pemberton / Starman
Joel McHale is a very versatile actor who has shown that he can do a little bit of everything. It goes without saying that having him as a cast member in Stargirl has certainly been a benefit to the series. His role during season one was a bit on the smaller side, but he will be a series regular for season three.