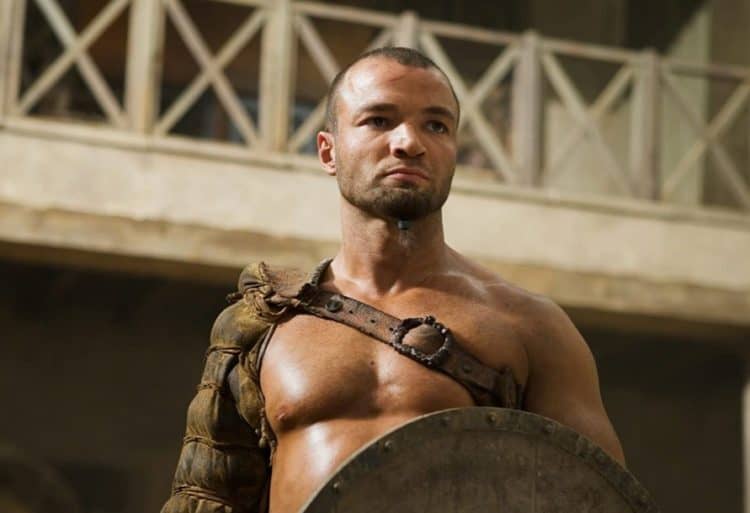 This may be difficult for some of his fans to believe, but Nick Tarabay has been acting professionally for the last 20 years. Over the course of his career, he has gone from uncredited roles, to guest appearances, all the way up to starring opportunities. He is best-known for playing Ashur in Spartacus: Gods of the Arena and Spartacus. After a couple of years away from the small screen, Nick has made a comeback in a very major way. He is currently a cast member on the series Motherhood: Fort Salem and fans are excited to see him tap into the supernatural realm. He also has another exciting project in the works that is aimed at exploring his talents even further. Keep reading for 10 things you didn't know about Nick Tarabay.
1. He Wanted To Be A Soccer Player
Nick was really into sports when he was younger, and his dream was to become a professional soccer player. During an interview with The Bringer of Rain he said that he loved soccer so much that he would sleep with a soccer ball in his bed. He eventually reached the semi-pro level in his home country of Lebanon, but when he moved to the United States the dream started to get away from him because he had other things to focus on.
2. His Interest In Acting Came From A Desire To Make His Dad Laugh
Every actor has a story about what inspired them to get into acting, and Nick's is very unique. He grew up with a father who was very serious, and Nick made it his mission to make his father laugh. He eventually learned to use those skills to get himself out of trouble and they ultimately became the basis for his acting craft.
3. He Used To Work In The Clothing Industry
Despite his early interest in entertaining, Nick's path to becoming a professional actor wasn't exactly a straight shot. After moving to the United States during the 90s, he spent several years working in the clothing industry as a salesperson for luxury brands like Hugo Boss and Gucci.
4. He Never Liked School
Many people are raised to believe that academics are the most important thing for them to focus on, but Nick was never the type of person who had an interest in school. Fortunately, he was able to find something else to focus his energy on and things worked out for him.
5. He Was In An Episode Of Sex And The City
Sex And The City is arguably one of the most popular shows from the late 90s and early 2000s, and Nick is able to say he was a part of it. He appeared in an episode in 2000 as a dancer. Although his role as uncredited and his character didn't have a name, it's still a cool thing to have on his resume.
6. He Loves Cologne
Everybody has one thing they don't feel ready to go without, and for Nick, that thing is cologne. He told Dapper Confidential, "Make sure I smell good. That's another thing I have of mine I love. Good smells. In any given time, I have five, six different colognes. I go out of my way to find perfume."
7. He's A Strong Advocate For Self Care
We all know that we need to take care of ourselves, but the reality is that so many people are focused on work and responsibilities that they struggle to make time for themselves. Nick, however, understands the importance of balance and he makes it a point to regularly include self care into his routine.
8. He's A Photographer
Nick loves his job, but it isn't the only thing that he likes to spend his time doing. He also loves photography and enjoys taking picture. When he has time off work, he loves to pick up his camera and go on adventures. Unfortunately, he doesn't seem to share his work on social media.
9. He's A Dog Dad
Nick has never been married and he doesn't have any children of his own, but he's still a father in his own way. He is a very proud dad dog who loves to spend time with his fur baby, Odin. Even though Odin doesn't have his own Instagram, he makes frequent appearances on Nick's.
10. He's Been In Video Games
Live action roles have made up the bulk of his career. However, as someone who is never afraid of a challenge, he recently decided to try something new. In 2019, he made his video game debut with voice roles in Call of Duty: Modern Warfare and Anthem. It wouldn't be too surprising if he decided to add more games to the list in the future.
Tell us what's wrong with this post? How could we improve it? :)
Let us improve this post!