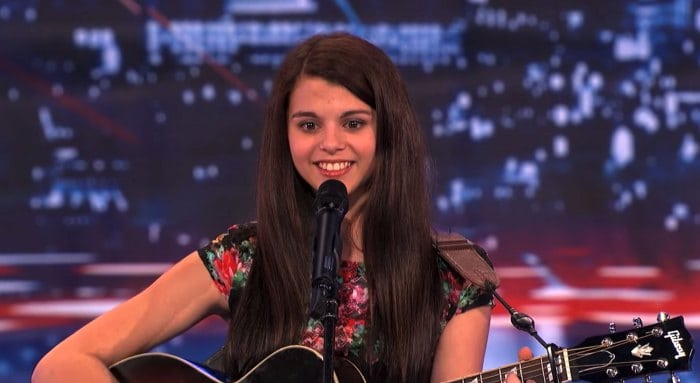 When 14-year-old Skilyr Hicks appeared as a contestant on season 8 of America's Got Talent, she was a talented young woman with a bright future ahead of her. Even though she didn't win the season, many felt that it wouldn't be the last time we saw or heard from her. Sadly, Skilyr's journey has tragically been cut short. On December 8, 2021, news broke that Skilyr had passed away. She was just 23 years old at the time. This news comes as a sad shock to her loved ones and to those who have been following her career over the years. Although she will continue to live on through her music, nothing will make up for her no longer being here. Continue reading to learn more about the life and legacy of Skilyr Hicks.
Skilyr's Musical Journey
Unfortunately, there isn't a lot of information out there on Skilyr's life before America's Got Talent, but we do know that music became an important part of her life at a very early age. Although she always loved singing, Skilyr began writing music after her father's death. Music quickly became a way for her to deal with the ups and downs of life and loved expressing herself through song. By the time she was a teenager, she was already excelling at singing, songwriting, and playing the guitar. When she stepped on the stage to perform for the judges on America's Got Talent, she was more than ready to make herself and her family proud. Being eliminated from the show was probably a tough thing for Skilry to deal with, but many felt that her career was just getting started. Unfortunately, however, Skilyr would never get the chance to quite live up to her potential. Although she continued making music after the show, she never released an album or any original singles. In many ways, she disappeared from the spotlight.
Skilyr's Struggles
In the years after her appearance on America's Got Talent, Skilyr faced some serious personal challenges. In 2017, when she was just 18 years old, Skilyr was arrested for "multiple counts of family violence". According to an article from WRDW, Skilyr was accused of beating up her sister and her grandmother. As the article stated, "Skilyr snuck out and had been drinking. She woke up the next morning and was still very drunk when things got physical with her family. When deputies took her blood-alcohol level, it was a staggering 0.126." Although Skilyr's sister acknowledged that Skilyr had gotten out of line, she also added that the state pressed charges and not the family. After the incident, Skilyr spent several nights in jail and faced a maximum of three years in prison. Unfortunately, that wouldn't be Skilyr's only run-in with the law. In 2018, she was arrested for underage drinking. The arrest came after Skilyr skipped an arraignment and failed to appear in court. After her 2018 arrest, it appears that Skilyr was able to stay out of trouble, but that doesn't mean things were easy for her. Over the years, Skilyr struggled with depression and drinking became a way for her to self-medicate. Although she had been fairly active on Instagram over the years, she stopped posting on the platform in 2020. However, she remained active on Facebook until May of 2021. It appears that her boyfriend passed away the month before.
Skilyr's Passing
News of Skilyr's death initially broke through her family. Her sister, Breelyn, shared a post on Facebook revealing that Skilyr had died. In her post, Breelyn wrote,
"My super beautiful, extremely talented, hilarious, free spirit of a sister left this world to be with Jesus. I can't possibly put into words how broken-hearted I am. I will miss her like crazy. I'll miss her voice, her long warm hugs, her constantly making jokes using puns. Her ability to create music that inspired thousands of people. She had so much life left to live. Skilyr, I don't know how I'll be able to live without you. You were a light that shown brighter than ever. You were my best friend, you were my rock. We always had each other's back no matter what."
Several news outlets have suggested that Skilyr's death was the result of a drug overdose, but it doesn't appear that an official cause of death has been released.
Skilyr's Legacy
Even though Skilyr was only in the spotlight for a brief period of time, she still managed to touch the lives of countless people. Many have expressed their sadness over her passing and there has been an outpouring of love for her on social media. Breelyn has shared Skilyr's funeral arrangements on Facebook and has made it clear that even people who didn't know Skilyr personally are welcome to attend. Despite the fact that Skilyr never got to completely live out her dreams, those who loved her can find comfort in the fact that she will not be forgotten.
Tell us what's wrong with this post? How could we improve it? :)
Let us improve this post!