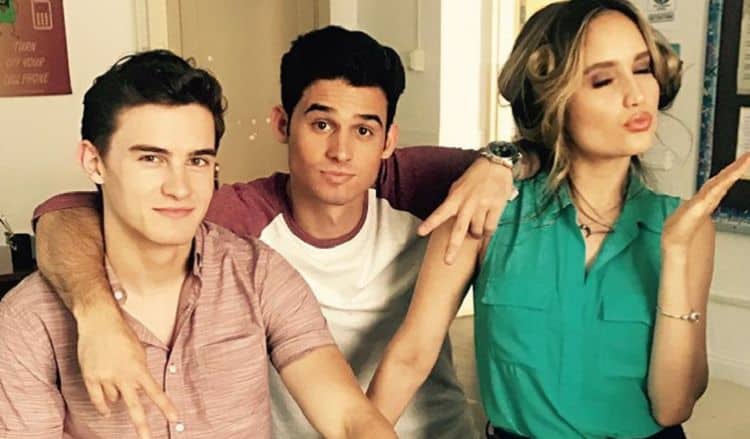 Hunter Sansone is an American actor who is best known for his role as Cameron Mahkent in Stargirl. He has been acting since he was a teenager and this is his first regular role. Here are ten things about him that you may not know.
1. He Was Raised On A Farm
He was born in St. Louis and raised on his parents farm. Growing up on the farm was something that he enjoyed and he did not get involved in acting until he was a teenager. If he did not become an actor it may have been that farming was the career that he followed. The farm covered 123 acres and so there was plenty of work that needed doing which kept him busy.
2. His Mother Is A Singer
He first got involved in acting on the suggestion of his mother. She was a singer and was the only member of his family that was involved in entertainment. She could see that he would make a good actor and encouraged him to try his hand at it. He was quite resistant at first, although he did always enjoy watching her perform and he did use to join in when she was practicing her vocals. He eventually relented and joined her at a drama class in St. Louis and this was when he discovered his own passion for acting.
3. He Enjoys Playing Sports
Before he got involved in acting, he spent most of his time playing sports. This was one of his favorite things to do when he was younger, and he still remains active up to this day. He was in a number of sports teams and when his mom was first trying to get him into acting, he would always reply that he would rather just concentrate on his sports.
4. He Looks Up To Leonardo DiCaprio
He told Pop Culturist that Leonardo DiCaprio is the actor that he looks up to the most. He has been inspired by the way the actor gives everything he has, emotionally and physically, to the role that he is playing. This is something that he tries to aim for in his own acting so that he can perform as well as possible. Leonardo DiCaprio's career has spanned several decades and it is likely that this is something else he aspires to.
5. He Read The Stargirl Comics To Learn More About Cameron
When he got the part of Cameron in Stargirl, he had never read the comics that the series is based on. This was something that he put right as soon as he was awarded the part. He got hold of the comics and everything else that he could in order to learn more about Cameron and the type of person that he is. He started this research before filming began and continued to read the comics while he was filming. He felt that he needed to learn as much as could about what made Cameron tick so this could be portrayed in his performance.
6. He Has A Role In The Upcoming Disney Movie Safety
His next role will be in the movie Safety which will be available on the Disney Plus streaming service. The film is based on the real life story of Ray McElrathbey, a Clemson university football player who secretly raised his brother on campus to protect him from an unstable home life. Coming Soon reported that his role in the film was announced in September 2019 and that filming was due to start shortly. Filming was completed in November 2019 and the film will air on the Disney Plus platform towards the end of 2020.
7. He Once Had An Accident On The Farm
He was once involved in an accident on the farm in which he was lucky not to be more seriously injured. He posted a picture of himself on Instagram in the hospital where he expressed how lucky he felt. He did not give away any details of the accident but it appears as if he somehow got chemicals on his face which dramatically altered his appearance for a time. There were no lasting effects in terms of the way he looks but the experience did teach him that he should not really care what other people think about his appearance.
8. Stargirl Taught Him That TV Is Very Different To Movies
His role in Stargirl was the first time he had appeared in more than one episode of a TV show. Before this, most of this experience had been in movies and although some of these were starring roles, he found that filming a TV show was very different. The main difference that he found was that things move a lot more quickly when filming TV shows. However, this is something that he was able to learn from and it will serve him well through the rest of his career.
9. He Is Passionate About Animal Welfare
The time that he spent living on the farm when he was younger means that he cares a lot about the welfare of animals. According to his IMDB bio he plans to use the platform that he has as an actor to speak out against animal abuse. The farm that he grew up on was very large and so there were hundreds of animals to care for. This love of animals is something that has stayed with him throughout his life.
10. He Recorded A Message For The Real Heroes Of The Covid-19 Pandemic
He and his fellow Stargirl castmates recorded a video to say thank you to all the people that they consider to be real life superheroes. This included healthcare workers and people that were working to keep the country moving such as grocery store workers and delivery drivers. The video was posted on Twitter and was liked and retweeted many times. The cast felt that something like this was the least that they could do for the people that everyone owes so much gratitude to.