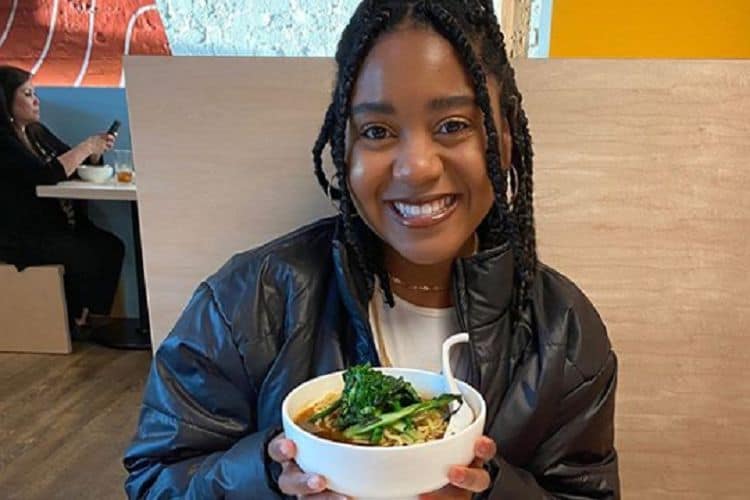 Anjelika made her TV debut just six years ago, and she's steadily been climbing her way to the top. Over the years, she's mad appearances in several well-known shows including Tall Girl, Young Sheldon, and Shameless. Now she has a big breakout opportunity with a main role in the new superhero series, Stargirl. On the show, Anjelika portrays Beth Chapel AKA Doctor Mid-Nite. Even if you're not familiar with Anjelika's work yet, she's definitely someone worth keeping your eye on. Continue reading for 10 things you didn't know about Anjelika Washington.
1. She's A Foodie
One of the best things about living in L.A. is the fact that there are lots of great restaurants to choose from. Anjelika, who considers herself a foodie, loves to go out and enjoy a good meal. She also has an entire highlight section on Instagram that is dedicated to all of the delicious meals she tries.
2. She Likes Cats
Sorry dog people, but it looks like we've lost yet another person to the cat crew. Anjelika is a cat lover and she briefly had a pet cat that she rescued. Unfortunately, however, it looks like she had to give the cat away.
3. She Was A Cheerleader
Before she was on her way to becoming one of the hottest young actors in the business, Anjelika was living what most people would consider a pretty normal life. Anjelika participated in cheerleading for many years. She continued to cheer until her junior year in high school.
4. She Fell In Love With Acting During High School
Anjelika was introduced to acting when she was just 8. However, she didn't start taking it seriously until her junior year in high school when she joined an acting class. She told Urban Mag, "My teacher was very passionate about acting and instilled that into us, especially me. I soaked it up like a sponge. She said if I wanted to be in film, I should go for it. And, that was really all I needed."
5. She's Open To Lots Of Different Roles
As a young actress, Anjelika is excited to get as much experience as possible. She wants to take on a wide variety of roles. She says, "I am open to anything as long as it makes sense. Hopefully, the story is positive and if it's not positive, I would consider whether it sheds light on something real, something that I'm passionate about, or a story that needs to be told."
6. She Loves To Travel
Anjelika seems to be the type of person who loves to live life to the fullest. She's open to trying new things and likes to expand her view of the world by traveling as much as she can. Anjelika has gotten the opportunity to visit some pretty cool places including Paris, Santorini, and London.
7. Fareeda From Tall Girl Is Who She Wants To Be
Playing Fareeda was Anjelika's first big role. She was able to connect with the character on several different levels, but most notably, Anjelika says that Fareeda is the person that she is growing to be. She says, "I think we can always grow to be more confident, more self-assured and more secure with who we are…what I think I've learned from playing this character and what inspires me is how much she owns who she is. And, if anything ever does bother her, she keeps it pushing…I'm an artist, but I think I'm inspired by my character to just keep going and not let anything faze me."
8. She Encourages Young Women To Be Nicer To Themselves
We're all taught that it's important to be kind to others, but somewhere along the line we often forget to be kind to ourselves. If Anjelika could give one piece of advice to the next generation, she would remind them to "try being a friend to yourself."
9. She Loves Volunteering
Anjelika is really passionate about doing volunteer work, and she especially loves working with kids. She often volunteers at The Children's Hospital of L.A. where she participates in Shine on Siblings events. These events are designed to give the siblings of sick children a little bit of extra attention.
10. She Likes Watching Things That Make Her Laugh
The COVID-19 pandemic has resulted in a lot of us spending way more time at home than usual. As a result, we've been able to focus more time on the things we enjoy. For Anjelika, one of those things is watching comedies. She says she loves to watch things that make her laugh and put her in a good mood.
Tell us what's wrong with this post? How could we improve it? :)
Let us improve this post!