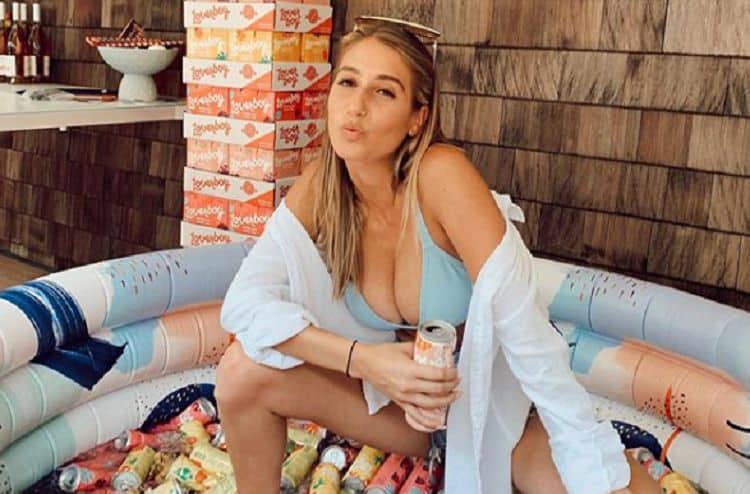 Bravo's 'Summer House' is a reality television program which follows the lives of a handful of people at Montauk, New York, where they happen to own summer homes. Located on eastern Long Island, Montauk is the summer place for the more affluent members of New York…at least eight of them at a time, to be more specific. What we get to see, In a nutshell, is this group partying, relaxing, romancing, and spatting during their weekends off work. And, well, that's about the gist of it. Yes, it's basically another reality show, like any other.
So, to feed you a bit more information, the cast members in the show's current line-up are newcomers Jules Daoud and Luke Gulbranson, and they join returning cast members Paige DeSorbo, Kyle Cooke, Hannah Berner, Amanda Batula, Lindsay Hubbard, and Carl Radke. Basically, the show consists of these individuals all rooming together, and it chronicles their ups and downs, as well as the ins and outs of their relationship status. But we aren't really going to dive much deeper than that into the storyline. As a matter of fact, we're just going to focus on a single cast member for today's '10 Things' list: Amanda Batula.
Most of us likely had no idea who Amanda Batula was until just now, and that's what we aim to choose. After all, it's far better to at least know who you are looking at when you happen to be channel surfing and stop on Bravo, which is airing 'Summer House'. You're much more likely just surf on by due to the confused unfamiliarity you feel. Whether you are a fan of reality television or not, it is the goal of this article to reduce the number of 'surf-bys' when it comes to 'Summer House', so brace yourself, oh ye doubters.
Below is a list of ten things about Amanda Batula that we are willing to bet you didn't know. Why Batula? Well, we have to start somewhere, and she won the beginning spot. But really, we didn't put this together to predict a killer future for Amanda in television, or to reveal that she is secretly a monk; rather, we just thought we'd help our readers get the know the cast, and thus Amanda herself, a bit better. So keep on reading, and soon, she'll be like a sister to you.
Here are Things You Didn't Know About Amanda Batula:
1. Birth, Education, & Upbringing
Amanda was born on July 24, 1991; she is currently a twenty-eight-year old Cancer, born in the Year of the Goat. She was born to Frank and Donna in New Jersey, where she and her brother, Frank, Jr. attended school in Somerset County; they attended Hillsborough County High School in later years. After graduation, Amanda earned a Bachelors' of Fine Arts degree in Communications Design from the University of Connecticut, where she was able to boast a 3.2 grade-point average at graduation. She was also a member of the Delta Gamma Sorority while she was in attendance there.
2. Personal Life and Relationship Status
Thus far, Batula has not married and has no children. She is, however, engaged to Kyle Cooke; the two have been in an exclusive relationship for more than two years. During the first season of 'Summer House', while she was a guest on the show, the two met; Kyle was one of the main stars of the show during that time. The pair seemed to hit it of well from the start, according to insiders, and the engaged state of their relationship today certainly reflects that fact.
3. Career Paths
Sure, we see Amanda and her pals on 'Summer House' while they vacay at their big-time spots, but we all have to wonder what they really do for money in real life that allows them all to afford the places we see them enjoying. So, what does Amanda do, besides being on the program? Well, 'Summer House' certainly is not her sole source of income. First, Amanda is in branding and design, as you may have guessed from her college major. She is currently in business with her fiancé, Kyle. The pair create sparkling hard tea for those who love a good drink, and the brand name is 'Loverboy'. She handles the creative aspects of the business, such as branding and other such needed designing. She has also done design jobs for businesses like L'Occitane and FENIX, a nutrition consulting application that she is also deeply involved in.
4. Other Incidents of 'Will Work for Money'
Her very first experiences with professional labor actually came while she was still studying for her degree. Batula served as a graphics designer and manager at ' The Daily Campus', the school paper for the University of Connecticut. She also sat as the Director of Merchandising for Delta Gamma sorority while she was a member. In addition, she interned for 'Rent the Runway', where she moved on to be the a stylist and Showroom Coordinator after she successfully graduated from college with her degree.
5. Social Media
Fans who don't know will be glad we brought it up: Yes, Amanda Batula is active on social media! She can be found on Instagram, with more than 240k followers, at @amandabatula, where she posts frequently about her life and business, not to mention all things 'Summer House' (and a few bikini shots!). Find her on Twitter under @amandabatula, for those that prefer to tweet. And for our Facebook enthusiasts, she is there as well. Find her under 'Amanda Batula' and be sure to follow her.
6. Traveling Girl
Amanda, as it turns out, really enjoys traveling, and would do it much more often if she could. Recent trips she has taken include Greece, St. Maarten, and France, and fans can check out any posts she made regarding these trips on her social media accounts. She is also an avid Hamptons fan, for those of the area, and visits there quite often, as well.
7. Zodiac Signs and Personality Traits
Amanda, who was born July 24, 1991, as we mentioned before, is a Leo, born in the Year of the Goat. The Leo woman is said to be very predictable, once you have a firm understanding of them, as they are fairly straightforward and consistent. They tend to appear to have great confidence, to the point of coming off as aggressive to those around them. They give little credence to fear, and most of the time they seem to deal with things directly using their charisma, which is high. While they are very passionate and have very warm, tender hearts, they can also be extremely dramatic, and sometimes overly so. But above all else, the Leo woman needs to be able to have a level of admiration for others in order to respect them, so this is something to keep in mind. 1991 was the Year of the Goat. Goat children are lovers of life, and they prefer creative, artistic ways of expressing that love. Under any form of pressure they may appear to be unable to handle the stress, and their moods rapidly shift, but they are truly loving and loyal to friends and family, regardless. They also tend to be honest to a fault, and will say exactly what they are thinking. With that, they are also one of the kindest of all people, which tends to earn them plenty of interpersonal relationships over the course of their lives.
8. Issues With Kyle…
Yes, as you can probably imagine, there have been troubles in her seemingly perfect relationship with Kyle Cooke. A couple of years back the couple actually split up due to his 'shenanigans', according to one online magazine; it was then made clear by Cooke that he had committed a one-time infidelity infraction, which he blamed on being blackout drunk. Since his admission of the situation to Amanda, she decided she was able of forgetting him and letting bygones be bygones. The couple subsequently reunited and then later became engaged.
9. Net Worth
With just her designing, management, styling, and private business gigs, Amanda earns a pretty nice living. Add to that her part on 'Summer House', and you are looking at a young woman who is in a fairly pretty financial position. According to several sites, including Celebsmoney.com, her net worth estimation falls into a fairly wide range: Between $100k and $1 million. Well, we're willing to bet that she surpassed the $100k mark fairly quickly, and we wouldn't be surprised if the amount is closer to $1 million.
10. What the Future Holds
As far as her plans for the future go, Amanda intends to work with 'Summer House' until it's time not to anymore, which could mean a number of things in the show business world. She also intends to marry Kyle, as we know, and hopefully the pair will have their business running very successfully, even branching out. Well, with goals like those you can't go wrong, as long as you're working to meet them.
Well, if you weren't familiar with Amanda Batula before, you are more so now. Like we said, it always helps fans to better identify celebs if they know more about them, and when we write about some that are somewhat unknown, that is what we have in mind: To familiarize. We hope this piece helped. Now you can watch 'Summer House' with a clear conscious…unless, of course, it's a guilty pleasure.