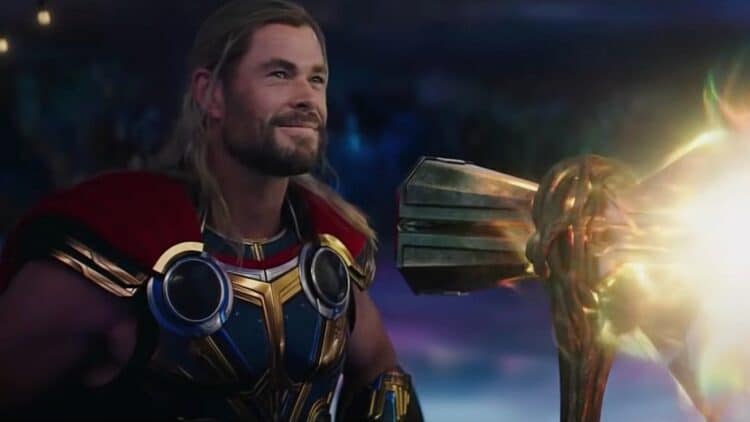 It's not a subject that a lot of people want to think is bound to come up in the MCU, since the loss of a few key characters has already managed to traumatize a lot of fans. But there's a good reason to think that Thor might be performing his final hurrah when Love and Thunder rolls around since there are a few clues that might point to this, one of the biggest being that Thor's future in the MCU could very easily be coming to a close. This might not be the case, but with so much happening in the MCU at this time it's not too tough to think that what's coming could be a way to shake up the franchise and create an opportunity for other heroes and even villains to make their way to the front of the line. What's kind of irritating to think about it, if it's true, is that Jane Foster might not be sticking around either. So far, the rumors are flying, as usual, just before the movie releases, and it's not hard to think that once the rumors are proven true or debunked, people are still going to have something to say.
The implications of Thor dying in the MCU are big enough that they could have lasting ramifications since as one of the most powerful Avengers he's been a driving force in the franchise that managed to come through in clutch situations and ended up being one of the most interesting characters to watch. His personal growth and development since the first movie has been phenomenal, and yet he's still been kind of a brawny, less than brainy character for the entirety of his run in the franchise. Thor is more or less a character that has been a lot of fun to watch but has been used as a comedic foil at times and a heroic but slightly dim individual at others.
In other words, Thor feels like a big kid that's been given a lot of the glory but hasn't really been allowed to be as complex as the other characters. To think that his run might end with this movie, or sooner than people are hoping, is kind of tragic since to see a King Thor might be interesting, not to mention that it could allow for several other big characters to be brought into the mix. The idea of not following the natural progression seen n the comics is understandable at times, but there are times when one can't help but think that the MCU might be better served by keeping certain characters for the long run. Then again, some of these characters have been around so long that they're ready to branch out and do something else with their career, thereby facilitating the death of their characters. The thought that Thor might not be around for much longer is a little saddening, but trying to understand this decision isn't too tough since there are several reasons why it would happen.
It's very possible that Thor could go out while fighting Gorr, which would lead one to believe that he would end the God Butcher by the time the credits begin to roll. But what could be unfortunate about this is the idea that Gorr could become another one-and-done type of villain that's been seen far too often over the years. The more thought that's given to the possibility that Thor might be meeting his end, the more likely it feels that it means that the MCU will be changing in ways that might be less than predictable. One has to remember that in Marvel comics, the god of thunder has been a mainstay for many years, much like Captain America and Iron Man. But with these heroes gone and the multiverse opening wide, there are a lot of different possibilities that are yet to come, and what will end up happening is already looking to be complicated. Thor's death could open up a lot of different storylines that could be great for the MCU, or it could create a gap that's not bound to be that easy to fill. Either way, the eventual absence of the god of thunder will be a loss that a lot of people will feel.
This could be a lot of paranoia, but the truth is that one of these days the characters that people enjoy in the MCU are going to move on, and like it or not, they might be replaced, or their parts might be recast. Thor is going to be a big loss if he does end up dying, but the hope is that he'll go out in a strong and impressive manner that will be worthy of his time spent in the MCU. It'd be nice if Jane stuck around, but we'll have to wait and see what happens.
Tell us what's wrong with this post? How could we improve it? :)
Let us improve this post!