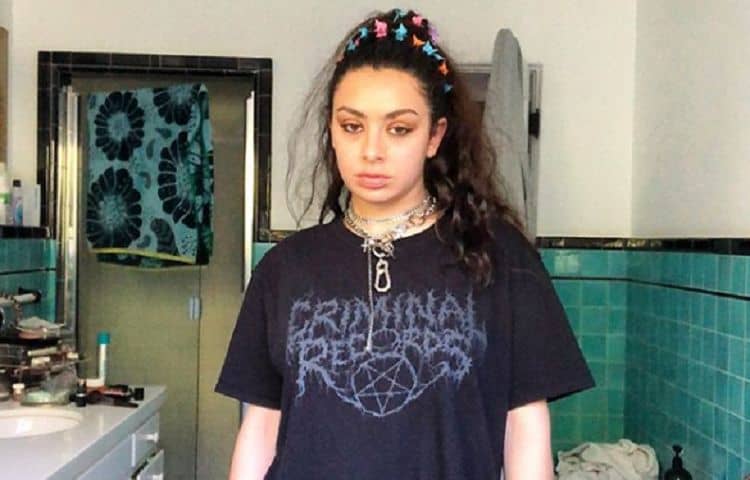 Charli XCX broke onto the scene in 2008, performing at illegal raves and parties around London with her blend of dance electro-pop. 5 years later, she started making waves around the world with the Icona Pop collaboration "I Love It", and in 2014, she cemented her newfound fame with the Iggy Azalea track, Fancy. Currently riding high on the success of her third album, Charli, she's someone whose star is most definitely on the ascendant. Find out more with these ten quick facts.
1. She recorded her first album at 14
Charli showed an affinity for music from a young age, and by the time she was 14 years old, she'd managed to convince her parents to lend her the funds she needed to record her first album, the aptly titled 14. After some of the tracks she posted to Myspace caught the attention of a promoter who was running illegal warehouse raves in London, she began being invited to appear at raves and parties around East London, appearing under her stage name Charli XCX.
2. She thinks her fans should be themselves
Charli may not have set out to be a role model, but given her position in the music industry, she's accepted it's all part and parcel of the game. If there's one lesson she'd like to instill in her fans, it's for them to embrace themselves as they are. "I think wherever possible I always try and encourage my fans or people who follow me to be themselves just as I am," she told ET Canada. "I am myself and I am a human who makes mistakes and I think that's one thing that I hope they take away from me as an artist. I think there needs to be a level of forgiveness in life that I feel doesn't really exist anymore."
3. Fancy was her breakthrough
In early 2014, Charli made her commercial breakthrough when she featured on Iggy Azalea's single "Fancy". The song took Azalea and Charli to the top of the US Billboard Hot 100 (the first time for either artist) and instantly catapulted them to a whole new level of fame. Charli suddenly became the woman of the moment, with everyone from Sky Ferreira and Neon Jungle to Rihanna and Gwen Stefani queuing up to work with her. At around the same time, she contributed the song "Boom Clap" to the soundtrack of The Fault in Our Stars; the track proved to be another major hit (as did its successor, Break the Rules), while her follow up album, Sucker, gave the singer her first US charting album when it debuted at number 28 on the US Billboard 200.
4. She's worked with her idol
In an interview with Moustache Magazine, Charli let it be known how much she'd like to work with a certain French-born singer-songwriter. "I would love, feature-wise, to collaborate with Uffie. I think she's the baddest. I just like her whole style, I think it's really cool," she enthused. Fast forward 5 years, and her dreams turned to reality when she and Uffie collaborated on the track "Babygirl" from Uffie's 2017 album Number 1 Angel.
5. She sees music in colors
She may not have a doctor's note to confirm it, but according to Charli, she has sound-to-color synesthesia (in which sounds and music evoke an experience of color). "I see music in colors," she told the BBC. "I love music that's black, pink, purple or red–but I hate music that's green, yellow or brown."
6. She's a Grammy Award nominee
So far, Charli might not have scoped a win at the Grammy Awards, but considering she already has two nominations for the prestigious award under her belt, we doubt she's feeling too underappreciated. Other awards and nominations worth a mention include two Billboard.com Mid-Year Awards, an Attitude Magazine Award for Best Music Act, 3 NME Awards, 3 YouTube Music Awards, several Brit award nominations, and more MTV Award nominations than most of us have fingers to count.
7. Clubs are where she gets her inspiration
Back when she was 14, Charli began her career performing at parties and raves around London. Nearly 15 years later, they're still her stomping ground, and the places she gets most of her inspiration. "Clubs are really fruitful, creative spaces for me," she told Glamour. "I get inspired lyrically, visually, the whole thing. The light and lasers in clubs or at raves, the space itself. It's very inspiring to me. So much stuff happens at parties. You meet people who you fall in love with. You're with some of your best friends. You break up with someone. It's this huge social concoction of all of these people that you know and don't know. Partying is a place where I feel very free."
8. She was the victim of a hack
In 2017, Charli was busy preparing for what should have been her third album release. Without warning, several demos suddenly appeared online- something that was later traced to a hacker who'd broken into her Google Drive. Despite the album still being a work in progress, the demos were grouped together by fans and packaged under the fake title of XCX World — something that, for Charli, undermined all the work she'd put in. "People call it XCX World, but I hadn't even titled it," she's since said. "There was no title. There was no tracklist yet. It was an extreme invasion of my personal privacy and my life. People had my phone number. I didn't feel safe at all. It made me feel like all this hard work, all this money I'd put into recording, all the producers I'd paid, all the time, and all the flights I'd taken, were just thrown back in my face."
9. She's standing up to be counted
In 2015, Charli released the documentary, The F Word and Me, a chronicle of her interviews with fellow artists about "what feminism really means and to see if girls are finally ruling the world." The singer has been a vocal supporter of greater female representation in the industry for years, saying "Female musicians are still in the minority. I think it's important to stand up and be counted, and there are plenty of other women here who feel the same way."
10. She's toured with some of music's biggest names
It's not just on albums that Charli has a track record of collaborating: for the past decade, she's toured extensively, occasionally on her own, but more often in the company of music's biggest names. Some of the artists she supported in the past include Azealia Banks in 2012, Coldplay in 2012, Paramore in 2013, Katy Perry in 2015, Sia in 2017, and Taylor Swift in 2018.
Tell us what's wrong with this post? How could we improve it? :)
Let us improve this post!