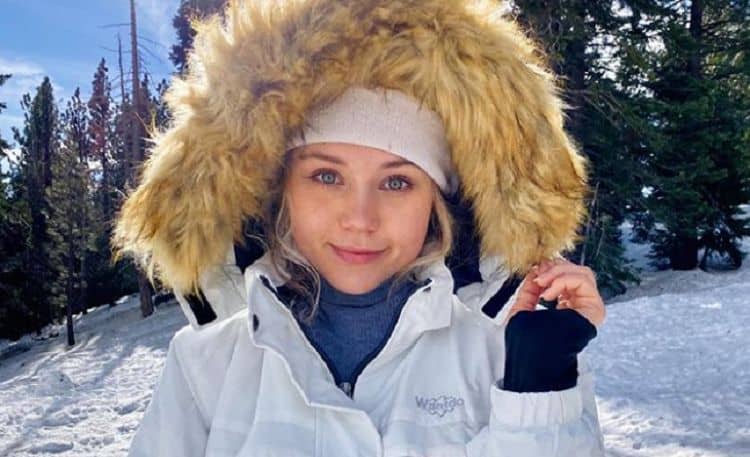 You may not be familiar with the name Brec Bassinger just yet, but I have a feeling that will be changing soon. The young actress is best-known for her role on the Nickelodeon show, Bella and The Bull Dogs. But it's her new role that could really cement her as one of the brightest young stars in the business. The talented actress was recently cast in the title role of new TV series, Stargirl. Brec may have started her career as a child, but she's definitely doing a great job of transitioning into an adult star. Continue reading for 10 things you didn't know about Brec Bassinger.
1. She Has Diabetes
When Brec was 8-years-old, she started to experience symptoms such as mood swings, weight loss, and extreme thirst. After going on a weekend trip with her mother and grandmother, her mother noticed she wasn't feeling well and brought Brec to the doctor as soon as they got home. The doctor discovered that Brec had type I diabetes. Fortunately, she's been able to find an insulin regimen that works for her. Since becoming famous, Brec has been very open about her illness and has often used her platform to spread knowledge and awareness.
2. She Used To Be A Cheerleader
Long before her days as an actress, Brec was an athlete. She was a competitive cheerleader for years in Texas before relocating to Los Angeles to elevate her career. In addition to cheerleading, Brec was also a member of a track and field team.
3. She's A Ventriloquist
Acting may be Brec's core skill, but she got a lot of other hidden talents up her sleeve. She is a ventriloquist who competed in several talent competitions. On top of that, she was also a regional champion in cup stacking.
4. She Was A Pageant Girl
When Brec was 2-years-old, she began participating in pageants. Although her pageant days are behind her, she still has fond memories from her competition days. She says, "Pageants for me were definitely like a hobby. They were very fun and I met so many people. I still have friends today that I met at the pageants and they definitely taught me a lot about acting. I had an interview process at the age of 3, so it prepared me for things such as this interview right now."
5. She Doesn't Believe In Coincidences
While talent is a given, some actors believe that luck also plays a big role in their ability to get opportunities and land roles. However, Brec subscribes to a different philosophy. She doesn't believe in coincidences and says everything happens for a reason.
6. She's Always Loved Superhero Movies
The fact that Brec was cast in Stargirl has been a dream come true, not just for her career but also as a fan. She's a huge fan of superhero movies and always has been. Brec told BriefTake, "I grew up loving superhero movies, absolutely loved them."
7. She Lives By The Motto 'Kill Em With Kindness'
We're all constantly inundated with headlines about all of the bad things going on in the world. At this point, it's no secret that the world isn't the nicest place. However, Brec is a firm believer that kindness is the way to go. She says, "I find that the best way to move someone is to treat them well. That's how I tend to go about finding justice."
8. She Loves To Travel
Brec may be young, but she's already gotten the chance to experience a lot of what the world has to offer. Traveling is one of her favorite things to do and she has been fortunate enough to visit lots of places. Some of the destinations she's traveled to are Africa, London, and Dominican Republic.
9. She'd Love To Write and Direct
Even though Brec still has a lot left to look forward to in her acting career, she's already thinking about what the future could look like her beyond acting. She says she would love to get involved in writing and directing at some point.
10. She Has A Boyfriend
Brec Bassinger's relationship with Dylan Summerall is proof that young love still exists. The couple has been together for several years and it looks like they're still going strong. Summerall is also an up and coming actor who is best known for his role on the TV series, Keys.
Tell us what's wrong with this post? How could we improve it? :)
Let us improve this post!