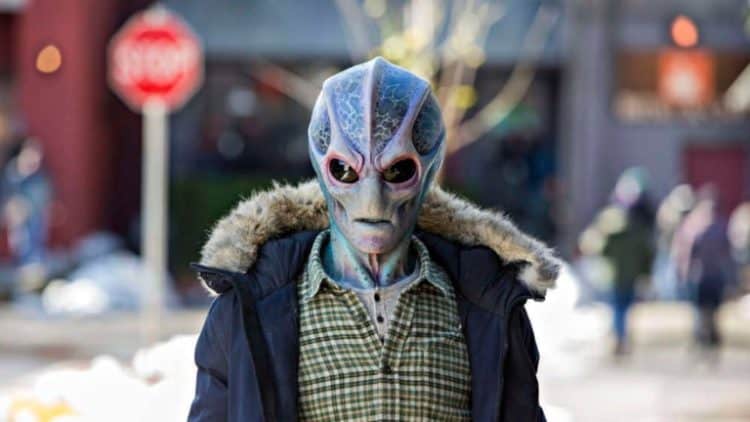 If supernatural things — especially aliens — are of interest to you, then the SyFy series Resident Alien will probably be right up your alley. Resident Alien centers around an alien who is sent to earth to kill the human race. In order to complete his mission, he kills a small-town doctor and assumes his identity. However, following through The series premiered in January of 2021 and it quickly developed a devoted following. Now, the show is gearing up for its second season and lots of people are looking forward to it. In addition to an interesting storyline, Resident Alien also has a talented cast that is sure to put on great performances all season long. Keep reading to learn more about the cast of Resident Alien season two.
Alan Tudyk as Dr. Harry Vanderspeigle
Alan Tudyk is a Texas native who had a brief career as a stand-up comedian before he got into acting. However, making the switch is probably one of the best things he's ever done. Alan has been acting professionally since the late 1990s. Although the first few years of his career were spent focusing on movie roles, he eventually hit his stride once he crossed over into the TV world. Over the course of his career, he has been a part of several successful shows including Arrested Development and Harley Quinn. However, he is probably best known for his role in the series Suburgatory. While his live-action roles are what Alan is best known for, he has also done some voice work. On a personal note, Alan has been married to Charissa Barton since 2016. The couple doesn't have any children together.
Sara Tomko as Asta Twelvetrees
Sara Tomko may not be as widely known as some of her castmates, but she certainly deserves to be. She is a formally trained actress who studied theater at James Madison University. Over the course of her career, she has built a very impressive resume that includes both TV and film roles. That said, being cast in Resident Alien is her biggest TV role to date. Hopefully, her time on the show will help open the door to other great projects in the future. In addition to her acting work, Sara also has some behind-the-scenes experience as a producer.
Corey Reynolds as Mike Thompson
Corey Reynolds is the kind of actor you've probably seen several times over the years, but may not know by name. He has been in the entertainment industry for more than 20 years and during that time he has shown that he can play any kind of role. He is best known for playing David Gabriel on The Closer from 2005 to 2012. No matter what kind of character Corey is portraying, viewers can always trust that he is going to put on a great show. Corey has always been a fairly private person, so there isn't much information about his life outside of acting.
Alice Wetterlund as D'Arcy Bloom
Alice Wetterlund is originally from Minnesota, but when she decided that she wanted to get serious about a career as an entertainer she knew she needed to relocate. She moved to New York City in 1999 and began studying at The Cooper Union for the Advancement of Science and Art. Alice got her start by doing stand-up comedy which eventually led her to other opportunities. Her big break came in 2013 when she was cast in the MTV series Girl Code. Resident Alien is the biggest TV role she's had so far and she is certainly making the most of it.
Levi Fiehler as Ben Hawthorne
Born and raised in Alaska, it was there where Levi Fiehler began his journey as an actor. According to his official bio on the SyFy website, he started his acting education at Perseverance Theatre before moving on to The Sanford Meisner Studio in California. Throughout his career, Levi has made guest appearances on several shows such as The Fosters, SEAL Team, and Code Black. Being cast in Resident Alien has given him a consistent platform to put his talents on display. Many may be surprised to know that Levi doesn't appear to be active on any social media platforms.
Elizabeth Bowen as Liv Baker
Like some of her castmates, Elizabeth started her journey as a comedian. However, once the acting bug comes along it can be nearly impossible to resist. She landed her first on-screen role in 2000 and she has been acting consistently ever since. Although many of her roles have been on the smaller side, Elizabeth lights up the screen every time she gets in front of the camera. When she isn't busy with work, she enjoys spending time outdoors and she is also a proud dog mom.
Meredith Garretson as Kate Hawthorne
Meredith Garretson is a formally trained actress who studied at New York University's Tisch School of the Arts. She had been in the entertainment industry for about a decade before Resident Alien came along but the show really helped to take her career to another level. In addition to the work she's doing with Resident Alien, she will also be in an upcoming mini-series called The Offer which is set to premiere in April of 2022.
Jenna Lamia as Judy Cooper
Jenna Lamia is a multi-talented creative who has always had a deep love for the arts. As a screenwriter, actress, and narrator, she has found many ways to share her talents with the world. In addition to Resident Alien, she is known for her work on shows like Awkward and Good Girls. Pretty soon, she will be able to add published author to her list of accomplishments.
Tell us what's wrong with this post? How could we improve it? :)
Let us improve this post!