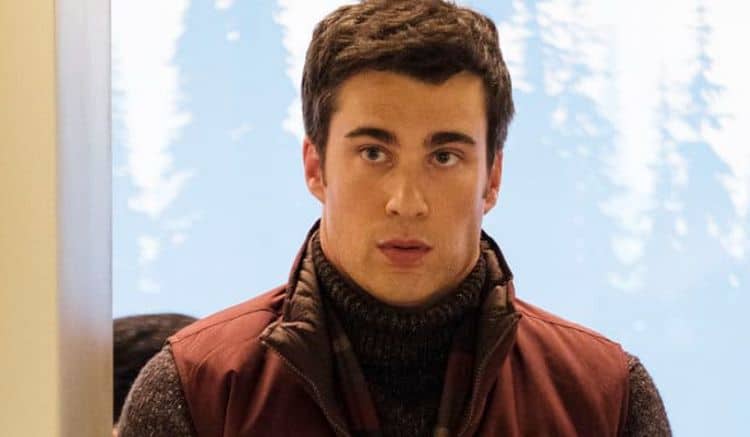 You may not be familiar with Levi Fiehler's name just yet, but that's likely to change soon. After more than a decade of hard work, Levi's efforts are finally paying off. He has secured a starring role in the new SyFy series, Resident Alien, giving him the chance to showcase his talents to a wide audience. So far, viewers are loving what they see. Levi already has an impressive list of credits to his name, and it looks like he's only going to add more in the future. To learn more about Levi Fiehler, keep reading for 10 things you didn't know.
1. He Is Originally From Alaska
Levi was born and raised in Juneau, Alaska, which is where he developed a passion for acting. While he has always loved Alaska and considers it his home, he knew that it wasn't the ideal place for him to pursue his career as an actor. After high school, he decided to relocate to the Los Angeles area.
2. He's A Formally Trained Actor
Some people may think that Levi is a newcomer to the acting world, but he's actually been around for a lot longer than people think, having put a lot of time and effort into honing his skills. Levi studied acting at The Sanford Meisner Studio in California, where he was trained by Alex Taylor.
3. He's A Private Person
Many people in the entertainment industry enjoy sharing some of their most personal moments with the world, but Levi appears to prefer his privacy above all else. That being said, however, things may change as Levi progresses further into his career.
4. Family Is Important To Him
There is not much information available about Levi's family, but his Instagram profile reveals that family is of utmost importance to him. It appears he has two siblings, whom he recognized on National Siblings' Day. Despite his increasingly busy schedule in recent years, he still loves being at home in Alaska with his family whenever possible.
5. He Was In An Episode Of CSI
Even though Levi hasn't always had the biggest roles, he has still been a part of some very big projects. In 2015, he played the character of Brad Jeffries in an episode of the popular series CSI. He has also been featured in other well-known shows such as The Fosters and Ray Donovan.
6. He Has A Very Impressive VHS Collection
People like to collect all sorts of things, and for Levi, that thing is VHS tapes. According to a picture on his Instagram, he has a pretty sizeable collection of old movies. While this may mean something to the 25 and up crowd, we have now reached the point in time where there are people on this earth who may have never even seen a VHS tape.
7. He Fell In Love With Resident Alien As Soon As He Read The Script
No matter what kind of work you're doing, it's always nice to enjoy it. Levi was fortunate to have that experience with Resident Alien. During an interview with Screen Rant, Levi said, "When I read this script and this character came up on the page, like this is who you're going to be auditioning for. It was like, 'Oh my God, I love this so much. There's no way I'm going to get this part.' You know what I mean? I was like, 'This is too good to be true.' So yeah, I mean, just the fact that we're here doing press for the show. I'm just like, 'Oh my God, this is awesome. What did I do in a past life to deserve this?'"
8. He Likes To Travel
Levi is the kind of person who loves to explore the world, and travelling has been the perfect way for him to do that. He has been fortunate enough to visit many different places in the United States, as well as other countries such as Hungary and Canada.
9. He's Grateful For Every Opportunity That Has Come His Way
Making it as a professional actor isn't easy, and this is something that Levi is very aware of. He told Screen Rant, "I'm just grateful for any opportunity to work at this stage in my career. It goes without saying that this is a competitive industry, and you have to be thankful for the chances you get."
10. He Doesn't Have A Big Social Media Following
Social media has become a powerful tool for everyone, and people in the entertainment industry are no exception. Although building up a social media presence doesn't seem to be at the top of Levi's priority list, he is fairly active on Instagram. At the moment, Levi has less than 1,000 followers on the platform, but that is likely to increase as he continues to get more and more opportunities.