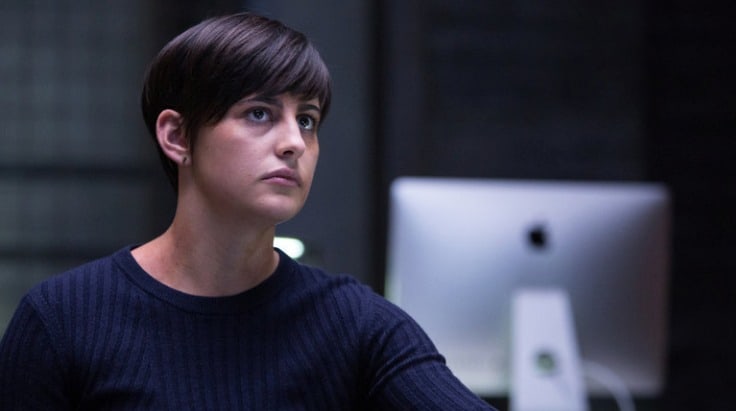 At just 27 years old, Jacqueline Toboni is a rising star. She landed her first acting part while still in college by chance when she impressed screenwriter and producer who visited the class and helped them study auditioning. Her first roll as Trubel in NBC's "Grimm" won her instant popularity. Playing the tough bad girl who gets to hunt demons impressed fans of the show. She has gone on to find a great role in Netflix's "Easy" and will soon be seen in the much awaited sequel to Showtime's "The L Word", "The L Word: Generation Q". Here are 10 things you didn't know about Jacqueline Toboni.
1. She will star in The L Word sequel
The sequel to the popular Showtime series "The L Word" is in production. The original series aired from 2004 through 2009. It followed the intertwining lives of friends and co-workers as they struggled and succeeded through love, friendships and careers in West Hollywood. The sequel will premier this year and have eight episodes. The series will continue to follow the original characters including Bette, Alice and Shane. Jacqueline Toboni joins the cast as Assistant Sarah Finley. Sarah must come to terms with her sexual orientation and her religious upbringing.
2. She was born in San Francisco
Born in San Francisco, California on February 18, 1992, Jacqueline Rose Driscoll Toboni is the youngest of five in her close knit Italian family. Her sister, Gianni works as a correspondent for VICE Media, a Canadian digital and broadcasting company that focuses on its youth and young adult audience. One of their brothers is a Boston Red Sox Scout, one is a contractor and one is a physician. Toboni has said that she was a tomboy growing up and liked to cause trouble with the other neighborhood kids. She played sports throughout her childhood and became certified in stage combat during college which is why she loves doing her own stunts on TV shows like "Grimm".
3. She studied acting
After graduating from San Francisco's St. Ignatius College Preparatory School in 2010, Jacqueline Toboni headed to the University of Michigan where she studied theater. Along the way she also attended several theater programs. These include an apprenticeship with the Williamstown Theatre Festival, New York City's Movement Theatre and London's Royal Academy of Dramatic Art.
4. Her big break
While a student at the University of Michigan in 2014, Jacqueline Toboni took a screenwriting class that was visited by producer, director and screenwriter Jim Kouf. While learning about the audition practice, Kouf gave several members of the class a scene from the NBC drama "Grimm". He was so impressed by Toboni's performance of the role of Theresa Rubel in an episode of "Grimm" that he recommended her for the role. Toboni auditioned for the role in LA along with several professional actresses. She made an impression and next sent for a screen test with the show's star David Giuntoli and landed the role.
5. Grimm
Her lucky break getting the guest role of Theresa Rubel, or "Trubel", on NBC's hit television series " Grimm" was exciting for Jacqueline Toboni. She instantly became a fan favorite. Trubel is tough because she had to be. She didn't realize she could become the hunter (demon hunter) instead of the hunted. Toboni played the recurring role of Trubel from 2014 to 2017. She loved the role and insisted on performing her own stunts. Her toughness, athletic skills and stage combat certification certainly paid off for the role.
6. Major Crimes
Along with her success starring in NBC's "Grimm", Jacqueline Toboni continued to study theater. She also worked in small films. In 2015 she appeared in an episode of the hit TNT series "Major Crimes". The show is a spinoff of "The Closer". The crime drama follows the Major Crimes Division of the Los Angeles Police Department led by Captain Sharon Raydor. It aired from 2012 through 2018. Toboni appeared in episode 7 of the fourth season as Officer Leanne Tracy. The same year Toboni appeared on an episode of the comedy show Jill Takes LA where an LA News Anchor looks into ordinary, mundane life in LA. Tobini portrayed a parody of herself, Jacqueline Chobani, a cable access star believing her series "Grimm" was on network television.
7. Easy
Since its 2016 premier, Jacqueline Toboni has portrayed the character of Jo on the Netflix series "Easy". "Easy" just began its third and final season in May. The series is about love in modern Chicago. It shows different couples whose lives intertwine through friendships. Each is learning about love in their own way. Jo is a lesbian who begins a relationship with Chase. The show has received critical success.
8. Film
Jacqueline Toboni has also starred in several small films. She appeared in the short film "Bad Girls" in 2014. In 2017 she played Kelly in "Liked". She will appear in "The Last Room" and "The Bygone". She continues to learn the art of film which has always appealed to her.
9. Stand Up To Cancer
Always interested in helping good causes, Jacqueline Toboni's primary cause right now is Stand Up To Cancer. The Entertainment Industry Foundation began to raise money to fight cancer in 2008 with a telethon promoted by the United States of America's major networks to raise awareness and raise funds to fight the disease that affects so many lives. Toboni is a great supporter of Stand Up To Cancer. In 2017 she was honored to be a guest on an episode of Gordon Ramsey's "Hell's Kitchen". The episode continued to bring awareness to the fight against cancer and honored major contributors to Stand Up To Cancer.
10. Did she ever return to school?
With the success of her first acting role which turned into a successful three year stint that led to more roles, one has to wonder if Jacqueline Toboni ever returned to college. She did. After her three years on "Grimm", Toboni returned to the University of Michigan to complete her education. She received her BFA degree in acting. During her career, Toboni has continued to study theater.
Tell us what's wrong with this post? How could we improve it? :)
Let us improve this post!