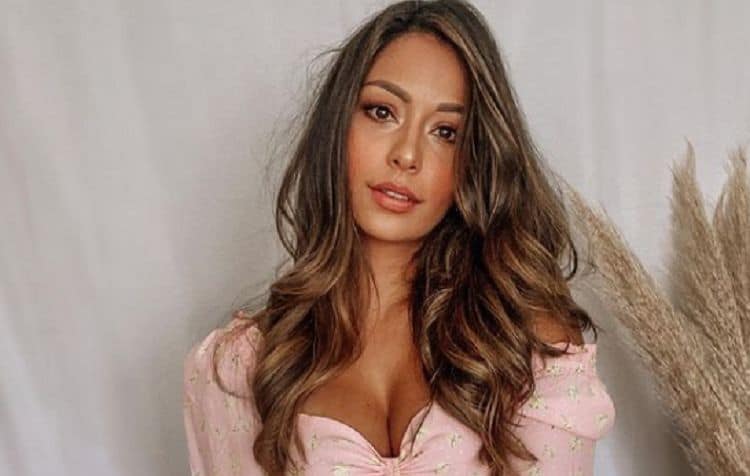 If there is one job that might sound like a dream come true (after being a wine tasting professional or a professional mattress nap-tester, of course) it might just be modeling for the "Price is Right," on television. What could be better? Honestly, it's a job in which you get to be on the greatest game show of all time. You get to see people happier than ever, and you get paid for being lovely and for having the insane ability to make moving your arms around in the air look so good. Manuela Arbelaez is living the dream as a model on the hit show, and fans want to know more about her.
1. She's in Her 30s
She was born on September 9, 1988. This means she turned 32 in 2020, and she looks much younger if you ask us. She's got that youthful, lovely appearance of someone who takes good care of herself. Her great genes are also helpful.
2. She's from Colombia
She was born and raised in Medellin. Medellin is located in Antioquia, Colombia. She was there most of her childhood. She lived with her mother and father, and she lived there until she was a legal adult of 18.
3. She's Married
Manuela is a married woman. She married Mathew Doherty on February 17, 2018. One year later on the day that they'd celebrate their first wedding anniversary, they made a public announcement that they were also welcoming their first baby. They had a little girl in August of 2019.
4. She Came to New Jersey in 2006
It was 2006 when she made the decision to move from Colombia to New Jersey. She was looking to pursue a career that would make her famous and provide her with a good living. She came to the states and immediately worked on some reality shows and beauty pageant shows to see if she could strike up a career for herself.
5. She Tried to Win Her Job on Reality Television
Spoiler alert – she did not win. She did take part in "The Price is Right Model Search," back in 2008, but she did not win. She was a finalist – one of the top five – but she didn't get the job. She did, however, impress the show so much that they offered her a job anyway. She was hired in 2009, and she's been there ever since.
6. She is a Music Video Star
When she is not busy doing "The Price is Right," on daytime television, she takes part in music videos. She's been in a P Diddy video (if that's not a cool dream come true), and she's been in a Robin Thicke video. She's definitely getting to do some very cool things in her career.
7. She's Done Soaps
She has been on daytime in a few ways. She also got to play a part in "The Bold and the Beautiful," on daytime television, and we imagine that we a very cool job, too. The show brings on some of the best people in the world to guest star, and we think she did a stellar job in her role.
8. She's Outdoorsy
When she's not working, she likes to spend as much time as she can outside. We get that. The outdoors are a great place to be, especially when you reside in California. She likes to spend time outside having meals or spending time on the beach. She also likes to ride her bike, and she's a fan of jogging. Anything outdoors is really her own cup of tea.
9. She's a Fan of the Beach
She's got a vacation motto. It should be about nothing but total relaxation. This means she's in need of a place that she can sit by the water and stare at all things beautiful all day long. You got it; she likes the beach. We aren't going to argue with her about it, either. It's the best.
10. She's Into Self-Care
As she should be, too. One of her favorite things to do is a spa day. She likes to have it all done. She likes a good massage, a facial, a body scrub; you name it, she's in for it. She likes to take care of herself, and she likes to pamper herself. We love that because we feel more people should take that route and go into things like that with an open heart. Taking care of yourself is so important – and we should all do more of it.