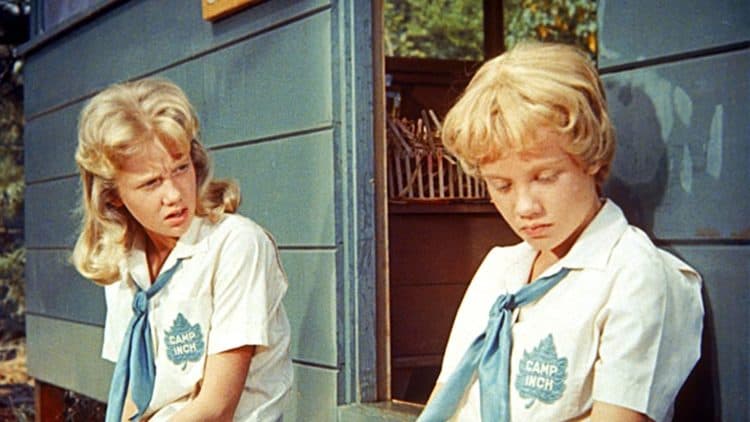 It's hard to tell if anyone from the current generation would even know about Hayley Mills but it's safe to say that anyone growing up from the 60's to the 90's would be likely to remember. After all she was a child star and later on she did manage to pop up in TV shows and films every now and again. Hayley was just 12 when she was discovered and given the role in Tiger Bay, which also starred her father Sir John Mills. It was a popular movie in Britain but doesn't seem to have enjoyed as much popularity across the pond. But thanks to Tiger Bay she was given the role of Pollyanna, the little orphan girl that many people still remember to this day. That role earned her a place as a star in the US and even catapulted her to further stardom with an Academy award. She was the first person to receive a Juvenile Oscar, but it had to be accepted by Annette Funicello since she wasn't in attendance at that time. And of course another movie that many people should remember her in is The Parent Trap, which was remade with Lindsay Lohan and Dennis Quaid years ago. This film was a huge hit that managed to make her an even bigger star.
A Return to British Films
She went back to acting in British films not long after that though and gained great acclaim for her role in Whistle Down the Wind. Once again though she returned to Disney to film In Search of the Castaways in 1962. This kept her star power rolling for some time as she continued to do films. Her next one however, also with Disney, was titled I Capture the Castle, but it was never released. The fourth film she did for Disney was titled Summer Magic, but while it was successful it showed a definite decline in her career. However she kept right on going, starring in films such as The Chalk Garden and The Moon-Spinners, where she got her first onscreen kiss from Peter McEnery. That Darn Cat! was another film with Disney that was well-received, and it's fair to say that during her run with Disney she was one of the most popular child actors of her time. She was also known for the song Let's Get Together from The Parent Trap, as it hit number 8 on the Billboard Hot 100.
A Return to the Small Screen
Mills eventually left Disney and made another film with her father, The Truth About Spring. The film was fairly popular but her next one, The Trouble with Angels, was an even bigger hit. Her star power was still very evident even when she split with Disney as she continued to act, though it had changed quite a bit since she was no longer the media darling of the rapidly growing Disney company and had decided to strike out on her own. After nearly a decade of acting alongside her father and several others however she decided to bow out of acting for a while. It might have been that she needed a break or had other priorities, but Mills wouldn't be seen on the screen again until the 1980's. In fact it was in 1981 that she returned to the small screen in a UK TV miniseries titled The Flame Trees of Thika. The series was so well-received that she jumped right back into acting again and even made a couple of appearances on The Love Boat.
Reuniting With Disney
Thankfully her split with Disney years before was amicable and she was always welcomed back. She would eventually go back to reprise her role as the twins Sharon and Susan for a trio of new Parent Trap films. Despite her comeback and the fact that it was very welcomed, her status was somewhat diminished as Disney had moved on by this time and was exploring new venues. Mills was awarded the Disney Legends award in 1998 however in recognition of all she'd done over the years. Aside from her film and TV career however Mills was also known to take to the stage and performed in a West End revival of Peter Pan. She did just as well on stage as she did onscreen and earned a very special place in many peoples' hearts as she's been active on stage for many years. Even to this day she's still an active participant in various shows.
Hayley Mills Today
Mills has had a rather interesting life thus far and has proven herself to be a very surprising person. She was married for the first time in 1971 to a man more than twice her age, but divorced just six years later. They had a son together, and eventually he became a rock star for a band called Kula Shaker. She had a second son during a relationship with another actor, Leigh Lawson. As of 1997 she was and still is in relationship with Firdous Bamji, who is 20 years younger than she is. She's always been quite involved with the Hare Krishna movement for some time. In 2018 she was diagnosed with breast cancer and credits her survival to several alternative treatments that she decided to try. At this point she's fully recovered and still living her life the way she wants to.
Tell us what's wrong with this post? How could we improve it? :)
Let us improve this post!