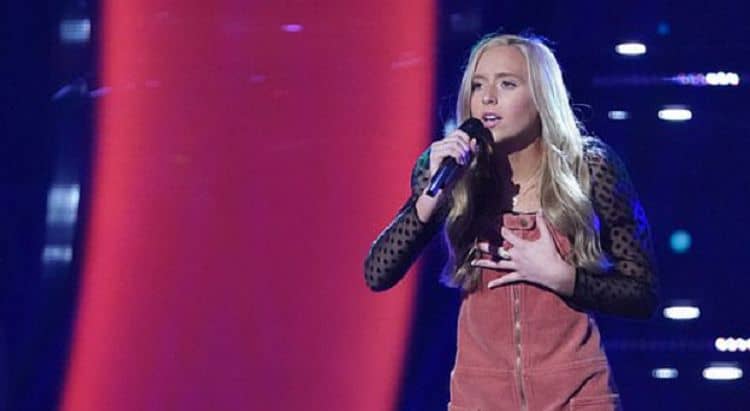 Season 19 of The Voice has introduced the world to lots of talented singers, and SkylAr Alyvia Mayton is one of them. At 15-years-old, she is one of the youngest competitors on the show this season, but her age definitely doesn't translate to inexperience. During her blind audition, Skylar performed "Blinding Lights" by The Weeknd and it didn't take long for Kelly Clarkson to turn around. As you can imagine, Skylar was incredibly excited to get chosen by a judge and lots of viewers are already hopeful that things will go well for Skylar throughout the competition. Keep reading to learn 10 things you didn't know about The Voice contestant Skylar Alyvia Mayton.
1. She Has Always Wanted To Be On The Voice
Performing on The Voice has always been a dream of Skylar's and now she's living that dream more vividly than she could have ever imagine. Not only did she get the chance to sing on The Voice stage, but she also had a judge turn around during her performance.
2. She Sang At An NBA Game
Skylar hasn't gotten a major record deal or done a full length album yet, but she's done some other things to help advance her career. She has performed the national anthem at some high schools in her area and even got the chance to sing the song before a Chicago Bulls game.
3. She Is An Actress
Skylar's voice is what has been getting her all of the attention lately, but that isn't her only method of performing. According to IMDB, Skylar also has some experience as an actress. She has appeared in two films: Bennett's Song in 2018 and A Bennett Song Holiday which is set to be released in 2020. There's no information on whether or not Skylar plans to do more acting, but it wouldn't be surprising if we saw her resume start to include more acting roles as time goes on.
4. Her Faith Is Important To Her
Skylar hasn't shared much about her religious beliefs, but the fact that she has a Bible verse in her Instagram bio makes it clear that she is a Christian whose faith plays an important role in her life. The verse in her bio is from John 3:16 and says, "For God so loved the world that he gave his one and only Son, that whoever believes in him shall not perish but have eternal life."
5. She Is Bilingual
Anyone who has ever tried to learn a language knows how challenging it can be, especially if you're not around other people who speak the language you want to learn. Challenges aside, however, Skylar managed to learn Spanish and has become fluent in the language.
6. She Is A Big Kelly Clarkson Fan
Skylar has been a huge Kelly Clarkson fan for years. In fact, her Christmas present last year was tickets to see a Kelly Clarkson concert. Needless to say, if there's any judge she was hoping would turn their chair around it was Kelly. So you can only imagine how excited she was when that moment happened.
7. She Is Also A Songwriter
She may be just 15-years-old, but Skylar already has a lot to say and music is her favorite way to say it. On top of singing, she is also a songwriter and she's already released some original music. Her debut EP, Sky's The Limit came out in 2019 and features four songs.
8. She Plays The Guitar
During her blind audition Skylar was only able to show off her voice, but she's talented on the guitar, too. She has been playing the instrument for several years and often uses it when writing songs. Hopefully she'll get the chance to show off her skills during her time on The Voice.
9. Her Parents Are Her Biggest Fans
Sometimes when children show interest in activities that don't have to do with academics or sports, parents can find it difficult to be supportive. That hasn't been the case with Skylar's parents, however. They are very supportive of her singing aspirations and have been with her every step of the way. Skylar also has three siblings who are supportive of her dreams as well.
10. She Loves To Stay Active
Being in good shape is an important part of being a performer. In order to consistently put on high energy shows, an artist has to have lots of stamina. Luckily for Skylar, this won't be an issue. She enjoys staying active and some of her favorite things to do include bike riding, swimming, and calisthenics.