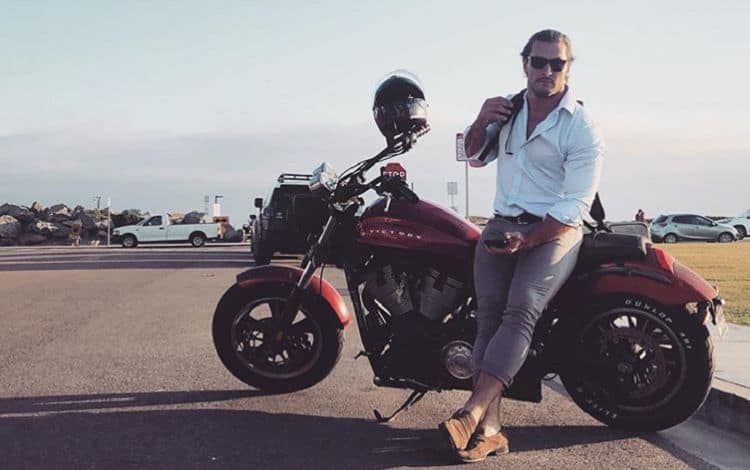 When Lisa Vanderpump became famous after she was featured on "The Real Housewives of Beverly Hills," so many years ago, she started her own empire. She and her husband already owned several businesses including their southern California restaurants that later earned their own reality television show, and now they are doing even more than ever before. Additionally, her own fame has provided fame to a group of young people who waited tables, hosted, and served behind the bar at one of her famous restaurants. When "Vanderpump Rules," was made into another reality show, the kids on that show had no idea just how famous they'd become. Scheana Shay is one of the young women who worked for a restaurant and became a household name because of it. She had drama, she had conflict, and she has been through her fair share of men on the show. However, she's now engaged to be married, and her fiancé is a man the world wants to know more about. His name is Brock Davies, and he's been in the press more than he probably wants to be – and often for reasons people never want to be known – but it seems it's the reality star's fiance's missing finger that has most people curious. What happened to Brock Davies' finger?
He Made a Horrifying Confession
Here is a man who came onto national television to tell host Andy Cohen that he's had some ugly issues in the pats. He's been married before, which is not a surprise to his fiancé, Scheana Shay. However, the world did not know that Shay chose to become engaged to a man who has a history of domestic violence. He admitted that he once slapped his ex-wife. The two no longer speak, and she has taken his two children and moved to Australia to live with them. He has not seen his own children in years. He has a son and a daughter, Eli and Winter, from his first marriage, but his new fiancé and the mother of his newest daughter, Summer, maintains that it's not because he hit his ex-wife that he does not see his children. His ex-wife allegedly filed a restraining order against the new reality star, and he cannot go near her.
What Happened to His Finger
Now that fans have noticed that Brock is missing a finger on his left hand, they are curious what happened. Some wonder if it was something his ex-wife did to him after he hit her, but others are saying that it happened when he was involved in an accident as a child. At the end of the day, however, no one actually knows what happened to his missing finger. He does not appear to try and hide it from his fans and from his social media pages, but it seems that he's also not one who has spoken about it at all.
What Fans Should Focus On
What's shocking about the concern over Davies' missing finger is the fact that he confessed on national television to hitting his ex-wife, the woman with whom he shares two children, and no one cares about that. They only care about his missing finger. Additionally, few fans seem to be at all concerned about the fact that he is a father to the baby he just had with Scheana Shay, but that he already has two kids and hasn't seen them in years. Where are his kids? According to the new dad, he left Australia following the end of his marriage and the restraining order his ex had placed against him and came to America to play for the NFL. He didn't make it to the NFL, of course, but he decided not to go home to Australia to be with his children because he was embarrassed that he didn't have more to offer them if he went home without a career in the NFL. Instead, he met a reality star, had a third baby, still hasn't gone home, and is now being accused of domestic assault. Fans wonder why Lala Kent, Shay's friend from the show, is so upset with her and her decisions, and this might answer a few of those questions. She's not happy to hear her friend is marrying a man who hit his last wife, and she's also not happy to hear that her friend had a baby with a man who already has two kids he hasn't seen in years – seemingly by choice. So, fans, keep wondering about his finger. It's clearly the biggest deal.