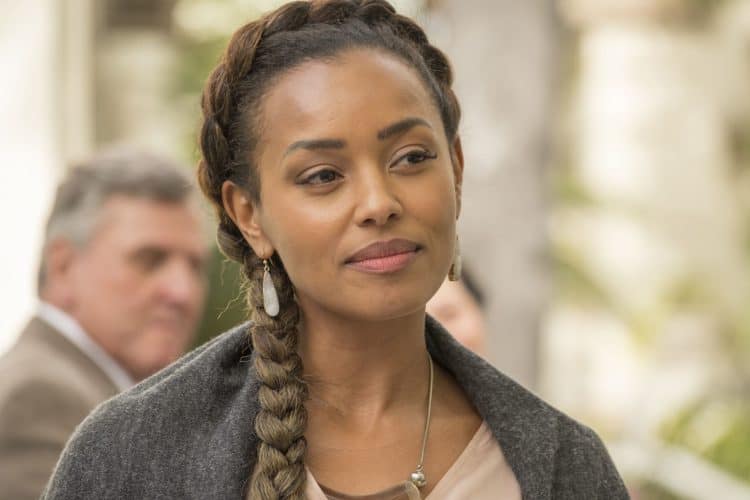 Keeping up with all the new actors, the older actors, and all those in-between when it comes to show business is kind of difficult at times, but every now and then you get a nice surprises such as Melanie Liburd that catches your interest. These newer, not brand new, actors that make their way into the business sometimes manage to bring with them a new burst of energy that allows the programs and movies they star in to shine just a little more. Even if they're not main characters or all that noticeable in the roles they take, it's the fact that they're there in the first place, bolstering the show and making it that much greater for adding to the solidarity of the series. While Melanie might not be the big thing on campus so to speak she's been a very welcome addition where she's appeared.
Here are a few things you might not have known about her.
10. She's a martial arts expert.
Looking at some people you might never think that they were hardened and disciplined enough to be called experts in the martial arts. Being in shape after all is not a good indicator either, but she is for real without any doubt.
9. She's appeared on Game of Thrones.
If you thought that Melisandre was the only red witch in the series you'd be right, but her acolytes are seen and spoken of throughout the show, especially given that her religion is one that seems malleable enough to wind its way throughout Westeros.
8. Her career started in 2012.
She hasn't been around all that long but she's been there long enough to understand how things work and how to get around. Obviously she's doing just fine as she's been on some of the most well-known shows and been rocking it thus far.
7. She's in This Is Us.
There are some shows that might elevate a person a bit once they find their way towards the camera, but then there are some that will allow the audience to remember them for years to come if they should happen to get so lucky.
6. She has a small following on social media.
One has to wonder if a person in show business really tries to build their social media or if it just happens based on their popularity. Some people have millions of followers, others have only thousands, and some have none since they don't follow social media at all. It would really seem that it's more of a matter for the celebrity to decide whether or not they really want that following.
5. She's 30 years old.
She's still relatively young and has a lot of good years left in front of her to develop and further her career if she so desires. After all she started not that long ago and should be able to up her game and evolve as an actress in an attempt to really build a strong and lasting fanbase.
4. She's more prevalent in TV at this point.
Melanie has done one movie at this point in her career but this means very little since she's still relatively new to the business, in a way, and has moved towards TV roles quite a bit more. This could be her niche or it could be an attempt to warm up to taking on more movie roles in the future. We'll just have to wait and see.
3. At this point there's not a lot of info on her.
There are bits and pieces here and there to be found but nothing on the scale of other actors that might include a fully-developed bio or accomplishments that stretch for pages. It's enough to wait however and see where her career takes her from this point, as in a couple of years she might have a much stronger online presence.
2. She was a fashion model at one time.
There's not much of a surprise here since she does have the figure and the looks of a model and it seems as though she excelled at this position. Obviously though acting was a dream and modeling could have been the way in, a very lucrative way in no doubt. She worked her way to her current role however, of that there's no question.
1. She has a degree in fashion design.
It's got to be said that it's nice to see more and more celebrities that are highly educated and are therefore possessed of the knowledge and possibly the wisdom of what it takes to succeed in their chosen field. Without trying to slander anyone it feels better to appreciate those that have earned an education rather than those that have just gotten lucky and fallen into the business.
She seems to have a bright future ahead of her, the next several years could be very interesting to observe.