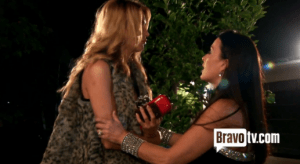 The Real Housewives of Beverly Hills returned tonight to mostly make way for its spinoff, Vanderpump Rules, but that didn't mean our resident 90210 divas didn't have a bit of drama on their own.
Brandi
The show picked up right where we left off with Brandi Glanville still getting a tongue lashing from Faye Resnick at Kyle Richard's dinner party. Lisa Vanderpump and newcomer Marisa Zanuck, as well as most of the viewing audience, were trying to see exactly why Faye was so invested in chastising Brandi for something that didn't directly involve her. Then Faye also brought in Brandi attacking Kyle and Kim Richards with such hateful words last year. Hello? Did she not get the memo from the Richards sisters, who both admitted to being unfairly nasty towards Brandi, that things were okay with the three of them? Pot stirrer much?
Personally, I believe Faye is slick jealous of Brandi for getting to hold a diamond this season after bringing the drama as a second string character last year, something she has yet to do herself. But I digress…
Later in the episode, Brandi met up with Lisa, who passed on a request from Scheana, who slept with Brandi's ex Eddie Cibrian, to meet, discuss, and clear the air between the two of them. In other words, Lisa asked Brandi, who was the only person on the Real Housewives of Beverly Hills cast to have a connection with one of Lisa's SUR employees, to help set up the Vanderpump Rules spinoff in a seamless transition. Brandi agreed, but said that she was only doing so for Lisa's sake. Right…
While Brandi sat and met with Scheana, the tension was as thick as a marble column, and initially the conversation started out pretty icily, which flowed mostly from Brandi. But just when you thought Brandi was about to let her tongue go on a lashing spree, she and Scheana actually bonded over how much of a jackass Cibrian was to them at the end of the day. Scheana revealed more sordid details about just how much Cibrian lied to Brandi, including how some of Brandi and Cibrian's mutual friends knew about the affairs and were still lying to Brandi's face to this day.
Scheana felt validated once Brandi admitted how she didn't blame the young woman for Cibrian's lies and deceit, but warned Scheana to never be, or be content in being, the other woman. Wise words, friends. Wise words.
Then the next thing we know, Scheana seamlessly led us right into Vanderpump Rules where she dealt with another gang of girls, which I will get into later in that particular show's review.
Taylor
While Brandi and Lisa was busy setting up Vanderpump Rules, Taylor had to deal with a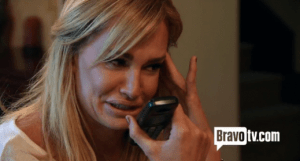 less glamorous problem in the form of her litigation battle with one of her late husband Russell Armstrong's former business partners. Since the former business partner, as well as Taylor and the viewing audience, all know how the Oklahoma native doesn't have nowhere near the amount of money the guy is asking for, he decided to settle for a few items: two Hermes handbags and Taylor's wedding ring. Um, what?!?
Understandably, Taylor should be having some sort of yard sale to help pay her bills, but doesn't it sound petty that the business partner would settle for two Hermes bags and her wedding ring? Personally, it's disgusting and a waste of time for the lawyers involved. I might not understand how the system works in that particular arena, but come on… Really?
Other Moments of the Night
– Still can't get over Kelsey Grammer demanding his kids to not mention Camille Grammer's name in his presence or in the house. That's just sick and I don't care if he's a popular actor or not, that's not something you pressure your kids into practicing. If only Camille could sue even harder…
– Kyle and Marisa's yoga instructor was hella annoying during their yoga session. Did he not recognize that he was in the middle of filming for a popular reality show? In other words, shut up and promote the hell out of your business while you can.
– Yolanda is officially the normal Real Housewife of Beverly Hills, because she's not interested in the drama and her scenes always harken back to the first few years of The Real Housewives of Orange County, where the women didn't fight and just lived their lives. I hope this doesn't become a strike against Yolanda, because we all know what Bravo tends to do with 'boring' Housewives…
– Where the hell is Kim? And what is this business about her being at The Havana Club? Lord, help us…
– Adrienne finally reappeared after being incognito since her blow out with Brandi, who she blamed for a growing strain in her relationship with her husband Paul Nassif. Could this be where the Maloof-Nassifs' marriage begins to crumble?
What did you think about tonight's The Real Housewives of Beverly Hills?
Photo Credit: Bravo
Tell us what's wrong with this post? How could we improve it? :)
Let us improve this post!