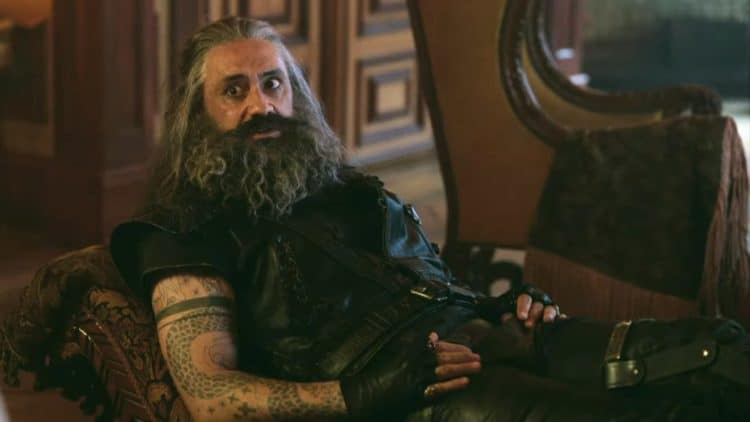 If you enjoyed the Pirates of the Caribbean series, you'd surely love Our Flag Means Death. The upcoming series promises a combination of zany antics and edge-of-your-seat pirate adventures, just like the film series, and it also features a well-known cast. Our Flag Means Death is created by relative newcomer David Jenkins, who previously worked on little-known projects like People On Earth and the off-Broadway show Post Office. Now, he's working with some of the biggest names in comedy in Our Flag Means Death, which is set to show on HBO Max. Here's the official synopsis of the series, according to Collider: "After trading in his comfortable life for one of a buccaneer, Stede becomes captain of a pirate ship, but struggles to earn the respect of his potentially mutinous crew. Stede's fortunes change after a fateful run-in with the infamous Captain Blackbeard, played by Taika Waititi." Jenkins is working with some of the funniest names in comedy in Our Flag Means Death. Here are the performers you should expect to appear in the series.
Rhys Darby
Rhys Darby starts in Our Flag Means Death, playing the real-life Barbadian pirate Stede Bonnet. A New Zealand native, Rhys Darby made a name for himself in comedy, starting with the Flight of the Conchords TV series. Most recently, he appeared in the Jumanji films and lent his voice to 100% Wolf. Rhys Darby appeared in an interview with Deadline recently, where the actor talked about being on the show. He described his experience on the show as taking his career to a whole new level, saying: "I looked at myself and how much experience I've had over the years and I felt maybe it is time to step up," Darby said. "It was scary but having Taika there made it easier to do. We're in this together and if he wasn't there I'd probably track him down and call him to help me."
Taika Waititi
Another prominent performer from New Zealand, Taika Waititi also plays a major part in Our Flag Means Death, taking on the role of Blackbeard. The award-winning director worked on Thor: Ragnarok and Jojo Rabbit, for which he received two nominations at the Academy Awards. Amusingly, he's not sitting in the director's chair in Our Flag Means Death, opting instead to focus in front of the camera. He does, however, get executive producer credits on the show.
Kristian Nairn
Kristian Nairn is portraying the character Wee John Feeney in Our Flag Means Death. Everyone knows Nairn for his iconic role in Game of Thrones, playing Hodor. According to him, he was able to buy his mother a house for playing the role. "Game Of Thrones enhanced my life in so many ways. It enabled me to buy my mum a house, which is all I ever wanted to do. It taught me the craft of acting and gave me the confidence to just be myself," he told The Guardian. Kristian Nairn hasn't been in a lot of TV or film projects yet, listing just a handful of on-screen gigs since 2014. Here's hoping his role in Our Flag Means Death earns him more recognition (and work).
Nathan Foad
Actor Nathan Foad will be playing Lucius in the upcoming HBO Max series. According to his IMDb, he's worked as a writer, actor, and producer for a variety of shows, including Bloods and Newark, Newark.
Samson Kayo
Samson Kayo plays Oluwande in Our Flag Means Death. We've previously seen the actor in Boxing Day and Death to 2021.
Roy Kinnear
A prominent English stage actor, Roy Kinnear will be playing Captain Nigel Badminton and Chauncey Badminton in Our Flag Means Death. Kinnear's most prominent work to date is The Imitation Game, a biographical drama starring Sherlock Holmes star and current Oscar nominee for Best Actor (for Power of the Dog) Benedict Cumberbatch. He's also lent his voice to a number of James Bond video games, including GoldenEye 007 (2010), James Bond 007: Blood Stone (2010), and 007 Legends (2012).
Con O'Neill
Con O'Neill will be playing a character named Izzy in Our Flag Means Death. A veteran actor, he's appeared in projects like Life of Crime, Uncle, and Chernobyl.
Vico Ortiz
Vico Ortiz will appear on screen as Bonificia in the much-awaited pirate comedy show. Here's their acting profile, according to IMDb: "Vico Ortiz (They/Them) is a proud Latine/x non-binary/gender fluid actor/activist born and raised in Puerto Rico. They received their education at The American Academy of Dramatic Arts in Los Angeles."
Ewen Bremner
Ewen Bremner will be portraying a character named Buttons in Our Flag Means Death. Bremner's most prominent role is as Daniel "Spud" Murphy in Trainspotting and the 2017 sequel T2 Trainspotting. He also played roles in Wonder Woman, Snowpiercer, and Creation Stories, where he played music titan Alan McGee.
David Fane
David Fane, another New Zealand actor, is portraying Fang in Our Flag Means Death. He's previously appeared in Dipomatic Immunity and Radiradirah.
Joel Fry
An actor who's played notable roles over the past few years, Joel Fry is set to appear in Our Flag Means Death, portraying Frenchie. Outside of the show, his most prominent role is as a star character in the Disney movie Cruella, starring Emma Stone.
Guz Khan
Guz Khan will play the role of Ivan in Our Flag Means Death. Mosts people know him for his role in Man Like Mobeen.
Matthew Maher
Playing the character of Black Pete is Matthew Maher, an American actor who's contributed to film projects like Marriage Story, The Mimic, and The Outside Story.
Recurring Characters
Leslie Jones and Fred Armisen are both announced to have recurring characters in Our Flag Means Death. Both actors have worked on Saturday Night Live, so fans can expect a healthy load of brilliantly written and executed laughs from the two. Nat Faxon also plays a character in the show. The writer has worked with Oscar winner Jim Rash on movies like The Way, Way Back and Downhill. Samba Schutte is also expected to grace the screen on Our Flag Means Death.
Tell us what's wrong with this post? How could we improve it? :)
Let us improve this post!