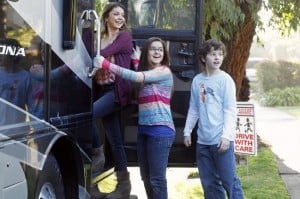 This week on Modern Family each family is wrapped up in their own separate adventure.
Jay, Gloria & Manny:
Manny can't find his backpack anywhere and this is a problem as he has a poetry reading that night. He thinks it might be at the Dunphy's so they head over there. When they get no answer Gloria walks around the back of the house and moments later she is at the front door letting Jay and Manny in. Jay wonders how she got into the house but she tells him not to ask. While Manny is looking for his backpack Jay and Gloria are doing what all of us want to do, snoop. Gloria is in the medicine cabinets and Jay is going through their mail. Did you know Phil subscribes to a trampoline magazine? Manny's backpack isn't there though so he wants to try Cam & Mitchell's.
Over at Cam and Mitchell's Gloria pulls the same Houdini move to get into their house, they even have an alarm system so it is doubly impressive. When they get inside they see that Cam and Mitchell haven't cleaned up from their game night the night before. Unfortunately Jay and Gloria weren't invited. They are quite put out by this. They think they are fun and everyone likes them, why wouldn't they have been invited? Of course they do some snooping while Manny looks for his backpack. Manny finds his backpack and wants to leave but Jay and Gloria are still trying to figure out why they didn't get invited to play Pictionary. After they rope the delivery guy that shows up into playing a few rounds with them Manny has had enough. He calls them out for being cheaters (Gloria) and too competitive (Jay). In turn Jay and Gloria blame their parents. Jay's dad was the most competitive person ever — he's so glad he didn't pass it on to his kids and Gloria's mom is the biggest cheater there is. As it turns out they were invited to game night, Manny just got so into writing his poetry for poetry night that he forgot to give them the invitation. Gloria catches on to this and all is set right.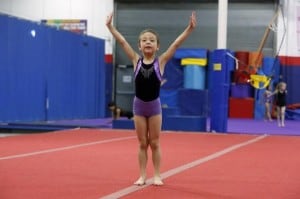 Cam, Mitchell & Lily:
Lily is in gymnastics, or as Cam likes to say she is a gymnast. Mitchell thinks maybe Cam is exaggerating their daughter's skills a little bit; she is only five after all. Mitchell goes to a meet with them to see that Lily is really quite good. That is about the end of the good though as things start to go bad quite quickly. Mitchell suddenly has a competitive streak and it is a wide one. He actually chants, and not quietly I might add, "fall…fall…fall!" while on of the other girls is on the balance beam. He cheers when the girl who is Lily's only real competition falls and he is generally being just terrible. Cam for his part helps some other Mom's get their kids up in buns only to have one of the girls have her hair fall down in the middle of her routine, causing her to fall as well. In the end they are ashamed of themselves and end up having to watch the rest of the meet from outside, or technically 100′ away. They plan to appeal that ruling though because Lily got first place and has more meets to come.
The Dunphy's:
Phil has sold a house to a man who owns a huge RV dealership. He loans Phil an RV as a thank you for the help buying the house. Phil names the RV Jolene for some reason and gets all excited about the possibility of driving to Yellowstone that summer or maybe even from coast to coast. Claire is pretty sure having all of the kids in an RV; no matter how big it is, for more than a few hours is going to be a disaster. Phil talks them into a fun little test run up the coast a ways and to Claire's complete astonishment the kids are great. They are helping each other and being polite. It's serene and freaking her out. Claire can't be wrong though so she tries to get the kids worked up. Fortunately for Claire a bee gets into the RV and one thing after another starts to go wrong causing the kids to snap at each other. Phil can't believe they can't let him have this one thing, this one attempt to have family bonding and togetherness.
He pulls over and storms out of the RV. He is joined a moment later by another man and his RV. They lament about kids and call their RV's asylums. A few moments after that another man and his RV show up. After some my family is crazy and the kids are driving me to drink chats Phil is ready to go back into the RV, before he can get to the door Claire runs out and apologizes. She can't figure out why she always has to be right — wonder where she got that? While Phil was bonding with the other dad's she was learning things about their kids, thanks to being forced to be together in the RV. Luke has to do summer school, he is failing pre-algebra. Alex was trying to juggle two guys and they both dumped her at the same time and Haley tried out to be a Laker Girl and failed miserably.
This shared failure brings them all back together and we end this episode of Modern Family with Alex helping Luke with his math homework while Phil is helping Haley with her Laker Girl tryout routine.
Modern Family airs its season finale next Wednesday 9/8c on ABC