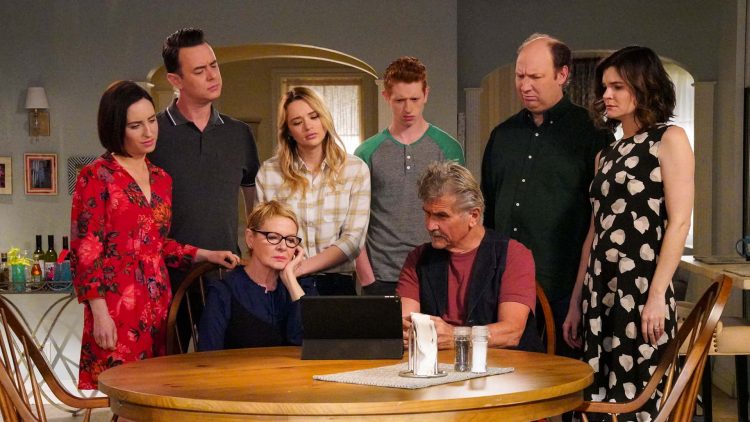 Family TV comedy can be hilarious. We've seen pieces of great work throughout history, but many of them pale in comparison to Modern Family. I know that was spoken like a true Modern Family fan; but if you've ever seen even a single episode of the show, you'd probably be inclined to agree. Modern Family is a unique piece and an incredibly hilarious jab at the makings of a modern household, as it would seem like today. Now that the show is confirmed to end after the 11th season, many of us are crying inside in despair. What family could we laugh about–if not our own?
There are a few shows poised to take on the reins, but perhaps CBS' Life in Pieces is as close as we can get to another Modern Family. Life in Pieces feature the Short family, just another average family. They're funny, and they can be weird just like any other family. They deal with normal family life situations such as work and bringing up a family in today's world. They're ultimately happy. The Shorts are probably as relatable as a TV family could get. I'd say this too: they're definitely more relatable than the Dunphy-Pritchett clan. However, it doesn't mean they're funnier.
The two shows have many similarities, but there's one simple difference that makes Modern Family just incomparable. We'll talk more about that later.
First, let's talk about what Life in Pieces is trying to achieve. Hollywood Reporter listed some technicalities that are the same for both shows. They're filmed in the same 20th Century Fox Studios. The same guy, Jason Winer, directed the pilot episodes from both shows. The premises of both shows are also very similar. Both shows, as previously mentioned, show what family life could look like today. Modern Family does it in a type of mockumentary way, as if we're witnessing something that's happening in real life. Life in Pieces does it in four short vignettes in each episode. In both shows, we're seeing a ton of action in an extremely short amount of time. Modern Family has been doing it since 2009, and we've literally seen the young characters in the show grow up on screen.
Life in Pieces is currently in its 4th season, and it has developed its own fan base. People have grown to appreciate the simplicity of the show's comedy, just as this article from The Daily Beast explains. It's easy to fall into the trap of redundancy in that kind of storytelling, but so far, the creators of Life in Pieces have done a good job of keeping us interested. I'd have to say, watching Life in Pieces gives more of a chuckle compared to the belly laugh that Modern Family induces every time. It could just be the writing or the delivery, but I believe it's something else entirely.
Both shows feature a powerhouse cast. Modern Family's O'Neill, Bowen, Burrell, Stonestreet, Ferguson, and of course, Vergara, are all comedic talents. That's not to mention the younger cast: Hyland, Winter, Anderson-Emmons, Gould, Rodriguez, and Maguire. That's enough about them. They're great–plain and simple. The Life in Pieces cast is just as good. The show gives us the pleasure of watching veterans Josh Brolin and Dianne Wiest play mom and dad on screen. We even get the ever-talented Colin Hanks and Betsy Brandt. Nobody can doubt the talents on the show.
But here's the problem, and it's a big one. The Wrap puts it into perspective really well. There's just no chemistry between the Life in Pieces siblings. None. For example, in season 3 episode 13, we see the family play a game of charades as one of the four short stories. Colin Hanks did an excellent job in that scene, but it felt all too unnatural. When family is funny, the laughs just come on naturally. Given that the scene was already well into the third season of the show, you'd think that the chemistry would've at least grown by now. Pilot episode detachments could be forgivable; but if it's still happening on the show at this point, it could be a tremendous problem–soon.
The magic of Modern Family, I believe, is in the palpable chemistry between the cast members. As odd as their family relations are, they're much more believable as a family in comparison to the Shorts. Not all of us may be able to relate to the overly sexualized Latina mother-in-law and trophy wife or the odd gay uncles that happen to just go well together. Not all of us could relate to the adopted Asian cousin or the overly strung out mom, aunt, and daughter. Sure. But maybe some of us could relate, as it turns out. Yes, they're all highly stereotyped. Yes, it gets incredulous at times. But Modern Family shows us that it isn't about the types of people in the situation. It isn't even about the situations themselves. Modern Family taught us that no matter how weird and random you think your family may be, we all go through the same stuff in life. As discussed in this NY Times article, the self-analysis and internal monologue that happens throughout the show makes us all feel a part of this family. And frankly more often than probably preferred, it makes us reminisce our own.
This doesn't mean that Life in Pieces won't find its own voice. The show is funny in its own way, but it might be too much of a reach to try and compare it to Modern Family. As similar as the two shows go, they're also miles apart when it comes to characterization and storytelling. Life in Pieces is its own entity, but it still has a lot to prove. Modern Family has given us plenty to laugh about and be thankful for all these years–thankful for the family or non-family that we might have. As far as family TV shows go, there probably won't be another one like it for a really long time.
Tell us what's wrong with this post? How could we improve it? :)
Let us improve this post!