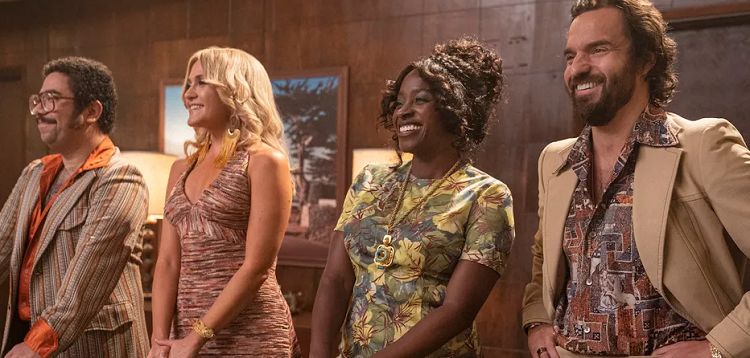 If you thought HBO Max is done producing wildly promising comedy shows, you're dead wrong. Minx, the latest comedy offering from the streaming service, premiered last week to positive reviews. The show was created and written by Ellen Rapoport, who had previously worked on Desperados and Clifford the Big Red Dog. The Hollywood Reporter had kind words for the period comedy, particularly praising not just the chemistry between the cast, but the writing quality as well. "Minx's narrative juice may come from the differences between Joyce and Doug, but creator Ellen Rapoport wisely writes them as full, flawed characters rather than stereotypes or talking points. Joyce is a politically progressive liberal, and also a bit of a sheltered prude; she might try to avoid being overly judgmental, but Lovibond expresses her reflexive discomfort with her more sexually liberated coworkers through her fidgety body language." If you want to know more about the show and the cast, look no further. Here are the cast members of HBO Max's latest series, Minx.
Ophelia Lovibond
Actress Ophelia Lovibond stars in the hit comedy series Minx as Joyce, whose mission is to publish the first erotic magazine for women. The English actress has had blockbuster projects prior to joining the cast of Minx. An MCU regular, she previously worked on Thor: The Dark World and Guardians of the Galaxy, playing the character of Carina. She's also worked on Rocketman, The Autopsy of Jane Doe, Tommy's Honour, Mann Up, A Single Shot, No Strings Attached, and her film debut in 2005, Oliver Twist. On TV, she's appeared in another MCU project, What If…?, as well as Elementary, where she played a recurring role. She's starred in several shows over the past decade, including Mr. Sloane, W1A, and Trying. In an interview with Entertainment Weekly, Ophelia Lovibond talked about her role on Minx and how it reflects her real life. She talked about how she thought the role was unique. "I am a feminist, I love the seventies, so in terms of the aesthetic and the message, it was on point. But I'd never read that kind of character. She's quite flawed. She can be abrasive. I just thought it was a fantastic character. And so funny."
Jake Johnson
A TV veteran who's worked on some of the most entertaining shows in the past two decades, Jake Johnson appears in Minx as Doug, who collaborates with Ophelia Lovebond's character. You'd probably recognize the actor for his award-nominated role as Nick Miller in the series New Girl, starring Zoe Deschanel. He's also had starring roles in High School USA!, an adult animated TV series, and Stumptown, a crime drama show. Aside from Minx, Johnson is also set to play a lead role in Lost Ollie, an upcoming series on Netflix. In an interview with W Magazine to talk about Minx, Johnson opened up about his personal struggles with his passion for acting and how he had to "re-fall in love" with it. "During the pandemic, I realized that for the last 15 years, I've really just been an actor. And if I'm honest, I've always loved acting. It took the world to stop for me to admit it, because I always thought actors were the least interesting of the bunch. You show up late, you've had coffee, you have cucumbers on your eyes, you can't remember your lines because you had to exercise 'cause you're too chubby for your jeans. I felt like, oh God, no, that's not me. And then I looked in the mirror during the pandemic, and I'm like, yes, that's you."
Idara Victor
Nigerian-American actress Idara Victor plays the role of Tina on Minx. She's perhaps most recognizable for her work in Rizzoli & Spies as well as Turn: Washington Spies. She's also appeared in four episodes of Shameless, starring William H. Macy. In an interview with Awards Radar, Victor talked about her favorite part of working on Minx. "I love everyone. Everyone is so much fun. We miss each other. The day we were leaving was hard because I told everybody that I would miss seeing them every day. It (acting on Minx) didn't feel like work. It just felt like having a great time with some hilarious people. Everyone was just so fun, funny, and didn't take themselves too seriously. We just had a good time every day. So definitely the cast."
Oscar Montoya
Oscar Montoya joins the cast of Minx as Richie. Montoya is a College Humor alumnus. In an announcement for the show he made on Instagram, he wrote: "TOMORROW'S THE BIG DAY!! You can catch the first two episodes of Minx streaming on @hbomax on March 17. Mark your calendar! Tell your friends! Yes, the show has a bunch of ding-a-lings, but it has so so much heart! I love my Minx family with all my heart and am so proud of this show. Come join the party!!"
Jessica Lowe
Jessica Lowe plays Bambi in the series Minx. The actress had previously worked on Blended, Wrecked, and the adult animated comedy series Bob's Burgers.
Lennon Parham
Veteran comedian Lennon Parham also stars in Minx, playing the role of Shelly. She's appeared in some of the biggest sitcoms over the past years, including Parks and Recreation, How I Met Your Mother, Arrested Development, Veep, New Girl, and Curb Your Enthusiasm.
Michael Angarano
Actor Michael Angarano plays Glenn in Minx. He has played lead roles in The Knick as well as I'm Dying Up Here. Angarano has also had a recurring role in the critically acclaimed series This Is Us. The actor has also performed in Will & Grace, Cover Me, and the hit action series 24.
Recurring cast
Minx also features an impressive list of recurring cast members, the most notable of which is Gillian Jacobs, who we all know for her much-acclaimed stint in one of the most underappreciated series of the past two decades, Community. Also set to appear in Minx are Amy Landecker, Alicia Hannah-Kim, Austin Nichols, Rich Sommer, and Taylor Zakhar.