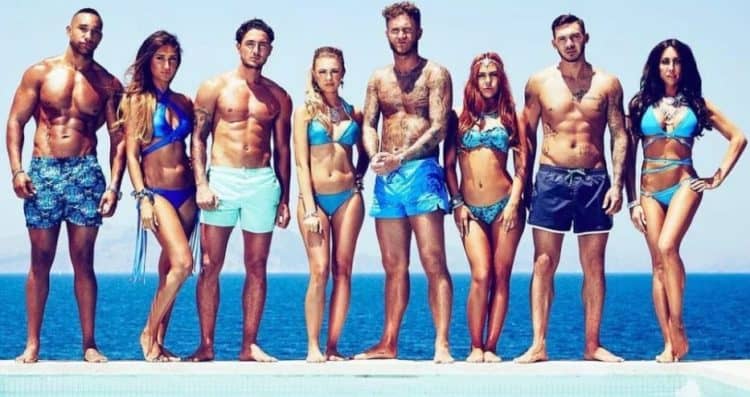 Summer's only just begun, but already it looks like it's going to be a scorcher… at least as far as the world of reality TV goes. On July 16, Ex on the Beach season 3 kicked off, bringing a new line-up of fresh faces (well, probably not so fresh if you've watched any of the previous reality TV shows they've appeared on), hoping their efforts to find love don't get derailed by their former partners. For those unfamiliar with the format, Ex on the Beach takes a group of single reality TV show veterans and packs them off to a luxury villa in Malibu. While the intent of the show is for the singletons to find new love, things tend to take a turn when their ex's turn up- with the possibility of old passions re-igniting, new lovers cast asunder, and that old green-eyed monster lurking around every corner, there's guaranteed to be no shortage of drama. To meet the lineup of this season cast, keep reading.
Kenya Scott
You may recognize Kenya Scott from her appearance on season 7 of Are You the One? During the show, Kenya got caught up in a love triangle with Tevin Grant and fellow contestant, Jasmine Rodriguez. Despite some fierce competition from Jasmine for Tevin's affections, Kenya triumphed and ended the show with Tevin in hot pursuit. While we had high hopes the two had found their happily-ever-after, it wasn't to be, and Kenya is once again seeking love. Whether or not she'll find it on Ex on the Beach, only time will tell.
Geles Rodriguez
Former cheerleader Geles Rodriguez is another Are You the One Contestant, having appeared on season 6 of the dating reality TV show. Despite having a strong connection with Anthony Martin in the show, their relationship failed to last the course, and they both moved on to pastures new. Geles is now single once again- whether she'll find new love in the show (or perhaps reignite past passions), we'll soon find out.
Anthony Martin
Ex Are You The One contestant Anthony Martin is a party-loving soul who briefly romanced fellow Are You The One contestant Geles Rodriguez. After the relationship turned sour, he moved on to Shannon Duffy of season five of the same series, but again, failed to make his match. With a history of toxic relationships (which he's sometimes found hard to break), Anthony is now ready to form a healthy, stable relationship… and where better to find one of those than on reality TV?
Billy "Nick the Gardener" Reilich
Billy "Nick the Gardener" Reilich first came to our attention on the reality TV show, What Happens at the Abbey, a documentary following the lives of the hard-working, hard-partying staff of The Abbey nightclub in West Hollywood, California. The Abbey isn't the only TV show the hunky bachelor has graced- he's also appeared as Nick the Gardener on The Ellen Show and as a fireman in 2015 Magic Mike XXL. Let's wait and see whether that Magic Mike magic will win him love on the show.
Mark Jansen
Big brother fans may remember Mark Jenson from his appearance on Big Brother season 19, which saw him almost come to blows with fellow contestant Josh Martinez. After calling quits on his romance with BB love interest Elena Davies, Mark is once again single and ready to mingle, and test whether his pulling powers are as successful this time around as they were last.
Devin Walker
Devin Walker is an old hand at reality TV, having previously appeared in both The Challenge and Are You The One season 3. He may not have fared well on Are You The One (if you remember, his fellow contestants nicknamed him the "puppet master" after his devious behavior and mind games drove his no-match, Kiki Cooper, to distraction) but he's ready to try his luck again on this season's Ex on The Beach. Whether he's reformed his bad-boy ways enough to find (and keep) his perfect match, we'll need to wait and see.
Aubrey O'Day
If you recognize the name Aubrey O'Day, it's probably down to her appearance on the reality TV show Making the Band 3. After the show, Aubrey enjoyed some limited success with the group Danity Kane, and even more limited success with the solo career she embarked upon after she was dismissed from the band by show creator P. Diddy. Aubrey has had a few high-profile relationships in the past, most famously with DJ Pauly and Donald Trump JR. She's now single once more and ready to find her one true love.
Cameron Armstrong
Despite making it all the way to the top 30 on the talent competition, Boy Band, Cameron Armstrong failed to get through to the final. Now a singer in boy band AFT3RPARTY, he's looking to get all the way to the finish line in his new endeavor- and hopefully, find a girl who's a match for his adventurous, party-loving lifestyle.
Marie Roda
Marie Roda's MTV debut came via The Real World St Thomas, but her subsequent appearances on The Challenge have been what's really cemented her status as a household name. Neither The Challenge nor Real World bought Marie love, but judging from the many men who've featured on her social media pages, she's not been short of male attention over the past few years. Apparently, none have managed to make the grade, and she's currently single and ready to find her perfect match.
Allie and Lexi Kaplan
Last in the lineup are 2 newcomers to the genre of reality TV (but not to celebrity). Allie and Lexi Kaplan, twins from Los Angeles. Despite never having appeared on TV before, the girls already have a huge social media following, and are known for their cheerful commentary on pop culture, along with their various artistic endeavors.